KABUL — Voters in Afghanistan braved Taliban threats of violence to cast ballots before polls closed Saturday in the presidential election runoff.
Afghans are choosing a successor to President Hamid Karzai in a delicate show of the country's nascent democracy — and before the American-led military forces begin withdrawing at the end of the year.
Sign up for breaking news alerts from NBC News
The election is pitting Karzai's former foreign minister Abdullah Abdullah, 53, and ex-finance minister Ashraf Ghani. The first official preliminary results will be announced July 2, and then will be subject to another three weeks of verification and investigation by a separate body.
While Saturday's election was mostly peaceful, Taliban insurgents still managed to disrupt polling sites with dozens of armed attacks, mortar shells and roadside bombs, said Gen. Ayub Salangi, the deputy interior minister for security.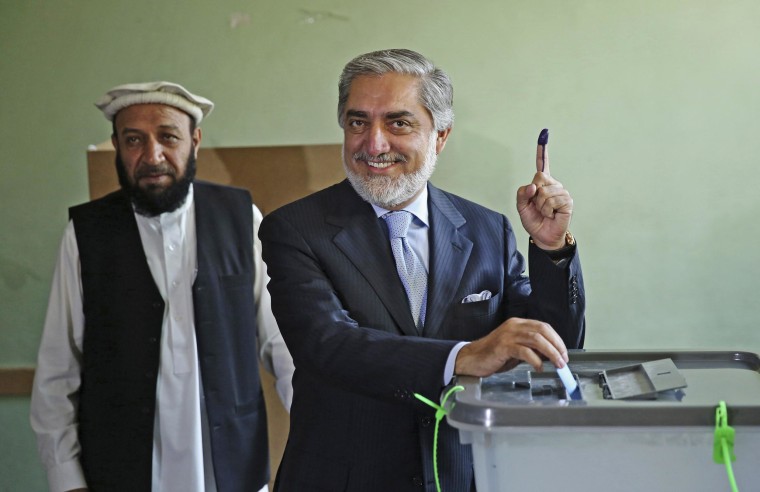 Twenty-one people died, mostly civilians, while another 100 civilians and security personnel were injured, Salangi said. At least 19 Taliban fighters were also killed.
In a gruesome act, 11 voters in the western province of Herat had their fingers cut off by the Taliban, a senior police source told NBC News. They were on their way home when a group of six Taliban rebels on motorbikes sliced their inked fingers, the source said.
The number of dead and injured was lower than during the first round of elections on April 5. Neither Abdullah nor Ghani had won the 50 percent majority needed to grab the presidency outright.
Afghans said Saturday that they were motivated to vote again, particularly with the new presidency on the line.
Ghulam Rasoul, 48, who had come to a polling station with five other family members said that only one member of the family voted in the first round of elections. This time, all of them, including his wife, two daughters and son-in-law, were voting.
"Under the Taliban, we even have not seen the picture of the guy who was ruling us, but now we have the power to choose our president," Rasoul said. "It is a great day and I feel empowered."
In a statement, the White House congratulated Afghan voters for their "commitment to the democratic process."
The American ambassador to Afghanistan, James Cunningham, added that the Afghan people have "once again shown their commitment to a peaceful and democratic future for Afghanistan."
"I congratulate the voters for their courage in the face of threats and violence from the Taliban, and welcome initial reports that Afghan women once again turned out in high numbers," he said.
— Fazul Rahim
NBC News' Erik Ortiz contributed to this report.