KABUL, Afghanistan -- The unflappable ex-jihadist commander known as "The Bulldozer" hesitates for a moment when asked if it's true that he has fathered 17 children.
Afghan presidential hopeful Gul Agha Sherzai half-jokingly confers with his team of trusted advisers -- which includes a successful 7-Eleven owner who lives on Long Island -- before coming up with his final answer: It's actually 20 kids between four wives.
But there's one thing the former provincial governor is absolutely certain of: The threatened withdrawal of all U.S. troops from his homeland by Dec. 31 would have immediate and catastrophic consequences far beyond the country's borders.
"If the U.S. leaves Afghanistan, al Qaeda will come back, and Afghanistan will descend into chaos and civil war," Sherzai told NBC News in an exclusive interview. "Afghanistan will become the center of terrorism again within one month. It will turn into a cancer and will be a threat to the whole world."
Despite his warning to the West, Sherzai also said he was prepared to invite the Taliban -- which sheltered al Qaeda leaders after the 9/11 attacks -- into a "broad-based government."
Sherzai is among the eight remaining candidates running in Saturday's election to replace Hamid Karzai, the only democratically elected leader in Afghanistan's history. Warlords with checkered pasts stand beside scholars on the ballot.
Given to him by the country's former king, Sherzai's "Bulldozer" nickname bears true significance in a place as tough as Afghanistan. It's even the symbol next to his name on the ballot.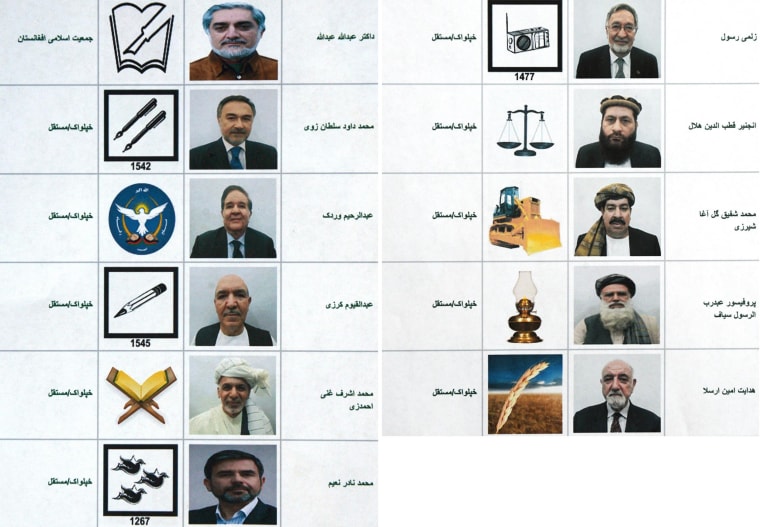 A hulk of a man with a booming voice, Sherzai's sheer size and force-of-nature presence allow him to own any room he enters. His fearsome reputation has earned him enemies and he's survived several assassination attempts. Sherzai was also fined 100,000 Afghanis (around $1780) earlier this week for insulting a rival candidate on the campaign trail.
He has been accused of being involved in opium trafficking and corruption in the past. Citing U.S. documents, The Wall Street Journal reported in 2012 that he been detained at Frankfurt airport carrying three suitcases of undeclared cash but was later released as he was traveling on a diplomatic passport.
"There is no evidence against me," Sherzai told NBC News. "If I was involved in corruption, I would have high-rise buildings in Dubai and would have millions of dollars in foreign banks!"
Sherzai, 60, also says he has received "many awards for fighting corruption and poppy cultivation."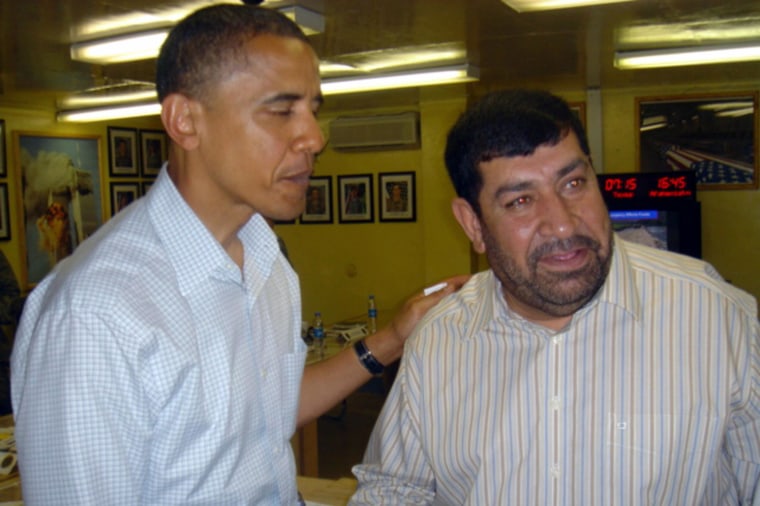 During a recent wide-ranging discussion with NBC News at his opulent Kabul residence, Sherzai was watched by a heavily armed team of bodyguards and fiercely loyal personal advisers.
It's a tight group: Sherzai's got their backs and they've got his.
Sitting to his left was his right-hand man Nasir Ahmad. Friends since the age of five, they spent their childhoods dreaming of lives beyond what is today the Taliban heartland of Afghanistan's south. Ahmad now lives in New York, where he owns a lucrative string of 7-Eleven stores and a speedboat. He has returned to Kabul to lend full support to his best friend's candidacy.
Sherzai surrounds himself by people he trusts, but his plan for the Taliban is reminiscent of the famous credo from The Godfather: "Keep your friends close, but your enemies closer"
According to Sherzai, continuing to fight the Islamist militants, or asking them to hold peace talks with untrusted outsiders who don't understand the fundamental nature of his countrymen, won't work. Scores need to be settled Afghan style, he said.
"This is the country of jirgas, so I will call a jirga," he said, referring to a custom in which influential tribal elders, religious scholars and officials hammer out their problems. "We have to convince our Afghan Taliban through jirgas to lay down their arms and come back to their country."
He believes such a pragmatic and inclusive approach would build the foundation for a legitimate government.
"I want to establish a broad-based government in which all ethnicities and groups will be represented and that includes the Taliban," Sherzai said. "And for that, the jirga will bring the Taliban and the government together."
"I would like to remind the U.S. government they have publicly made promises"
Unlike Karzai, Sherzai has vowed to sign a long-term security agreement between Afghanistan and the U.S.
The BSA deal has been at the center of an increasingly bitter standoff that prompted President Barack Obama to suggest that he could pull out every American service member later this year.
Sherzai believes the agreement is "in the interest of the people of Afghanistan." He warns that a full U.S. drawdown would undermine American credibility on the world stage.
"I would like to remind the U.S. government they have publicly made promises that they will not leave Afghanistan alone," he said. If those promises are broken, Sherzai said "no one in the world will trust the U.S. ever again."
Getting continued assistance from the U.S. will not come by just asking for it, he added. Afghan leaders must demand it. "I have plans to rebuild Afghanistan ... I will not let them go anywhere, I will force them to help us rebuild our country!"
He characterized the relationship between the countries as a "long journey together," adding: "Our destinies are interconnected."
Sherzai insists he would be a defender of women's rights, which have regressed in recent years. Women should have "equal rights to education, to work and all other rights that are guaranteed to them and enshrined in our religious texts," he said. "I will make sure that their rights are respected."
But lawmakers cannot simply enact policy and expect Afghans to abide by it, Sherzai added. He believes real change will only come from a bottom-up, not top-down approach.
"Afghanistan is a religious and conservative country," he said. "I get elected I will bring the mosque and the palace together… If we want to bring reform, we have to have the religious scholars on our side… we have to start a campaign of educating our men through mosques in the villages."
Win or lose in Saturday's presidential election, "The Bulldozer" vows to be part of the solution.
"Things will change over time," he insisted.
Fazul Rahim of NBC News contributed to this report.