Rescuers pulled bodies and debris from the Java Sea on Tuesday as Indonesia officials said they were "95 percent sure" they had found the AirAsia passenger jet that disappeared with 162 people aboard.
The Indonesian National Search and Rescue Agency told NBC News that teams searching for the airliner had located at least six corpses, three of which were recovered. An airplane emergency exit door and red, white and black debris — the colors of the AirAsia jet — were identified from the air, the agency added. Images broadcast on Indonesian television showed bodies and objects floating in the sea.
AirAsia Indonesia said it was informed by Indonesia's Search and Rescue Agency that debris found in the Karimata Strait was "indeed from QZ8501."
"At the present time, search and rescue operations are still in progress and further investigation of the debris found at the location is still underway," the airline said in a statement expressing condolences and regrets.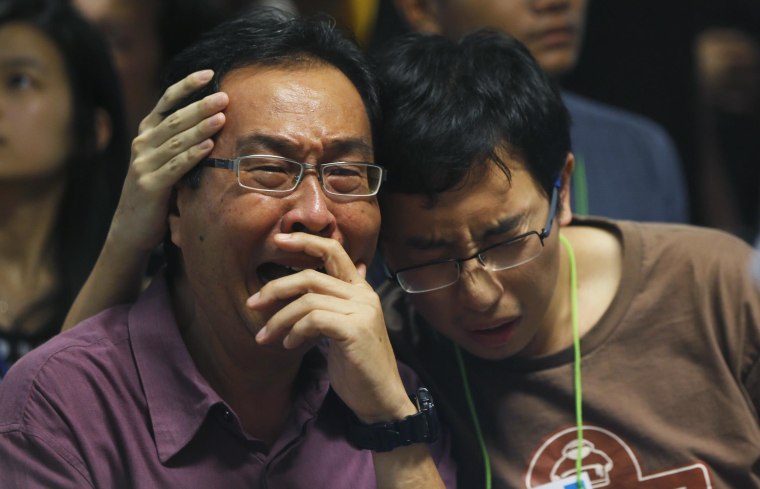 "We would like to extend our sincere sympathies to the family and friends of those on board QZ8501. Our sympathies also go out to the families of our dear colleagues," Sunu Widyatmoko, Chief Executive Officer of AirAsia Indonesia, said in the statement.
Indonesia's president and the head of AirAsia travelled to Surabaya — Indonesia's second-largest city and where the flight originated — to be with grieving relatives who'd gathered there waiting for news. Any bodies recovered would be taken to an Indonesian warship and then transported to an airport in Surabaya, according to the Search and Rescue Agency.
As grisly images of floating bodies were broadcast on television screens where the families were gathered, relatives sobbed and buried their heads in their hands. Some collapsed and required medical treatment. Meanwhile, search and rescue workers prepared to load body bags and scuba gear onto aircraft involved in the search operation, according to Reuters.
AirAsia CEO Tony Fernandes told reporters in Surabaya that he is confident rescuers will find the cockpit recorders and full wreckage to determine what brought down the passenger plane.
Joko Widodo, Indonesia's preident, said a "massive search and rescue operation" will recommence on Wednesday and that his nation will focus on recovering the passengers and crew "as quickly as possible."
"My deep condolences go out to the families of the passengers and crew," he told a press conference. "I am feeling their loss and pray that they are given all the courage and strength to face this tragedy."
At least 30 ships, 15 aircraft and seven helicopters have been involved in a multinational search in the Java Sea and nearby land. Indonesia, Singapore, Malaysia and Australia are contributing to the efforts — and the U.S. has sent two ships to assist.
AirAsia Flight QZ8501 disappeared from radar Sunday morning en route from Surabaya to Singapore, minutes after requesting to climb 6,000 feet to avoid bad weather.
—Cassandra Vinograd, CNBC, Reuters and The Associated Press contributed to this report.