Hope faded Tuesday for any of the 162 people aboard AirAsia Flight 8501 after authorities confirmed that debris and bodies sighted were from the plane.
Some of those on the flight, which vanished Sunday en route from Indonesia to Singapore, were traveling to provide for their families. Some were embarking on holiday vacations with friends or relatives. Some were not supposed to be on the plane at all.
Captain Irianto
Irianto had flown 6,100 hours with AirAsia Indonesia, and 20,537 hours in total, according to the airline. His father-in-law, Soewanto, said Irianto was a faithful man who was good to those around him.
"He is a patient man, always trusted Allah," Soewanto said.
Irianto's wife, Widya Sukati Putri, vowed Tuesday to be "tough" to continue supporting her children. "I'm here for my children and their future, so I must be strong and open with this situation," she said.
Remi Emmanuel Plesel
Plesel, the co-pilot of the plane, was originally from France, but had been in Indonesia three years and had a passion for flying, his sister Renee Plesel told France's RTL radio. Plesel told French news station Martinique that she lost another brother eight years ago. "My mother is not going to be able to take the shock another time," Plesel said.
Eko Wijaya, wife Susandhini Liman and their three children, Marilyn, Alfred and William Wijaya
The family of five lived in Malang, East Java, and were traveling to Singapore for a vacation, Wijaya's brother said. "I can't ask for a better brother. We love each other deeply," Adi Kwok told NBC News in an email.
On Facebook Tuesday, Kwok wrote: "Rest in perfect peace beloved brother. ... Loving memories, I will always remember and cherish for the rest of my life."
Bhima Aly Wicaksana, 31
Wicaksana was the second-oldest child of Dwijanto, who goes by one name like many Indonesians. The young man was traveling for the first time abroad on vacation with five friends, Dwijanto told NBC News from a crisis center set up for family members at the Djuanda Airport in Surabaya, Indonesia, where the plane departed from. After Dwijanto heard reports of wreckage and bodies found in the search, he said, "If it is true, my heart is devastated." Dwijanto said he is holding out hope for a miracle.
"I hope the wrecks are not from that plane," he said. But if the wreckage is from AirAsia Flight 8501, as authorities have said, "there's nothing we can do; we can't revive him," Dwijanto said.
Chi Man Choi and his 2-year-old daughter, Zoe Man Suen Choi
Choi was originally from Britain but worked in Indonesia as a unit managing director for the electronic manufacturing firm Alstom Power, his brother, Choi Chi, told The Telegraph. Virginie Hourdin, a spokeswoman for Alstom Power, confirmed to NBC News that Choi was on the plane.
"Our thoughts are with his family," she said.
Choi and his daughter were supposed to be on an earlier flight with his wife and son, but there wasn't enough room on the first plane, Choi said. "It's a very difficult time for all of the family. We've got to stick together and pull through," said Choi, who is working to comfort his elderly parents.
"He was a genuinely nice bloke," Steve Hayler, a former co-worker of Choi's, told The Telegraph. "There will be a lot of people who will be very sad."
Edward Febriantus and Andrian Noventus
The two young men had recently graduated from Saint Albertus Senior High School, a Catholic High School in Malang, Indonesia, according to a Tweet from the school's student council. The nearby Ma Chung University also asked for prayers for Febriantus and Noventus' family, but didn't specify what connection they had to the college.
Nanag Priyo Widodo, 43
Widodo, a tour guide from Surabaya, was traveling from Indonesia to Singapore while guiding a family of four through Singapore, Malaysia and Indonesia, his wife, Nias Adityas, told The Associated Press on Sunday from Surabaya Airport. Widodo had told his wife before he left that he was happy for the opportunity.
"He just told me, 'Praise God, this new year brings a lot of good fortune,'" Adityas said.
Khairunisa Haidar Fauzi
Fauzi was one of four flight attendants on the doomed plane. Her father, Haidar Fauzie, 60, told the AP that his youngest child and only daughter had worked for AirAsia for two years.
"She is beautiful and smart. It has always been her dream to fly. We couldn't have stopped her," said Fauzi, who added that he and his grief-stricken wife had last seen their daughter six weeks earlier while she was home for vacation.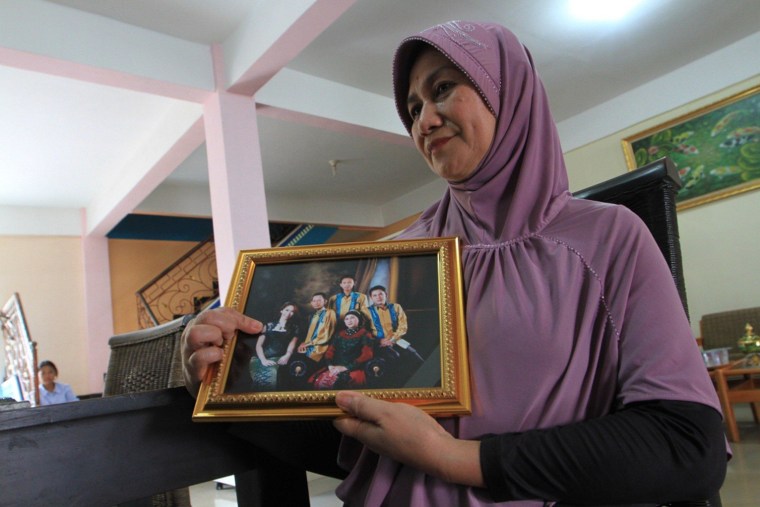 Oscar Desano
Desano was a flight attendant on Flight 8501, according to the flight manifest. Before the flight, he said on Twitter that his wife was pregnant. Desano's cousin confirmed the account to NBC News, and said he was an attendant on the plane.
"I love you so much, I adore you so much, you're my everything … I hope you'll be a great mother, a great example, and a great role model to our children," Desano wrote in a birthday message to her.
Desano expressed concern in tweets and posts on the social media site, Path, in March and July when MH370 and MH17 suffered catastrophes. "My deep condolences also for the pax's family, may all the casualties rest in peace," he wrote in a post about MH17 in July.
Ratri Sri Andriani, 30
Ratri was also a tour guide, leading a group of 25 Indonesians on a trip to Singapore, her husband, Dimas, told the AP.
Siauw Alain Oktavianus
Alain was embarking on one final family vacation before he became a husband. "It was supposed to be their last vacation before we got married," his fiancée, Louise Sidharta, told Reuters. "We had planned to marry in May next year," Sidharta told reporters at Singapore's Changhi Airport, according to Bloomberg News.
Herumanto Tanus, Indahju Lianingsih, and their children, Nico and Justin Giovani
The family was traveling to Singapore to visit their daughter, Chiara Natasha, who is studying there, according to Reuters and the New Straits Times. "I was shocked and didn't know what to do when I was told about the aircraft going missing," Natasha said. Her uncle, Yohannes, told Reuters that Natahsa "cries every time (she) watches the news."
Alexander Smith and Cassandra Vinograd of NBC News and The Associated Press contributed to this report.