Airbus said Monday it will stop making its A380 superjumbo if it can't strike a long-term deal with the airline Emirates for a steady supply of the planes.
Airbus chief salesman John Leahy told reporters that "if we can't work out a deal with Emirates, there is no choice but to shut down the program."
He said the airline is "the only one who has the ability" to commit to a minimum of six planes a year for a minimum of eight to 10 years, which Airbus needs to make the program viable.
The announcement came as Airbus announced it sold 1,109 planes year, outstripping rival Boeing thanks to a raft of end-of-year deals.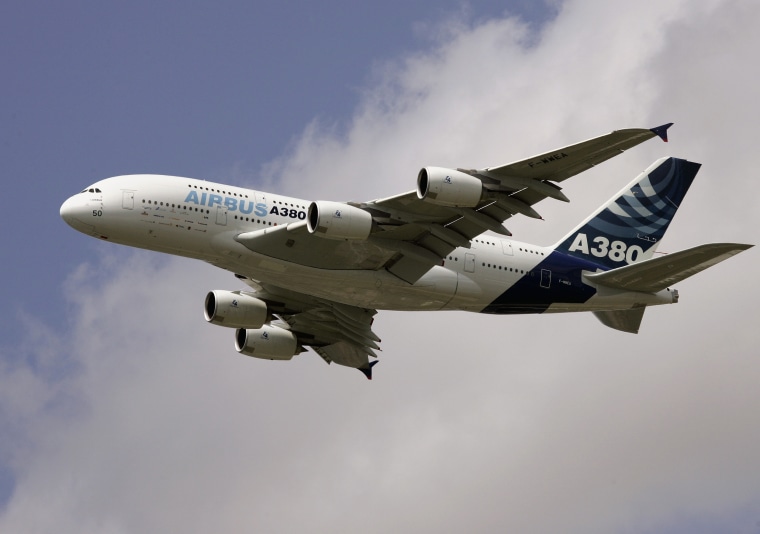 The double-decker A380 drew worldwide attention when launched a decade ago but demand for the four-engined goliaths has weakened as airlines choose smaller twin-engined models, which are easier to fill and cheaper to maintain.
Emirates has been a strong believer in the A380 and is easily the largest customer with total orders of 142 aircraft, of which it has taken just over 100.
Talks between Airbus and Emirates over a new order for 36 superjumbos worth $16 billion broke down at the Dubai Airshow last month. Negotiations are said to have resumed, but there are no visible signs that a deal is imminent.
Although airlines such as British Airways have expressed interest in the A380, Airbus is reluctant to keep factories open without the certainty that a bulk Emirates order would provide.
Emirates, for its part, wants a guarantee that Airbus will keep production going for a decade to protect its investment.
As of the end of November, Airbus had won orders for 317 A380s and delivered 221, leaving 96 unfilled orders.
Singapore Airlines, which first introduced the A380 to passengers in 2007, showcased an $850 million cabin re-design in December and expressed confidence in the model's future.