A woman says her family was booted off an Alaska Airlines flight to Seattle this week because her teenage brother with Down syndrome vomited a small amount.
The teen had just boarded flight 779 in St. Louis on Monday following an Easter weekend trip when flight attendants asked him and his parents to deplane, Meaghan Hess, a third-year law student and a staffer for the 9th U.S. Circuit Court of Appeals, said in a written statement.
"After boarding the flight, Patrick threw up a little and the airline workers kicked my family off the flight," said Hess, who was not traveling with her family at the time.
The airline booked the trio on a flight the next morning, but did not offer to pay for accommodations, Hess said. A representative told her father that the family should have been charged for the 6 a.m. flight but that Alaska Airlines was extending a courtesy, according to Hess.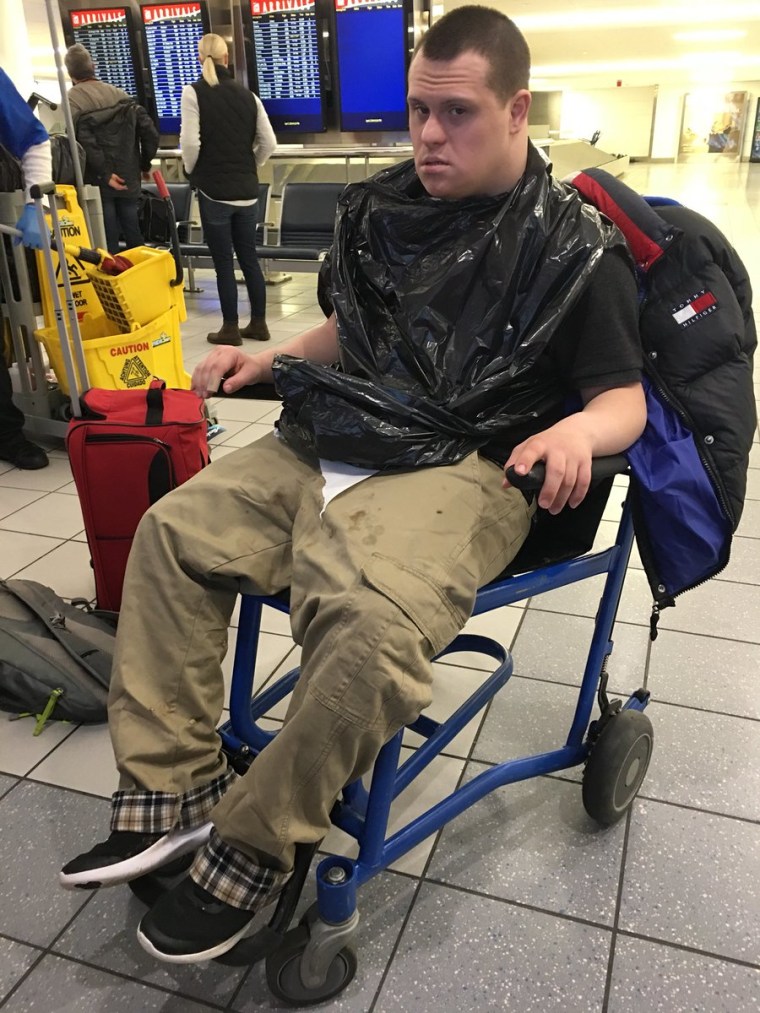 The airline left them "stranded at the airport for nearly eleven hours knowing that my family had nowhere to go for the night," Hess said. "Instead, all they did was hand my parents a black garbage bag, saying that my brother could just throw up in that."
In a Twitter direct message exchange with the airline that Hess shared with NBC News, an Alaska Airlines representative said: "I'm truly sorry for your family's experience. Safety of all passengers is our number one priority. I am glad to see that we re-booked them at no fee in the morning. I apologize that we cannot provide hotels in these situations."
Alaska Airlines spokeswoman Ann Johnson later said that the teenager presented a possible health threat. "The family was not able to depart on their original flight because the family's child was visibly ill," she said.
"Out of an abundance of caution the agent determined that the child was not fit to fly," Johnson said. "In the case of a medical-related situation, it is safer for guests to be treated on the ground, as our crew are not trained medical professionals."
The airline said it was looking into how the incident was handled and had reached out to the family to better understand what happened.
The trio was ultimately upgraded to first class, Hess said, where attendants provided her brother with "a black trash bag" for the trip home to Washington state.
Hess wasn't satisfied with the airline's response. She characterized the treatment as "disability discrimination."
"I can't help but think if a non-disabled child that threw up, would the airline have kicked that family off the flight," she said.