Emirates, the Middle East's largest airline, saw its annual profit drop by a whooping 82 percent for its 2016-2017 year. The company in part put blame for the dramatic decrease on the Trump administration's decision to ban laptop use on Middle Eastern flights.
The airline said in its annual 2016-2017 report that it generated a revenue of AED 1.3 billion ($340 million) until March 31, constituting its lowest profit in five years. In the 2012-2013 fiscal year, Emirates earned AED 2.283 billion (US $621) million and closed the 2015-2016 year with a high of AED 7.125 billion (US $1.93 billion).
Related: Emirates Just Cut Some of Its Flights to the U.S. Because of Trump's Travel Bans
"The New Year ushered in a new president in the United States, and a new administration which in its first three months issued a raft of new measures relating to entry requirements, enhanced security vetting procedures, and restrictions on personal electronic devices in aircraft cabins," said His Highness Sheikh Ahmed bin Saeed Al Maktoum, chief executive of Emirates Airline and Group. "These all directly impacted Emirates' operations into the US."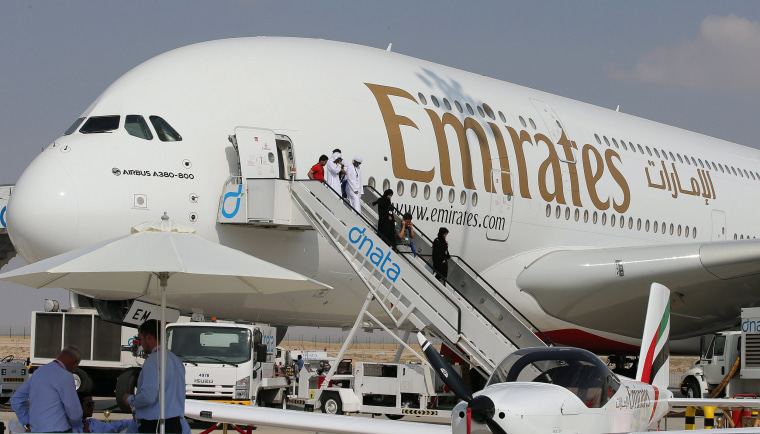 He also called 2016-2017 the airline's "most challenging year to date."
Emirates slashed five flights on five U.S. routes in April 2017 after the Trump administration introduced new security measures, banning laptop use on direct flights from 10 Middle Eastern airports including Emirates' main airport, Dubai International.
Since then, the carrier dropped its daily flights from Fort Lauderdale and Orlando to five times a week and reduced the twice daily Seattle and Boston flight pattern to once daily.
The airline also announced that it wouldn't be paying dividends to Investment Corporation of Dubai, the state investment body that owns the airline. Last year, it contributed AED 2.6 billion (US $707 million). The report cited the "current business climate" as the reason behind this decision.
"We remain optimistic for the future of our industry, although we expect the year ahead to remain challenging with hyper competition squeezing airline yields, and volatility in many markets impacting travel flows and demand," said H.H. Sheikh Maktoum.
Related: Emirates Boeing 777 Explodes on Dubai Runway After Crash Landing
Although the airlines carried 56.1 million passengers, up by 8 percent from last year, it faced a drop in passenger seat factor — the number of seats filled — by 1.4 percent, from 76.5 percent to 75.1 percent. It also reported a 10 percent slump in passenger yield. Plane capacity had an uptick with a 7.2 percent boost to 60 million seats filled.
Emirates has faced an avalanche of problems in terms of investing and gaining profits, with challenges that include a rising U.S. dollar market amid failing oil prices, as well as an increase in militant actions in Europe.
The Dubai carrier invested AED 13.7 billion (US $3.7 billion) in new aircraft, equipment and modern facilities but the overall Emirates Group saw a 70 percent dip in its total profits at AED 2.5 billion (US $670 million).
The company also increased its total workforce by 11 percent to more than 105,000 employees and purchased 35 new aircraft, the highest amount in a single fiscal year since 2012-2013. However, it deferred deliveries of 12 Airbus A380 superjumbos in December, and remained mum about its plans to expand to 15 U.S. locations by 2018.
The airline introduced two new routes to Phnom Penh and Zagreb, and intends to partake in a $11 million make-over of its lounges in Dubai in 2017.