ATLANTA — The lights were back on Monday, but it was not business as usual at Hartsfield-Jackson International Airport in Atlanta a day after a nearly 11-hour power loss caused more than a thousand flight cancellations.
And a thick layer of fog rolling into Atlanta on Monday morning threatened to make the holiday travel nightmare even worse.
More than 400 flights were canceled Monday at the world's busiest airport and 42 flights were delayed, according to FlightAware.com, after the massive outage left travelers stuck inside airport terminals and in some cases aboard planes for hours.
That number was an improvement from the 1,173 flights and 207 delays on Sunday.
Approximately 30,000 people were affected by the outage, according to NBC News affiliate 11 Alive.
Delta, which is headquartered in Atlanta and had canceled approximately 900 mainline and Delta Connection flights on Sunday, accounted for nearly 300 of the flights canceled on Monday. The airline's Twitter account said most of the cancellations on Monday were early morning inbound flights.
Related: Atlanta airport loses power, trapping travelers in planes and terminals
Stranded Delta passengers at Hartsfield-Jackson hoping to get on a new flight were forced to wait in snaking lines for a new boarding pass after Delta's electronic system went offline.
After obtaining paper boarding passes, travelers had to once again undergo TSA security screenings.
One passenger waiting in the frustratingly long lines was Kiki Melanophy, 22, of Danbury, Conn., who was trying to get home after her graduation from the University of Alabama. She said she flew into Atlanta about 10 minutes after the power went out and spent five hours waiting to deplane.
Making matters more complicated was Blue, Melanophy's 7-month-old cocker spaniel puppy travelling with her.
"We got here four hours before the flight this morning. I'm sure we won't make it because they won't let me check in with the dog," Melanophy told NBC News during a phone interview.
Melanophy said her anxiety was spiking while waiting at the special services counter as she feared she would end up footing the bill for a new ticket home.
Meanwhile, her family, who had flown in from Connecticut for her graduation, had made it through the security line.
"They actually had to go through security without me. They're getting on my plane," she said, adding that she told her family to go on without her. "I'm hoping they make the flight. We were all coming home from graduation, and I just sent them through because my parents and siblings have work to get to."
Related: American, pilots reach deal to avoid canceling flights
Security lines were jammed with passengers anxiously hoping to make their flights, and travelers from the night before still slept on chairs or the floor. Check-in lines were even more chaotic, with airport employees handing out water and donuts to those waiting.
Airport personnel tried to direct the onslaught of foot traffic bustling through the terminals.
Wayne and Kim Elliott, of Cambridge, Ontario, said they were stuck on a plane connecting in Atlanta for four hours. They said they thought a terrorist attack had happened when they landed.
"I didn't see any police presence when we finally got into the airport. It was quite scary to see. It was completely dark. Sort of unreal," Kim Elliott said.
Wayne Elliott said people in wheelchairs were stuck throughout the airport, and they helped several people with their luggage. However, the Elliotts never got their bags, and went to a nearby hotel empty-handed.
"We had to Uber to Walmart. We had no toothbrush, toothpaste, deodorant," Wayne Elliott said. "This plastic bag is my luggage."
Incoming passengers on Sunday who had checked luggage were urged not to attempt collecting their bags on Monday because of the extreme congestion, the airline warned on Twitter.
Atlanta Mayor Kasim Reed said the outage, which began around 1 p.m. ET on Sunday, had been caused by a fire at the main substation powering the airport.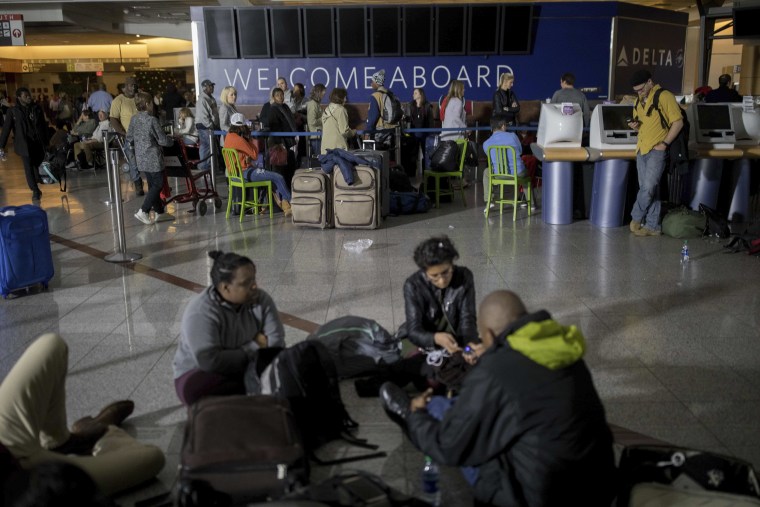 Firefighters and electrical workers were unable to assess the damage for nearly two hours due to the extreme heat and dangerous fumes.
Craig Bell, a spokesman for Georgia Power, said the fire took place in a switching station and investigators were working to determine if a switchgear in an underground electrical facility had failed.
Redundant circuit cables meant to power on in case of a failure, located in the same switching station beneath the airport as the main power source, were also damaged during the fire.
"When the fire happened, not only did it destroy the main power line, it destroyed the backup supply. We're looking at it and working with airport officials to determine if we need to encase that in cement to prevent this from happening again," Bell said during a phone interview.
Bell said Georgia Power apologizes and is "working as hard as it can to find out what happened and how we can prevent it from happening again."
"I want to express my sincere apologies to the thousands of passengers whose day has been disrupted in this manner," Reed said Sunday during a news conference. "We certainly understand that the outage has caused frustration and anger, and we are doing everything that we can to get folks back home right away."
By 10 p.m. ET, all passengers had been deplaned, Reed said.
John Goglia, a former board member of the National Transportation Safety Board, told MSNBC on Monday that the power outage wasn't the only failure on Sunday. He said the lack of a plan at an airport of that size was unacceptable and it "needs to have a plan B that's going to work."
"This is not rocket science. We've been dealing with these issues for a long time. Every city with high-rise buildings has to deal with this. ... Somebody needs to sit down and really analyze what happened here, what went wrong, and make the corrective actions," Goglia said.
Goglia also criticized the airport's lack of an evacuation, saying that had a "minor secondary event" happened, it could have caused a panic inside the airport.
"Care, custody and control of the passengers is foremost in the airport's mind and they should have evacuated those passengers," Goglia said.
As the airport attempted to return to normal operations on Monday, a dense fog advisory was issued for the area from 2:44 a.m. ET until 9 a.m. ET, according to Weather.com.
Visibility was forecast to be less than a quarter mile in some areas, but it was not immediately clear if the fog would cause further delays.
Kerry Sanders and Demi Douglas reported from Atlanta, and Kalhan Rosenblatt from New York.