Don't you hate it when you're at the airport, ready to fly out, and agents with the Transportation Security Administration say you can't bring your supermarket-grade meat slicer in your carry-on? Or your enormous lobster?
Next time, better check the TSA's Instagram account first for some travel tips.
The surprisingly amusing and wildly popular social media account of the government agency charged with keeping the skies safe is filled with absurd items that passengers attempt to get through security, paired with hilarious, often pun-filled captions about what is and isn't allowed past checkpoints.
There are also plenty of photos of fluffy, tail-wagging TSA explosive detection canines.
It's hardly what you'd expect from a government agency — which is exactly what Bob Burns, the man who runs it, is going for.
"When people come to our account, they're surprised we've got an Instagram, first of all," Burns, a TSA public affairs specialist and the agency's social media lead, told NBC News. "Secondly, they're kind of taken aback by the tone we use — in a good way. 'Is this really a government agency having fun and talking to me like I'm a human?'"
"The shock value is 'Oh my God, these people are trying to bring these things on planes and I'm sitting next to these people,'" he added. "It's kind of the perfect storm of 'This is pretty cool, I'm going to follow this.'"
The account, started by Burns in 2013, has nearly 870,000 followers. In 2015, Rolling Stone deemed it the fourth best Instagram account on its list of top 100 accounts — one slot above Beyoncé's.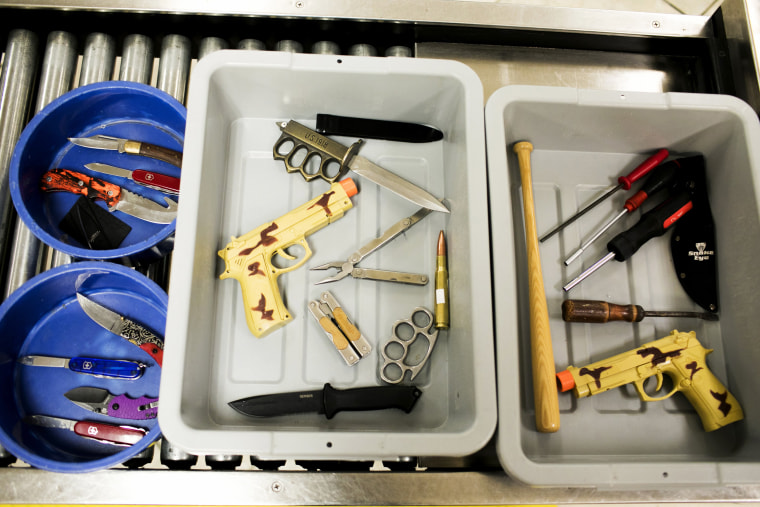 This past week, the account won three Webby Awards, the top recognition for internet excellence.
"I think that a lot of people are hesitant to go into social media at a corporate level, because they're afraid of the criticisms that comes with it," Burns said. "If the TSA can do it, anybody can do it. We're actually changing the conversation from 'I had to wait in this line, TSA is so horrible,' to 'Did you see what TSA is finding? Now I understand why I have to wait in these lines. There's all this crazy stuff.'"
Among Burns' favorite "crazy stuff": a life-sized prop corpse from the "Texas Chain Saw Massacre" movie that a passenger in the Atlanta International Airport decided to bring through a checkpoint.
"He wheeled him up to the checkpoint in a wheelchair. It just so happened that the movie prop was just the right size to go through" the conveyer belt, Burns said.
Burns, 47, doesn't have a social media background, and he didn't plan on a career in aviation security. A musician who was once struggling to make ends meet, Burns started at the TSA as a screener in Cincinnati-Northern Kentucky International Airport one year to the day after the Sept. 11, 2001, attacks, as a way to make a steadier income. (TSA was created in the aftermath of Sept. 11.)
Brand-new to the field, Burns said he volunteered for "anything and everything," including serving as the spokesman for a TSA advisory council, and he moved up the ranks. The bosses took notice of his love of communications, and asked him to start a blog for the TSA in 2008.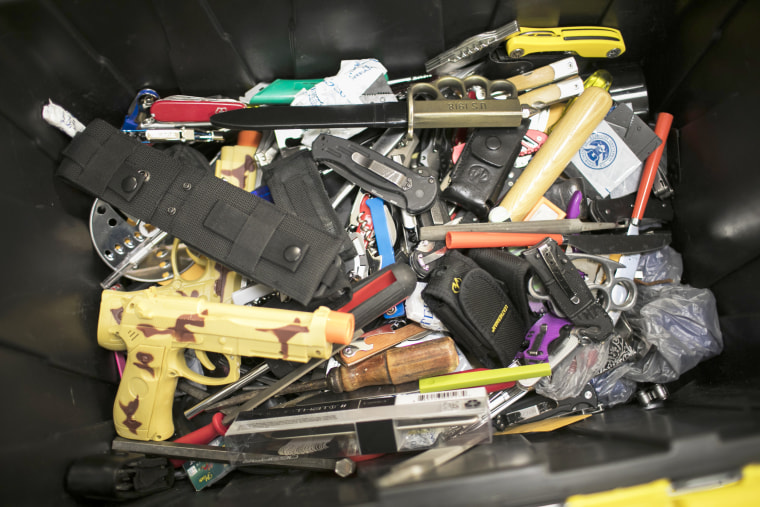 Burns posted pictures of the wacky items found in carry-ons on the blog. When he discovered Instagram and started using it himself, he "just knew these images would be a big hit."
He was right. Within a couple of weeks of starting the TSA account, he caught the attention of late-night host Jimmy Kimmel, who highlighted the posts on his show and said that the TSA uses "more hashtags than a 13-year-old girl." The number of followers kept growing from there.
Burns — who lives in the Cincinnati, Ohio, area with his wife, two daughters, and dog named Rusty — doesn't take the photos that he posts. All of them are taken by supervisors at checkpoints, he said, often in poor lighting.
"It doesn't really have to be a strong picture, as long as the picture is of something of interest and as long as I can back it up with a good caption," he said.
And while Burns enjoys entertaining people, he said the TSA's account serves a real purpose. It regularly highlights the number of firearms found in carry-ons. (Last week it was 79).
The lighthearted posts are meant to complement the serious business of keeping Americans safe, he said.
"It's a very important balance," Burns said. "There's a cheekiness to it, but I also try to educate and prove travel tips. A lot of officers say that they appreciate that, that it makes their job easier."