Two major hospitals came under attack in rebel-held east Aleppo early Wednesday, killing at least two people and knocking out desperately needed medical services.
Hundreds of people have been killed over the past week amidst a blistering new government offensive that was launched to retake the city after a cease-fire deal collapsed.
Medical officials said strikes hit two hospitals — codenamed M2 and M10 — before dawn on Wednesday.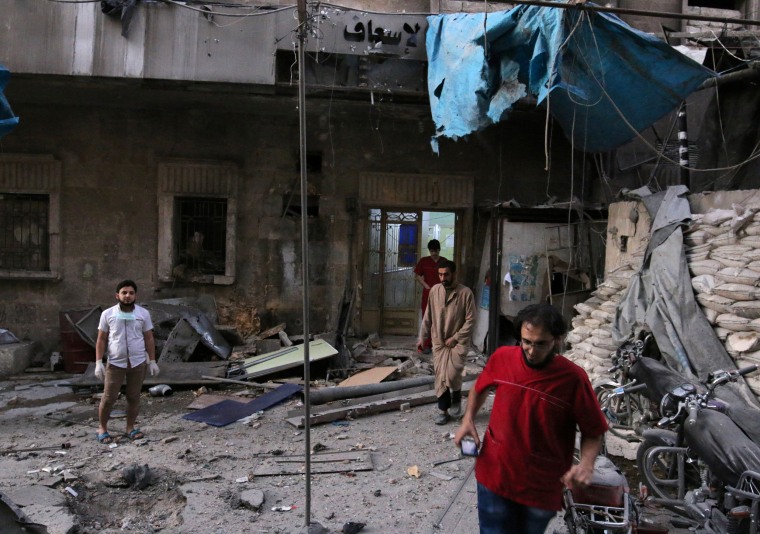 The head of M10 said generators and water-storage facilities were damaged while the ICU also sustained major damage.
"The destruction is everywhere," Dr. Mohammad Abu Rajab told NBC News. "A wave of dust washed over the patients as they laid in their hospital beds."
He said the hospital has been taken out of service "completely and indefinitely," calling it a "sad day" for medical professionals.
"We cannot provide essential medical services to our patients who need it," Rajab lamented.
The medical charity SAMS, meanwhile, said two people were killed and three medical staff were injured in the morning strikes on the M2 hospital.
SAMS' advocacy officer Adham Sahloul called the strikes "deliberate."
He said both M2 and M10 suffered structural damage — leaving Aleppo with just six working hospitals, only three of which have trauma centers.
"This really sets things back," Sahloul told NBC News. "You will now have hundreds of patients that cannot be treated and people who will bleed to death."
He said there are just 29 doctors left to treat an estimated 250,000 people trapped in rebel-held Aleppo — a ratio that medical organizations have warned is unsustainable.
The World Health Organization on Tuesday called for "the immediate establishment of humanitarian routes" to evacuate Aleppo's wounded, saying hospitals are overflowing and in urgent need of supplies.
In addition to the strikes on the hospitals Wednesday, shells also hit a bakery in the Old City.
White Helmets rescue worker Ismael Alabdullah said the barrage was unleashed as people waited in line to get bread in the morning — "and up till now the bombing hasn't stopped."
The Britain-based Syrian Observatory for Human Rights said six people were killed in that incident.
The recent Syrian offensive in Aleppo has been described as the worst bombardment since the civil war erupted.
Syria's government has ignored calls to halt the bruising campaign — though on Wednesday, Pope Francis added his voice to the pleas.
Related: A Short History of Syria's Civil War
Speaking to tens of thousands of people in St. Peter's Square, Francis called Aleppo "this already martyred city, where everybody is dying — children, old people, sick people, young people."
"I renew to all an appeal to commit themselves with all their strength to protect civilians," Francis said. "I appeal to the consciences of those responsible for the bombings, who will one day will have to account to God."