Buses meant to evacuate rebels and tens of thousands of civilians from Syria's eastern Aleppo have left the edge of the opposition enclave and returned to their depots, according to media reports.
The buses' departure could signal a major delay in the scheduled evacuations and even the collapse of the cease-fire deal.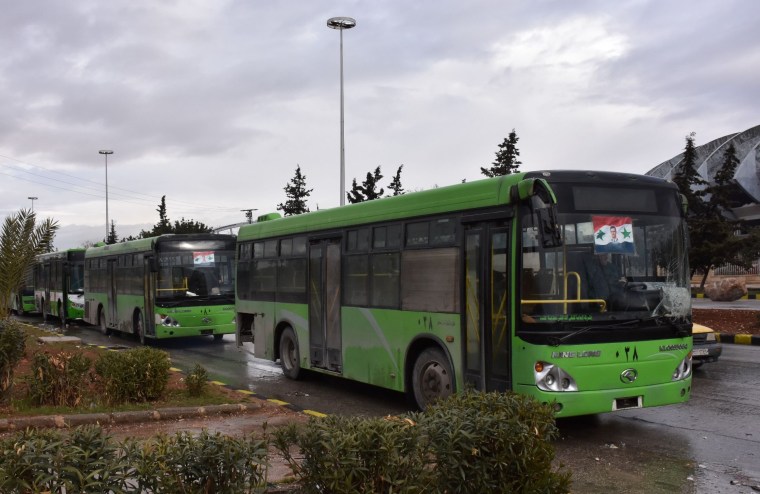 On Tuesday, the rebels reached a cease-fire deal to evacuate people from eastern Aleppo in what is effectively a surrender — and a defining moment in Syria's civil war.
But the Lebanese channel al-Manar TV has broadcast footage showing the Syrian government's green-colored buses leaving the evacuation point without any passengers on Wednesday.
Al-Manar is the media arm of the Lebanese militant Shiite group Hezbollah, which is fighting alongside Syrian President Bashar Assad's government forces in Syria.
Shelling and rocket fire also resumed Wednesday at the edges of the opposition's one-square-mile enclave in Aleppo.
"There is fierce bombardment by the regime forces on besieged Aleppo, using artillery, tanks, and mortars," a Turkey-based official in the Jabha Shamiya rebel faction told Reuters, citing reports from the ground.
Rami Abdulrahman, director of the British-based Syrian Observatory for Human Rights monitoring group, described violent clashes and "very heavy" bombardment.
Earlier, the Interfax news agency quoted Russia's defense ministry as saying almost 6,000 civilians, among them 2,000 children, had left rebel-held districts in Aleppo over the past 24 hours.