Bombs knocked out one of besieged Aleppo's last remaining hospitals Saturday, a nurse inside the facility told NBC News — leaving the ravaged Syrian city with a dwindling and dire amount of medical resources.
Abo Rajab said two crudely made barrel bombs hit the M10 hospital — one in front and the other behind — at 11 a.m. local time (4 a.m. ET). Within two hours, at least one cluster bomb struck the building, he said.
The humanitarian group American Relief Coalition for Syria said two barrel bombs, cluster munitions, incendiary weapons and vacuum bombs were dropped onto the underground facility. Two patients were killed and 13 others were injured, with the survivors sent to another medical center.
A worker with the Syrian American Medical Society (SAMS) also reported the hospital getting hit.
NBC News was not able to independently confirm the separate accounts but they appeared consistent.
Russian-made cluster bombs — weapons that kill indiscriminately and inflict long-lasting damage — were used in an attack on the same hospital earlier this week, a video obtained by NBC News appeared to show.
Only about 30 doctors are believed to be left inside the devastated zone, coping with the hundreds of wounded among some 250,000 still in the area.
Related: Russia Warns U.S. Against Attacks on Syrian Government Forces
The latest hit brings the number of functional hospitals in war-ravaged Aleppo down to just five, according to SAMS spokeswoman Lobna Hassairi.
That totals two trauma centers, including five ICU beds, and three primary health care facilities, Hassairi told NBC News — a tiny fraction of what is needed to treat the overwhelming number of patients in Aleppo.
Medical supplies are also running perilously low. And with so much demand and so few intact hospitals left, medical staff have been forced to treat the wounded on the ground, according to the organization Physicians for Human Rights.
Hospitals have been repeatedly targeted by pro-government airstrikes in the fight against rebel forces. Physicians for Human Rights found that since the Syrian civil war began in 2011, there have been 373 attacks on 265 medical facilities as of June. The attacks have become so frequent that medical staff only refer to hospitals by code names, such as the M10 hospital in Saturday's attack, to protect their locations.
U.N. Secretary General Ban Ki-moon has called the deliberate attacks on hospitals a war crime.
International fears around Aleppo's stability are growing. On Friday, two senior U.S. officials told NBC News that thousands of ground troops were amassing around Aleppo and they worry that the city could soon fall.
The officials said they were awaiting a major ground operation as troops representing a mix of Syrian regime, Iranian Quds Force, Hezbollah, paid fighters from Iraq (Badr Brigade) and from Afghanistan gather.
Separately, Syrian activists reported "violent clashes" in and around Aleppo. Fighting was ongoing in the eastern neighborhoods of Bustan al-Basha and Sheikh Khodr on Saturday, according to British-based Syrian Observatory for Human Rights. Aleppo's Old City was also being shelled, they added.
Warplanes hit an area north of the city in the early hours, according to a statement issued by the group just before 5 a.m. ET Saturday.
State-run media showed footage purportedly of clashes between between Syrian forces and rebel groups on the outskirts of al-Basha. The material was released by the government-controlled Syrian Central Military Media.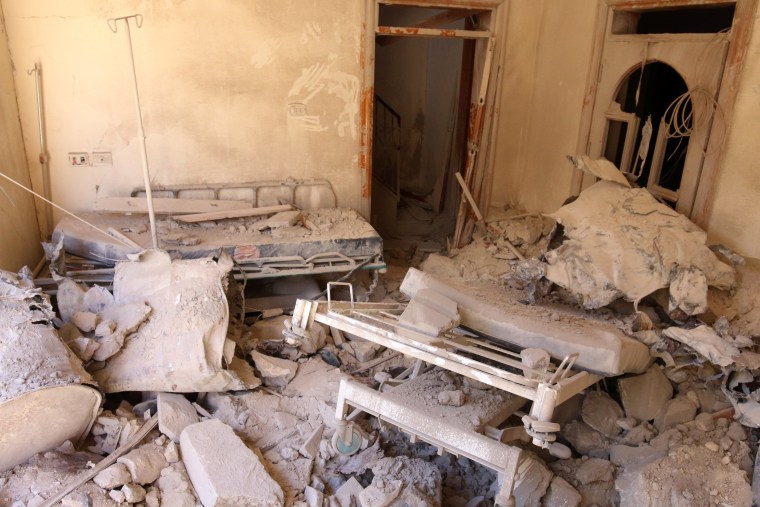 The video was allegedly filmed on Friday and showed Syrian soldiers firing machine guns in a bombed-out neighborhood.
Fighting in Aleppo intensified a week into a new Russian-backed Syrian government offensive to capture rebel-held eastern Aleppo and destroy the last urban stronghold of the revolt against President Bashar Assad that began with the civil war.
Moscow and Assad spurned a U.S.- and Russian-brokered ceasefire agreed to this month and launched attacks on rebel-controlled areas in Aleppo in potentially the most decisive battle in the civil war.