The baby plucked alive from under the rubble of a bombed building died moments later in Mahmoud Rashwani's arms.
"I was running to the hospital," the 31-year-old aid worker and activist said. "I felt his body turn into a cold body. He was just three months."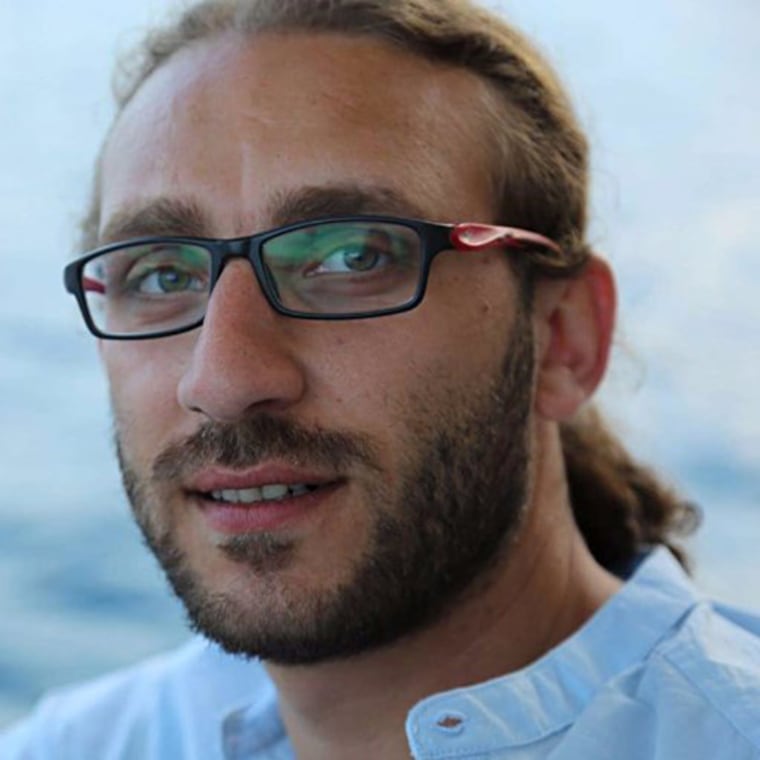 This was one of countless tragedies Rashwani has witnessed during Syria's bloody civil war that has claimed some 400,000 lives and driven millions from their homes.
The former public relations executive for a Russian textile company faces constant danger alongside 250,000 fellow residents of besieged and rebel-held eastern Aleppo. He writes and tweets pictures depicting his life there and describing its horrors.
"I usually wake up at the sound of bombardment and I run to help the casualties," he told NBC News.
Rashwani says he has been injured multiple times, most recently in early July while he was in a minibus. A missile landed nearby and pieces of shrapnel hit his leg. Six months ago, a bomb struck when he was shopping in a local market.
Even if they dodge bullets and bombs, life can be excruciatingly difficult for Aleppo's residents. Only a trickle of aid has made it through to the city since mid-July when the siege began.
The United Nations has called for an urgent cease-fire to allow aid deliveries and crucial repairs to the war-ravaged city's power and water systems.
There is still very little food, clean water and medicine. Rashwani said he and most others in eastern Aleppo survive on one meal a day.
To cope with the severe lack of food, Rashwani and his colleagues launched "Space of Hope" to help families grow their own food from seedlings soon after the siege began.
Rashwani also trains activists in first aid, and volunteers as a finance manager at one of the city's underground hospitals, where he says he was saw victims of a chlorine gas attack on August 10.
Rashwani spoke with NBC News across the border in southern Turkey just after he had made a harrowing three-day journey to see his wife, Zaina, and their six-month-old daughter, Zara.
Before the civil war, this same trip would have taken him about a few hours by car.
"I don't enjoy missing Zara's new moves and watching her get older. I hate being away — I love my wife and being with her," he said.
But nothing will stop him from going back to Aleppo in a few weeks, he said.
"I have no choice for now," Rashwani said. "I won't stop until Syria gets its freedom."