The top United Nations human rights official said Friday that the siege and bombing of the Syrian city of Aleppo constituted "crimes of historic proportions."
Zeid Ra'ad al-Hussein, a Jordanian prince and the current U.N. High Commissioner for Human Rights, referred to Aleppo as "a slaughterhouse."
He added that the siege and bombardment of the city had caused heavy civilian casualties amounting to war crimes.
Zeid asked the 47-member U.N. Human Rights Council in Geneva to set aside "political disagreements" and to refer the situation to the prosecutor of the International Criminal Court (ICC).
"[The] collective failure of the international community to protect civilians and halt this bloodshed should haunt every one of us," he said, according to The Associated Press.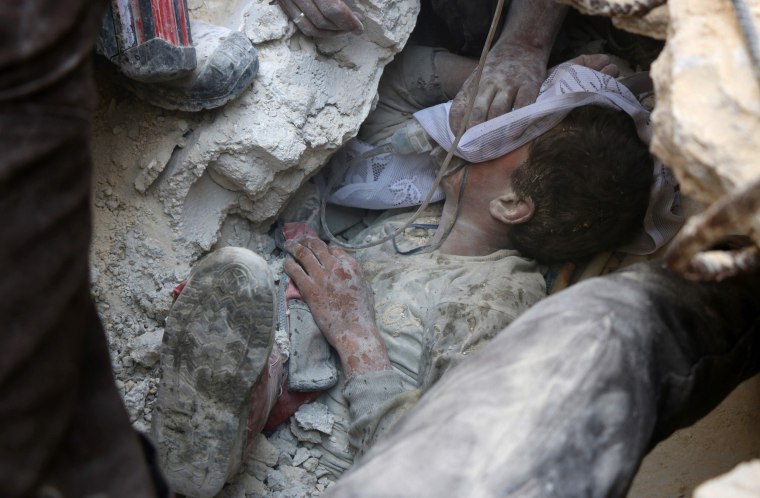 The council was expected to vote later Friday on a resolution that would call for increased monitoring of crimes in Aleppo, where Russian war planes have carried out weeks of airstrikes on the rebel-held part of the city. Zeid did not specifically name Russia in his speech.
"Armed opposition groups continue to fire mortars and other projectiles into civilian neighborhoods of western Aleppo, but indiscriminate airstrikes across the eastern part of the city by government forces and their allies are responsible for the overwhelming majority of civilian casualties," Zeid said, according to Reuters.
As Syria's financial capital and largest city, Aleppo used to be home to over 2 million people, according to the 2004 census. It's post-war population, however, is unclear.
The U.N. refugee agency warned in August that at least 250,000 civilians have been trapped in the rebel-held eastern part of Aleppo since early July. The charity Save the Children estimated that kids make up one-third of the casualties there.
In the last week of September alone, UNICEF reported that 96 children in Aleppo were killed in attacks, and 223 children were injured.
"The violations and abuses suffered by people across the country, including the siege and bombardment of eastern Aleppo, are simply not tragedies; they also constitute crimes of historic proportions," Zeid added.
Reuters reported that Paulo Pinheiro, chairman of the U.N. commission of inquiry on Syria, said that the panel would continue to document war crimes in Aleppo and appealed to the government of President Bashar al-Assad to provide information on violations.
Britain, which requested the one-day session along with allies including the U.S. in order to set up a special inquiry on Aleppo, sought to shame Russia for its airstrikes on Aleppo. Russia has denied any deliberate targeting of civilians and said that it is combating terrorists.
"Russia, you are making the situation worse, not solving it," Tobias Ellwood, the British government minister for Africa and the Middle East, said in a speech to the Geneva forum.
Russian Ambassador Alexey Borodavkin accused Britain and its allies of "trying to save terrorists from being the target of strikes, allowing them to regroup and continue their barbarbic acts".