Mustafa al-Sarut is used to watching helpless Syrian children being dug out of bombed-out homes.
But he never saw a kid like Omran Daqneesh.
"Honestly, to this day, I haven't seen a look of shock on someone's face as I saw with Omran," al-Sarut told NBC News on Tuesday. "Any child that is dug out from the rubble is either crying or screaming."
Al-Sarut was one of several cameramen who captured Omran on film after he was pulled from the rubble following an airstrike in Aleppo's rebel-held district of Qaterji.
Images of the bloodied, dust-caked child went viral. Initially dubbed the "boy in the ambulance," Omran refocused international attention on the country's five-year-long civil war.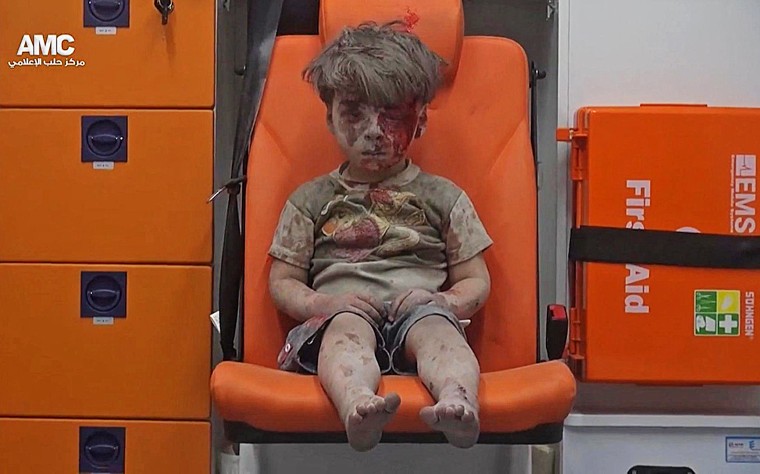 The cameraman rushed to the scene after hearing chatter on radio frequencies used by local rescue workers.
"There was a huge destruction in the area when I got there," said the 23-year-old Al-Sarut, who works for the pro-opposition Aleppo News Network. "I saw many casualties. I saw a very large number of injured people lying on the ground."
It was then he noticed one boy who stayed silent even as rescuers pulled him from the rubble.
"He did not say a thing. He was traumatized from the shock," the cameraman recalled. "He did not scream, he did not call anyone, he had an odd stare … With his innocence, how he wiped the blood off with his hand. He was used to all this — the airstrikes, the blood — this is his daily life."
Omran's parents and three siblings were also rescued — but his 10-year-old brother, Ali, died as a result of injuries on Saturday.
The cameraman sees "children dug out of the rubble every day"— but Omran's story still struck an emotional chord.
"He is not like any other child in the world," Al-Sarut said. "He doesn't go out and play, he does not feel confused, or cries when he sees blood. Of course Omran sees this every day."
When he got home, Al-Sarut said he felt "devastated, because it feels like one of my family members is being dug out of the rubble."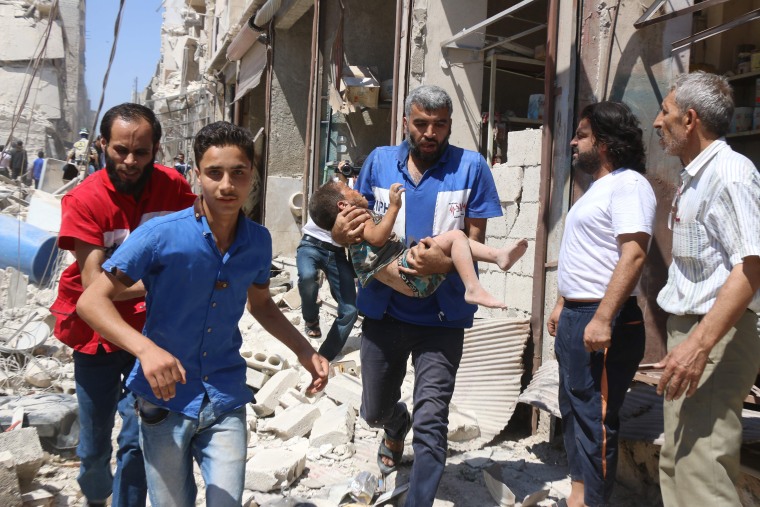 Aleppo — Syria's largest city before the war — has been split between rebel and regime control for most of the conflict. Thousands of children are in the crossfire, either from Syrian and Russian jets or rebel shelling.
The United Nations refugee agency warned earlier this month that at least 250,000 civilians were trapped in the rebel-held part of the city since early July. The city hasn't had a full day of running water in more than a month.
Al-Sarut says that Syrian President Bashar Assad "destroyed an entire upcoming generation" because of the lack of education in the city. But he also calls on "all the governments, all the world, to stop these crimes committed on our people."
A U.S.-led coalition is bombing ISIS in the country. This coalition has also been accused of killing civilians in collateral damage.
Al-Sarut said if he could send one message to the world it would be "that this is the Syrian reality, that this is everyday life for Syrians."
But, to him, Omran's image said even more.
"Maybe he delivered a greater message than I did," the cameraman said. "With his looks, with his silence, he delivered a message to the whole world."