Russian-made cluster bombs — weapons that kill indiscriminately and inflict long-lasting damage — were used in an attack on at least one hospital in the ravaged Syrian city of Aleppo last week, a video obtained by NBC News appears to show.
The video shows two unexploded submunitions amid the rubble at the M10 hospital in rebel-held eastern Aleppo following a morning airstrike on Sept. 28. Several experts and sources independently identified the devices as Russian-made ShOAB 0.5 cluster submunitions, bomblets delivered by an air-delivered scattering device called the RBK-500. Both are known to be used by both the Russian and Syrian air forces.
However, it is difficult, even for specialists in unexploded ordnance disposal, to definitively identify such munitions in the field. The ShOAB 0.5 is visually similar to a U.S.-made series of bomblets.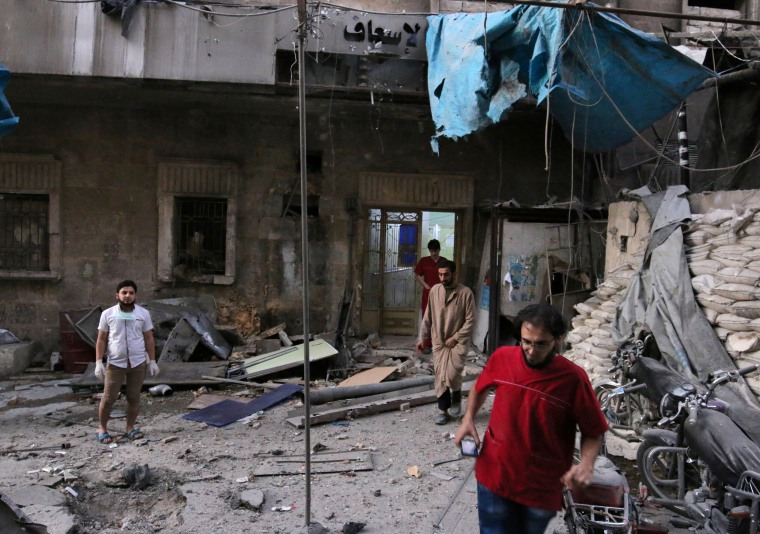 The use of cluster bombs on the hospital — part of a larger series of strikes that also hit a second hospital and a nearby bakery — underscores the relentless brutality of Syria's civil war, which lurched back into violence last month after the disintegration of a brief cease-fire. The casualties include hundreds of children killed or injured in Aleppo by a myriad of weapons falling on the city.
The hospitals were among the few facilities that remained to treat the hundreds of thousands of civilians caught up in the brutal new government offensive on eastern Aleppo. It is not clear whether the second hospital, called M2, was hit with cluster bombs.
NBC News visited both hospitals and spoke to medical staff there.
Among the patients at M2 was a prematurely born infant struggling to survive: Miriam, born on Sept. 10 when her mother, seven months pregnant, went into labor during the airstrike.
"These kids are innocent, and they came into this world under very difficult circumstances, they came into this world during a war," said Um Mohammad, the nurse who had been tending the children and infants in the hospital. Um Mohammad is a pseudonym, meaning "mother of Mohammad."
At M2, the attack started at about 4:00 a.m., according to Dr. Mohammad Abu Rajab, a physician at the hospital who uses a pseudonym to avoid reprisals for his work in opposition-controlled areas.
"This has resulted in the hospital being taken out of service completely and indefinitely," Abu Rajab said. "This was systematic and direct targeting of this hospital, which was home to pediatric and women's health specialists."
Related: White Helmets Video Shows Toll in Idlib, Aleppo of Syria Offensive
People on line at a nearby bakery were also hit in the airstrikes. According to eyewitnesses, they were struck at least three times: the initial strike; again when emergency responders came on scene to treat the injured; and once more after the injured residents and aid workers reached the M2 hospital, located in the same neighborhood.
"One of the medical workers who was injured at the bakery in the second attack was killed in the third attack, on the hospital," said Ismael Alabdullah, a member of the Syrian Civil Defence — also known as the White Helmets — who witnessed the attacks.
Um Mohammad was there when the bombs hit. "There was a lot of dust, and the electricity went out on us. I didn't know what to do with our children here in the incubators," she said.
Grabbing a flashlight she always keeps in her pocket, Um Mohammad carried the children out two at a time with the assistance of another ER nurse.
They found a working ambulance and rushed the children to another hospital, one of a few underground medical facilities that is still operational in eastern Aleppo.
"We dropped off Miriam, who was very sick. She was dying," Um Mohammad said. "Until we got there and started pumping air into her, she was on her last breath. We ran upstairs to the incubators and put her on a respirator immediately."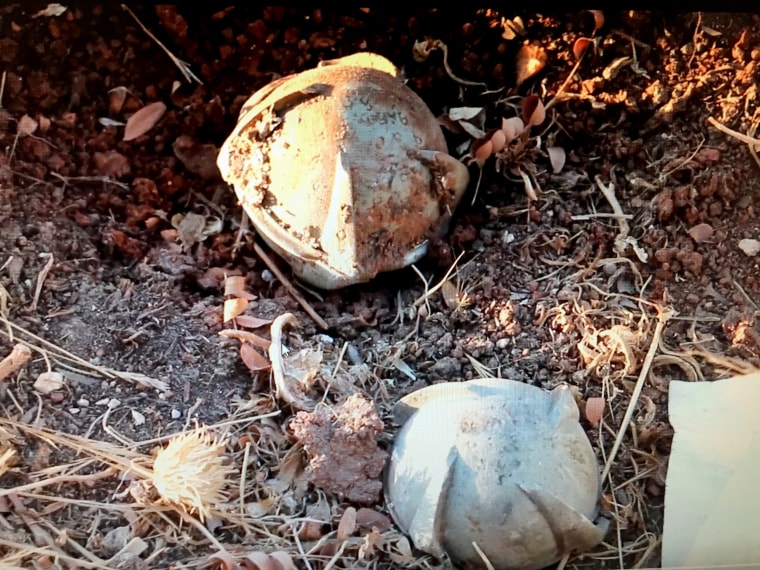 The bulk of the people killed in the Syrian conflict — or any conflict, for that matter — are slain by conventional weapons such as machine guns or high explosive munitions from artillery and aircraft. But disarmament advocates, humanitarian activists and some military leaders have long campaigned against the use of cluster bombs — airborne weapons containing hundreds of smaller bomblets that scatter over wide areas — arguing that they are inherently indiscriminate and are particularly likely to kill or injure children.
"Cluster munitions have been banned by 119 countries around the world through the convention on cluster munitions, which entered into force in 2010," said Alexandra Hiniker, a disarmament analyst who works on Syrian issues for PAX, a non-profit peace organization based in The Netherlands.
"There are still states that remain outside of this convention," she added, including the United States and Russia — the world's biggest arms dealers.
The United States dropped thousands of cluster munitions over Iraq and Afghanistan during the course of the wars there.
The presence of cluster bombs on the Syrian battlefield has been established through meticulous documentation and analysis by numerous human rights groups, activists and weapons specialists over the course of the war.
"Cluster munitions have been used in Syria since summer of 2012, first by Syrian forces — and that use is believed to be ongoing," Hiniker said. "Then in the second half of 2014, ISIS was also documented using cluster munitions. Since Russia became involved in the hostilities late last year, there's been a significant increase in the number of cluster munitions used."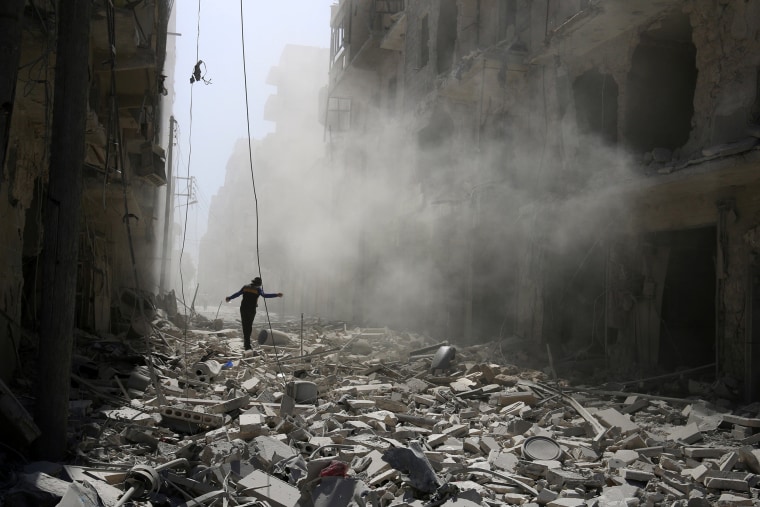 In a report issued in July, Human Rights Watch said it had documented 47 "cluster munition attacks" that killed or injured dozens of civilians in opposition-controlled Syrian territory in the spring and early summer. That was likely a fraction of the number of total attacks, it said.
"Although Russia has denied using cluster munitions in Syria, there is growing evidence that it has stockpiled cluster munitions, and has used or has directly participated in attacks with the weapon," the report said.
Nevertheless, American officials say there are only two parties dropping bombs on Aleppo right now: Russia and Syria.
Russia has denied using cluster munitions in Syria, although footage released from the Russian Ministry of Defense itself showed what appeared to be cluster bombs loaded onto aircraft in Syria.
Russia's Ministry of Defense has not yet responded to a request for information about the bomblets filed after office hours on Friday. Syrian government officials were not immediately available for comment. On Wednesday, the Syrian ambassador to the United Nations laughed and walked away when confronted by a reporter asking him if Syria had bombed two hospitals in Aleppo.
In a phone call with Russian foreign minister Sergey Lavrov, U.S. Secretary of State John Kerry did not bring up cluster bombs, but "expressed grave concern over the deteriorating situation in Syria, particularly for continued Russian and Syrian regime attacks on hospitals, the water supply network, and other civilian infrastructure in Aleppo," State Department spokesman John Kirby said in a statement on Wednesday.
"The secretary made clear the United States and its partners hold Russia responsible for this situation, including the use of incendiary and bunker buster bombs in an urban environment, a drastic escalation that puts civilians at great risk," Kirby said.
The impact of cluster munitions use in Syria will linger for decades, just as been the case in Laos, where the American military dropped cluster bombs more than 40 years ago. President Barack Obama recently pledged more than $90 million to go toward cleaning up unexploded cluster bombs and other munitions left behind there.
"Who is going to deal with the consequences of cluster munitions after the conflict ends? Because they don't disappear when the last bomb falls. In every case where cluster munitions have been used, it's shown that the impact lasts not only for years, but for decades," Hiniker said. "Any use of cluster munitions on populated areas is an indiscriminate attack, and this can amount to a war crime."
But for the residents of Aleppo, the more immediate concern is the cloud of death beneath which they remained trapped.
"God willing, He has written life for Miriam, and she'll survive," the nurse Um Mohammad said.
"But she really needs intensive care. She needs to be evacuated to Turkey to really get help, but she can't as result of the siege."
An NBC News contributor reported from Aleppo, Syria.