ALEPPO, Syria — After 80 booms there seemed little point in keeping a tally.
Whatever their origin, the explosions that reverberate across the Syrian city of Aleppo have made their point.
There is no real cease-fire here, no demilitarization and little hope of humanitarian aid reaching hundreds of thousands of civilians marooned by this conflict.
In all, NBC News heard more than 100 thuds, bangs and blasts on Sunday and into Monday morning.
Following more shelling on Saturday, this was audible evidence the truce had all but unraveled.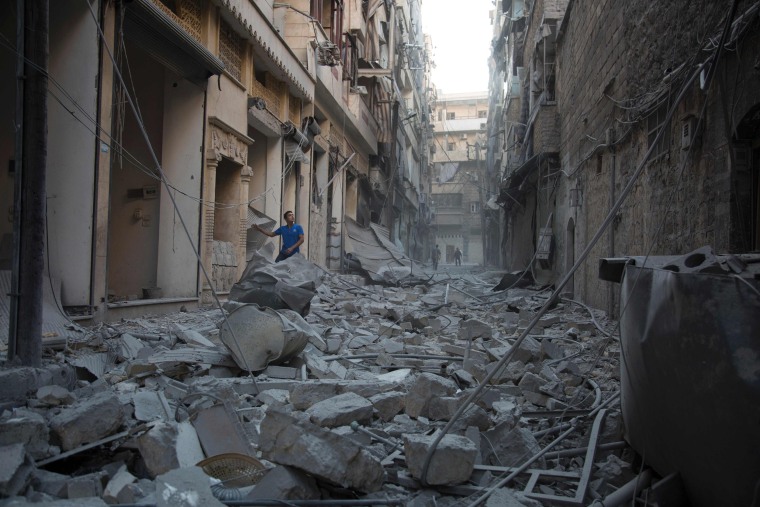 Aleppo has become the focal point of Syria's civil war, a grinding, 5-year struggle responsible for an estimated 470,000 deaths.
The city is split between government and rebel forces. As many as 275,000 people are caught in the middle, trapped without access to food, water, shelter and medicine.
A deal brokered by the U.S. and Russia was supposed to last for seven days and allow humanitarian aid to reach besieged neighborhoods held by the rebels.
But even before the agreement officially expired at midnight local time Sunday (5 p.m. ET), both sides appeared to have breached this shaky moratorium, each accusing the other of being at fault.
The final nail in the coffin may have been an airstrike by the U.S.-led coalition that Russia said killed scores of Syrian soldiers on Saturday. Washington said the attack was intended to target ISIS.
On Sunday, the Syrian army showed NBC News damaged areas of government-held Western Aleppo.
We came within three streets of the front line, where occasional blasts and gunfire could be heard echoing not far from our position.
The level of destruction here is astonishing.
NBC News Special Report: Aleppo's Children
Buildings look as though they have had their fronts ripped away by some terrifying force. Others are simply pancaked.
We saw a community of around 40 families who had just been evacuated from their homes near the front-line skirmishes.
Dirty and ragged-looking children ran around holding bowls, desperate to be fed by a local charity providing them with meals — their only source of sustenance.
Their new neighborhood, while more removed from the battlefront, still resembled a moonscape, pummeled into a desolate wasteland by the relentless war.
In the air, two warplanes could be heard over the city this weekend, at least one of which was followed by the unmistakable sound of an airstrike.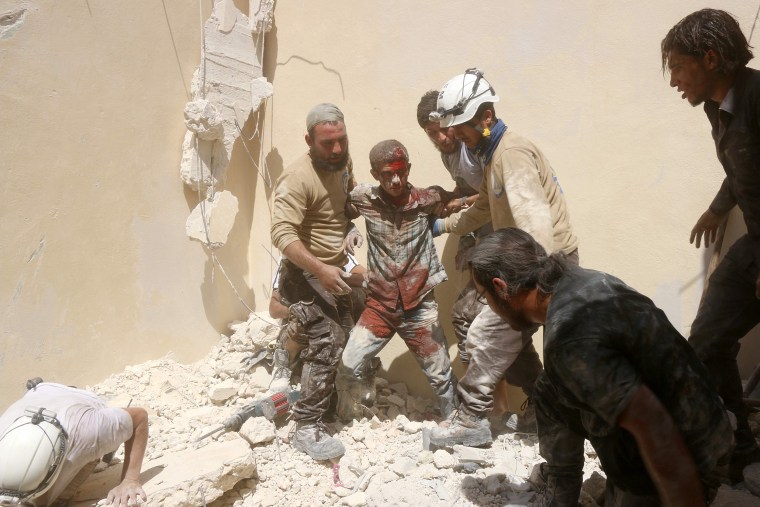 The cease-fire was supposed to allow aid to reach Aleppo.
Russia has said the Syrian government, which it backs, has withdrawn its tanks from the Castello Road, a crucial artery and the only real route for provisions to enter the city.
However, Reuters quoted rebels based in Aleppo as saying they've seen no evidence of a pull-back, adding that they will not follow suit until they do.
A United Nations convoy — laden with an enough supplies to feed 185,000 people for a month — is packed up and ready to go. The 20-truck fleet is still sitting on the other side of the Turkish border, unable to move into Syria.
Stephen O'Brien, the U.N.'s undersecretary general for humanitarian affairs, said Monday he was "pained and disappointed" at the impasse.
There has been no indication that the cease-fire might be extended. And not all of the country's rebel groups signed the document in the first place.
On Sunday morning, NBC News visited a Syrian army position in Ramouseh, a suburb described as the neck of the bottle into Western Aleppo.
Government forces recaptured the area this month but earlier that morning a coalition of rebel groups attempted to roll back these gains.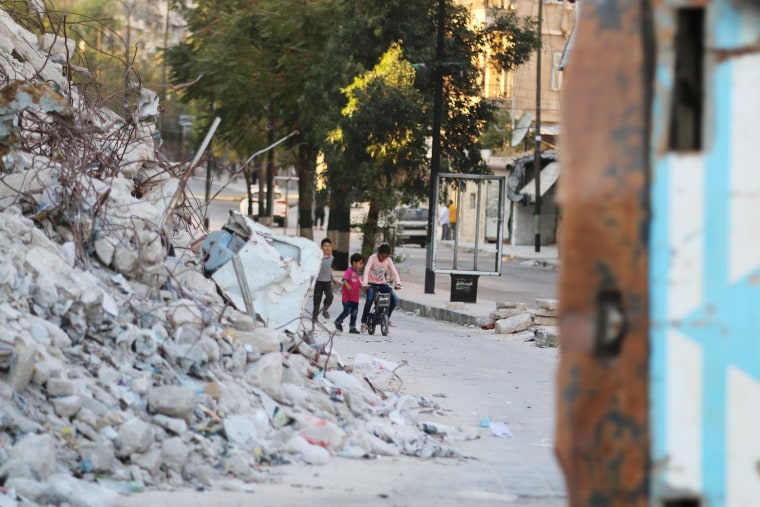 According to the Syrian government forces, among those leading the assault were fighters from ISIS and Jabhat Fateh Sham (formerly known as Jabhat al-Nusra) — both extremist groups not involved in the cease-fire agreement.
The battle lasted into the daylight hours and three government troops were killed. Those who survived looked weary, their skin black from oil and hours spent in the dirt.
Daylight on Monday brought four hours of without any audible blasts, although black smoke coming from rebel-held Eastern Aleppo around noon hinted this may have been a morning lull.
The fear now is that the cease-fire's end will usher in a full-scale onslaught — either by the rebels, the government, or both — and that the city will once again become a bloodbath.
As told to Alexander Smith, who reported from London.