Dozens of Syrian civilians were treated for suspected chlorine-gas poisoning after an alleged government attack on Aleppo's Al-Sukkari neighborhood on Tuesday, activists and local doctors said.
Women and children were among those attending local hospitals with dry coughing and vomiting, according to the Syrian American Medical Society (SAMS).
Video posted online by the Syrian Civil Defense — also known as the White Helmets — showed what it said were civilians being washed down in the street and children struggling to breathe.
The U.K.-based monitoring group Syria Observatory for Human Rights said it had also spoken to local doctors who accused government forces of dropping barrel bombs "loaded with poison gas" over the eastern, rebel-held district.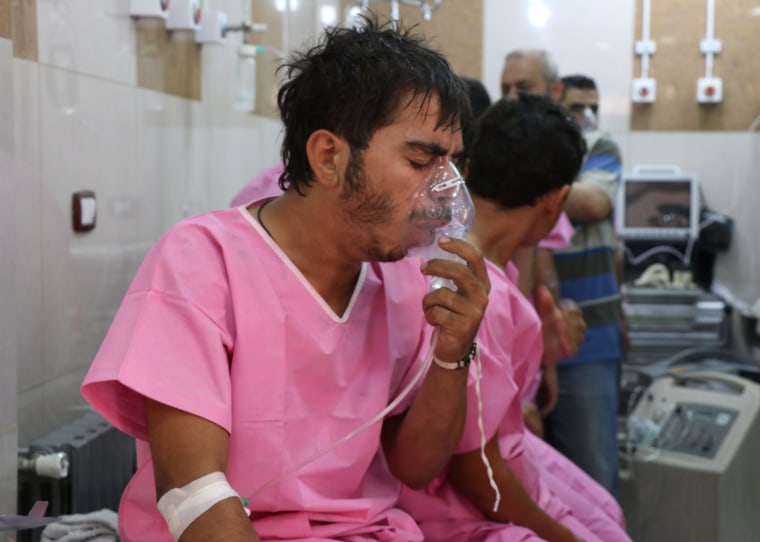 None of the claims could be independently verified by NBC News and it was not clear how the cause of the poisoning was identified as chlorine.
Estimates of the number of victims varied. The Syrian Observatory for Human Rights said "more than 70" had been treated and the city's 'Basel Aslan' hospital posted on Facebook that it had received "about 80 patients suffering from the effects of chlorine gas."
However, SAMS said initial reports "recorded more than 150 casualties" and that victims had been taken to more than three different hospitals — including one of its own facilities where 36 people were treated. One 29-year-old patient died, according to SAMS.
It said the al-Quds Hospital treated 71 other victims, including 37 children and 10 women.
"Symptoms included dyspnea (difficulty breathing), dry coughing, and vomiting," SAMS added in a statement. "Among the victims, 10 were critically injured, including a pregnant woman in her last trimester."
The activist-led Aleppo Media Center also posted video it said was of doctors treating "scores" of patients in Aleppo with breathing difficulties.
Allegations about the use of chlorine gas have been hurled by both sides in Syria's long-running civil war.
A United Nations and Organization for the Prohibition of Chemical Weapons inquiry seen by Reuters last month found that Syrian government forces were responsible for two toxic gas attacks in 2014 and 2015 involving chlorine.
Syrian Civil Defense accused the government of two other suspected chlorine gas attacks in August. The United Nations Commission of Inquiry on Syria said it was investigating an August incident.
There was no immediate comment in response to Tuesday's alleged attack in Aleppo.
The besieged city has seen daily deadly clashes for months and is a key battleground in Syria's civil war. International efforts to negotiate a cease-fire have failed.
"More than 85,000 children trapped in besieged eastern Aleppo City are starved, targeted, bombed, and gassed to death while the world is standing by watching," SAMS senior adviser Zaher Sahloul said.