ALEPPO, Syria — After days of delay, dispute and death, the evacuation of thousands of people from besieged areas of Syria happened suddenly and at great speed.
Syria's United Nations Ambassador Bashar Jaffari is confident the small, rebel-held enclave of Aleppo will be "clean" by Tuesday.
But the evacuation begins an uncertain future for both civilians and rebel fighters.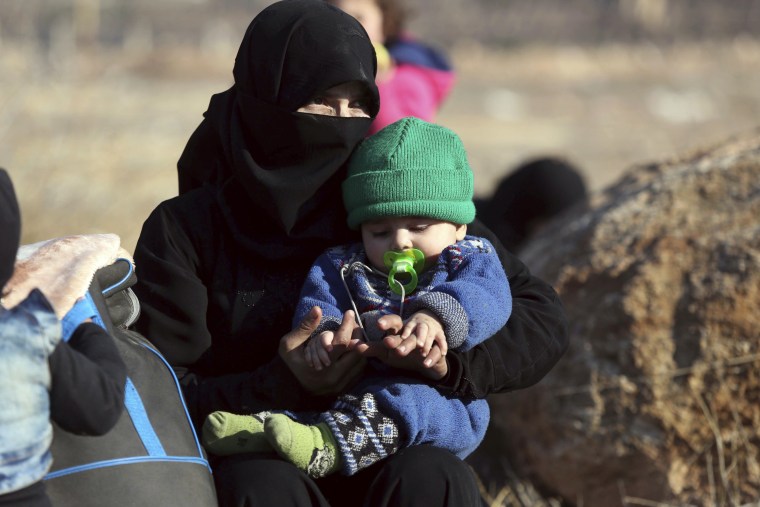 The rebels have been allowed to leave with small arms, to fight another day. But almost all of them — the exact number, while in the thousands, isn't known — will go to the province of Idlib.
If Aleppo is secured, which seems all but certain, the rebel-held region is one of the top targets for President Bashar Assad's forces and Russian air power.
For the tens of thousands of civilians who've chosen to go there, it represents a journey from frying pan to fire.
The 47 children of eastern Aleppo's orphanage — along with 7-year-old Bana al-Abed who chronicled on Twitter the suffering of her city and her own fears of dying in a bombing — may soon find themselves in the crosshairs again.
They were bombarded in Aleppo by daily airstrikes, but as Bana's mother, Fatemah, told NBC News on Monday: "I'm happy my children are safe, but I'm sad because I don't know how long they'll be safe for."
Many may push on toward the Turkish border, where Turkey aims to build camps large enough to hold 100,000 refugees.
But it's a long way for so many people, weakened by six months without proper food and medical help. Many who crossed Monday were said to be in critical condition with injuries, dehydration and exhaustion.
Those who choose to stay in Aleppo face a grim future.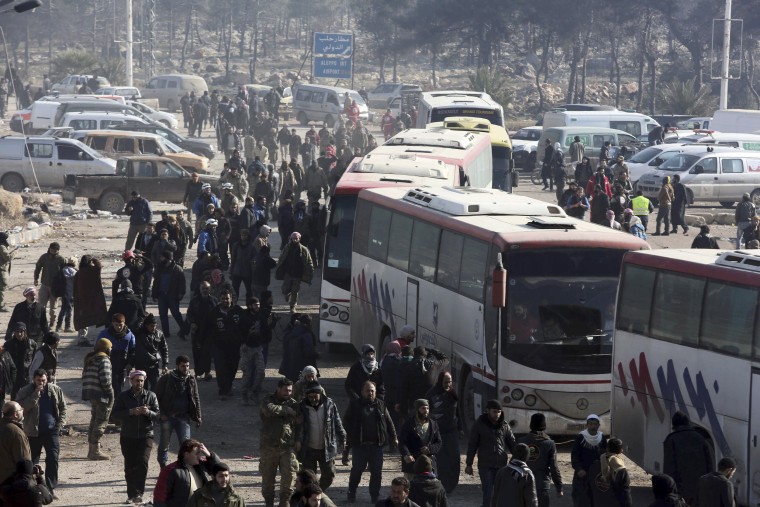 In a government-run camp, NBC News witnessed people running and then fighting for food that arrived unexpectedly. The irony didn't escape them that they were guarded by Russian soldiers and treated by Russian doctors after surviving months of Russian airstrikes.
There are hopes that the evacuation swap, in which hundreds of pro-Assad civilians were freed from two rebel-controlled villages, could mark the beginning of the end of warfare that has been so cruel to civilians on both sides. The U.N. estimates 1.3 million people were under siege by rebels or regime in 39 communities across Syria.
But the government's military tactic of surrender or starve — which soon turned to surrender or die — isn't finished yet.
As people were evacuated from Aleppo, Russian warplanes were pounding the rebel-held enclaves of Harasta and Jobar, near Damascus. Another small rebel area of Homs was also attacked.
In Moscow on Tuesday, the foreign ministers of Russia, Turkey and Iran will discuss how to push a peace deal forward that would end almost six years of war. The United States is watching from the sidelines.
Any efforts the U.S. has made jointly with Russia have failed miserably and outgoing Secretary of State John Kerry has admitted he's "tired" of all the talking with Moscow.
So amid freezing winter temperatures, tens of thousands of civilians will finally have food, water, warmth and medical care. But their ordeal, like Syria's crisis, is far from over.