Americans aren't just abusing prescription opioid painkillers — they're taking too much of the over-the-counter stuff as well.
Nearly one in five users of popular headache remedies like Advil or Aleve admitted exceeding the recommended daily maximum dose during a one-week period, according to a new study led by a Boston University School of Health researcher.
And while people who pop too many non-steroidal anti-inflammatory drugs (NSAIDs) like these aren't likely to move on to heroin the way patients who get hooked on opioids have, they raise their risk for serious health problems.
"These drugs can have serious side effects, including gastrointestinal bleeding and heart attacks, and are often taken without medical oversight," lead researcher Dr. David Kaufman, a professor of epidemiology at BU's School of Public Health, told NBC News in an email.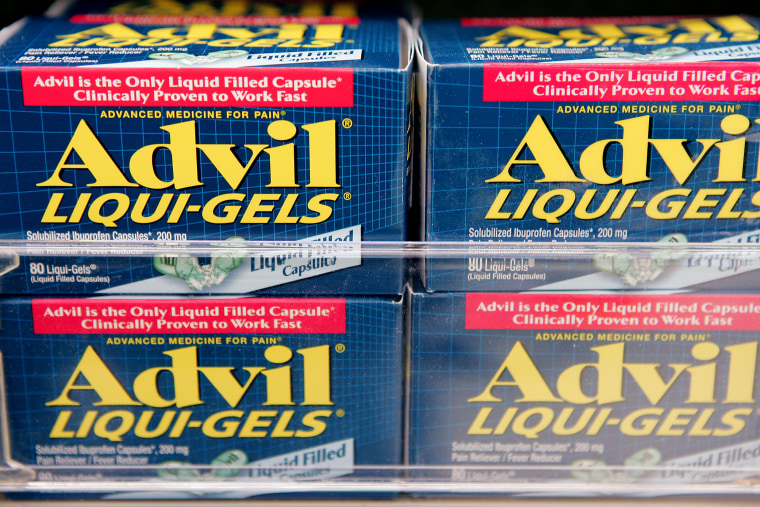 "The attitude that users can choose their own dose regardless of label directions, along with poor knowledge of dosing limits, is associated with exceeding the daily limit," he said.
Kaufman reached his conclusion by having 1,326 adults keep drug diaries for a week between 2015 and 2016. The average age of the participants was 45, three quarters of them were white, and some 60 percent were women, according to the study.
Some 87 percent took an ibuprofen like Advil or Motrin. But 37 percent also took other NSAIDs like aspirin or naproxens like Aleve.
The result? Over 15 percent of the participants took too many pills on one or more of the days during the week. And participants who were in the worst shape — particularly those who suffer from chronic pain — were more likely to exceed the dosage limit.
Asked if the non-prescription pill abusers could be trying to avoid getting hooked on highly addictive opioids, which have been ravaging the nation, Kaufman said he didn't think so.
"My guess is that while avoidance of opioids may influence prescribing decisions by doctors, it may not affect consumer behavior very much," he told the Chicago Tribune.
Dr. David Katz, who heads the Yale University Prevent Research Clinic and wasn't involved in Kaufman's study, agreed that Advil or Aleve abusers aren't going to graduate to fentanyl. But there is a link.
"My point is that there is a lot of chronic pain in our culture, much of it poorly managed," he wrote in an email to NBC News. "Opioids are one response to that, but not the only one."
In an earlier interview, Katz called the opioid crisis "a window to a less-publicized crisis of chronic, inadequately managed pain."
"When narcotics are not being used to manage such pain, NSAIDs often are," Katz said. "That a substantial subset of those relying on NSAIDs are using them ill-advisedly or excessively is rather to be expected under these circumstances."
Earlier this week, Florida nurse Katherine Locker lectured patients about over-the-counter remedies and the flu in a video that went viral — and which appears to lay out the correct dosages for patients.
"Treat your fever with Tylenol or Motrin," she said. "If you are an adult, you can take more than 200 milligrams of Motrin. You can actually take four to six hundred. And if you're a big dude in pain, you can take maybe 800, just depends on your weight."
Locker went on to say that four to six hundred milligrams of ibuprofen is a "perfectly appropriate dose" for a "regular size adult" and a "big person" can take anywhere from 650 to 1,000 milligrams of Tylenol.
Tylenol recommends a maximum daily dosage of 3,000 milligrams per day (one regular strength pill is 325 mg, extra strength is 500 mg). The recommended maximum dosage for Motrin is 800 milligrams per dose (four 200 mg tablets) or 3,200 milligrams per day.
Some doctors, however, believe ibuprofens like Advil or Motrin, in particular, should require prescriptions because patients don't read instructions — and take them for the wrong reasons.
"In my opinion NSAIDs should not be available as an over-the-counter drug, because of all their deleterious effects," Dr. Liffert Vogt of the Academic Medical Center at the University of Amsterdam in the Netherlands, wrote in an email to Reuters.
Acetaminophen's like Tylenol are "a much safer option and very efficacious as a pain killer," Vogt wrote. "But we know that many people use NSAIDs for indications other than pain, such as flu, allergies, fever — and there is no medical base that indicates that NSAIDs or acetaminophen are of any use under these circumstances."