It began with an admission from an overdosing patient delivered in what Dr. Gregory Whatley would later recall as "the slightest of a whisper."
Whatley, a veteran emergency room doctor, had just started the 10 p.m.-to-6 a.m. shift at Navicent Health Medical Center in Macon, Georgia, on June 4 when a barely conscious young women arrived by ambulance.
Whatley immediately administered the anti-overdose drug Narcan, but it had no effect on the gasping woman. So he worked a tube down her throat to open up her airway and started administering fluids and sedatives.
"Right around the same time, another woman came in with the same symptoms," Whatley said. "I was so busy with my patient I did not give it much thought."
Four hours later, his patient suddenly came to and tried to yank the breathing tube out of her throat.
"We were able to calm her down," the doctor said. "So I asked her: 'What happened to you? What did you take?' And in the slightest of a whisper, she said she took a Percocet."
Percocet is the brand name of a drug that's a combination of oxycodone and acetaminophen.
Whatley knew that it would take more than one Percocet to cause this kind of overdose. What he didn't know was that, within days, there would be 40 more cases like this woman's — and that six of them would end in death.
So Whatley decided to admit the woman because "she had some really strange lab values and her white blood-cell count was very high."
Around the same time, Whatley learned from the other doctor in the emergency room that he was treating another woman who had also overdosed.
"Somewhere along the way, she mentioned a yellow pill," Whatley said.
Related: They're Out of Work and Taking Opioids
But it was around 2 a.m., and Whatley had other patients who needed his attention. There was no time to do the math.
It wasn't until Whatley returned for his next shift in the ER on June 5 that he realized there might be a connection.
"A 21-year-old overdose patient was brought in, and he told the paramedics he had taken a Percocet," Whatley said. "When I heard that, I said to myself, 'Something is wrong.'"
So about 20 minutes into his shift, Whatley called the Georgia Poison Center and sounded the alarm, state officials confirmed.
And that was the start of 14 desperate days during which law enforcement and health officials across Georgia would find themselves struggling to identify and contain an epidemic of overdoses that began when a stranger came to Macon selling a batch of little yellow pills.
'The caseload tripled in two hours'
Gaylord Lopez, director of the Georgia Poison Center, was ready to call it a night when Whatley's call came in.
"Normally, I would get texted if anything was going on, but on the evening in question, I got a call from a senior specialist at the office," Lopez said. "I was told by a specialist who took the call: 'We've got an unusual case of five people all presenting the same way. The doctor is saying this is unusual.'"
Lopez immediately sat up in bed.
"I said, 'This is a problem,'" he recalled. "This hospital has five cases. What if there are others? So I told my specialist to look at our maps and databases to identify four or five other hospitals in that area. I said, 'Let's just check and see if anyone else has received any similar cases.'"
One of the first calls the specialist made, Lopez said, was to the Houston Medical Center in Warner Robins, about 20 miles south of Macon.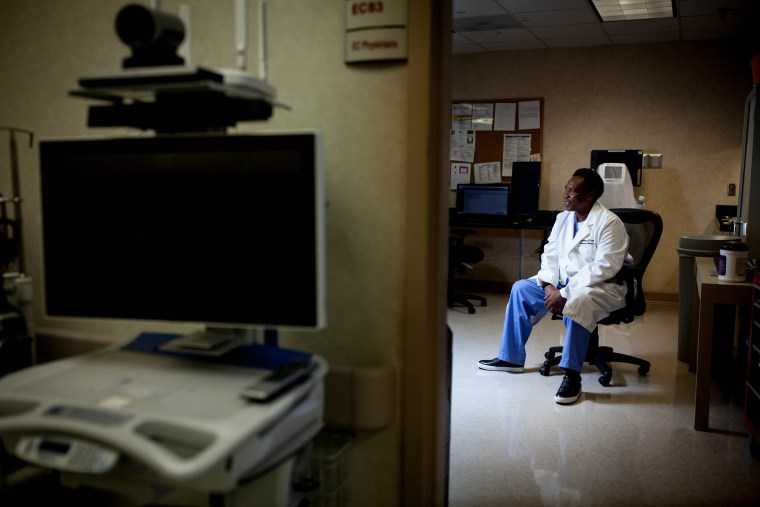 At first, Houston said it didn't have anything, so Lopez went back to bed. He didn't sleep for long. At 1 a.m. on June 6, he was awakened by a second call from his office.
A nurse at Houston had taken it upon herself to go through records and look for overdoses, Lopez said. "The nurse had found nine cases. Then my head blew up. We'd gone from five to nearly 15. The caseload had tripled in two hours."
Related: Trump Calls Opioid Crisis a National Emergency but Still Hasn't Made it Official
Thirty minutes later, Lopez said, he was in his car and racing to his office in downtown Atlanta.
"We knew we had to get some unified message out about what's going on," he said. And in short order, his office alerted the Georgia Bureau of Investigation, the state attorney general's office, the federal Drug Enforcement Administration and a host of other agencies, including a heroin response team from Atlanta.
'You don't look for nobody to sell you something to kill you'
The first death was reported at 7 a.m. on June 6.
"We got a call from Navicent," Lopez said. The victim was a 51-year-old man who had been admitted the day before; he was identified as Gregory Mitchell by the Bibb County coroner, Leon Jones.
Mitchell's sister had also been taken to the hospital for an overdose. "Within a few hours of her overdosing, this patient ends up being a fatality," Lopez said.
Even more jarring was that Mitchell wasn't a known drug abuser. "That guy had a history of taking one pill," Lopez said. "Just one pill."
"From June 5 to June 19, we were getting at least a case every day," Lopez said.
In each case, the culprit was a yellow counterfeit Percocet pill that officials say arrived in Macon around the time the city was burying a hometown hero, Gregg Allman, the hard-living leader of the Allman Brothers Band, who had died on May 27 after a battle with liver cancer.
Five of the overdose victims were from the same household in Macon, in their 20s to their early 60s. Citing state privacy laws, Lopez declined to identify them.
"They weren't all blood-related," he said. "But they were all known to have purchased the pills from the same drug house. And then, one after the other, they overdosed."
The Telegraph newspaper in Macon identified two of the overdose survivors as Mitchell's sister, Betty Jean Collins, 60, and her husband, Henry Howard, 69.
Howard told The Telegraph: "My heart went to sleep."
Howard, a former roofer who suffers from back pain, told the newspaper that he had bought 10 of the yellow pills from a street dealer for $7 apiece, believing they were Percocet.
"Sometimes, when you run out, you'll turn to the street," Howard told the paper. "But you don't look for nobody to sell you something to kill you."
Searching for the seller
Macon is policed by the Bibb County Sheriff's Office. But drug overdoses are so common that medical staffers rarely report them.
So it wasn't until 9:17 a.m. on June 6 that authorities learned of the unfolding crisis when an email arrived at Lt. Mike Kenirey's inbox from William Trivelpiece, a drug intelligence officer with the Heroin Response Initiative.
Kenirey quickly dispatched a team of investigators to Navicent Hospital to question the overdose survivors.
"They were not really willing to say who they purchased the counterfeit Percocet pills from," Kenirey said.
But what they did divulge, combined with information gleaned from confidential sources, enabled Kenirey's team to figure out where to send investigators.
"We were able to narrow it down to several locations and executed five search warrants over the next 10 days," Kenirey said.
At one location, they struck gold. "We were able to recover two of the counterfeit Percocet pills," he said.
Quick action likely saved lives
State investigators began toxicology tests on June 7. They discovered that the deadly drugs were a new type of fentanyl that Georgia officials had never seen before. Fentanyl, a synthetic opioid up to 50 times stronger than heroin, is behind the nationwide surge in overdoses in recent years.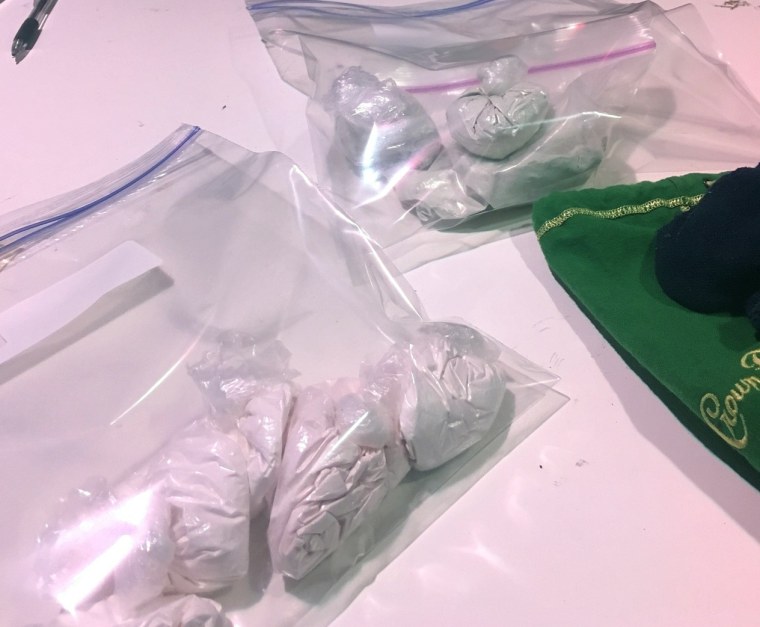 The same day, the first news stories about the expanding crisis in Georgia appeared, and state officials released a series of public service announcements about the phony Percocet pills.
Not everyone got the message.
Lopez said the strangest case was that of a Houston Medical Center patient "who fit the profile."
"He had a history of buying street drugs, and he had to be living under a rock not to know about the Percocet," he said. "But it turns out he was literally living under a rock. He had just gotten out of jail and bought one of those Percocets."
Luckily, he survived.
Six others didn't.
Lopez said two of the victims died at Navicent, two at the Houston Medical Center and one each at hospitals in Upson County (about 40 miles west of Macon) and Monroe County (about 20 miles northwest of Macon).
Kenirey said police still haven't found who was peddling the phony Percocet.
"We were able to find out where the individual pills were purchased," he said. "Based on the intelligence we got, we believe the pills originated in Atlanta. When dealers go buy to drugs in Georgia, they go to Atlanta."
Kenirey said police hadn't seen phony Percocet in Macon before, nor had they ever had to contend with a cluster of overdoses like this.
But he also said it could have been a lot worse.
"We recognized what was going on immediately," he said, crediting a joint news conference within hours by Navicent doctors and the county sheriff, David Davis, with letting the public know that the pills were out there.
"We won't ever be able to calculate how many lives that saved," Kenirey said.
Brian Levin, a criminal justice professor at California State University-San Bernardino, and a former New York City police officer, said what happened in Georgia could happen anywhere. And as the opioid epidemic continues to rage, first responders have to be prepared to work as one when phony drugs spark a spate of overdoses.
"When dangerous illicit drugs reach this wide level of market penetration," Levin said, "the regional effects of potentially fatal substitutes can be swift."