A new weapon in the fight against the opioid epidemic is using big data to track — and possibly prevent — overdoses.
The web-based tool, called the Overdose Detection Mapping Application Program, or ODMAP, charts suspected overdoses in real time and alerts public safety officials to spikes in opioid emergencies.
Used by first responders, public safety and public health officials across the country, ODMAP was created by the Washington/Baltimore division of the High Intensity Drug Trafficking Area, or HIDTA, a federal program that provides resources for local agencies to address drug trafficking. Jeff Beeson, the program's deputy director, calls ODMAP "a very simple and practical approach to a complex problem."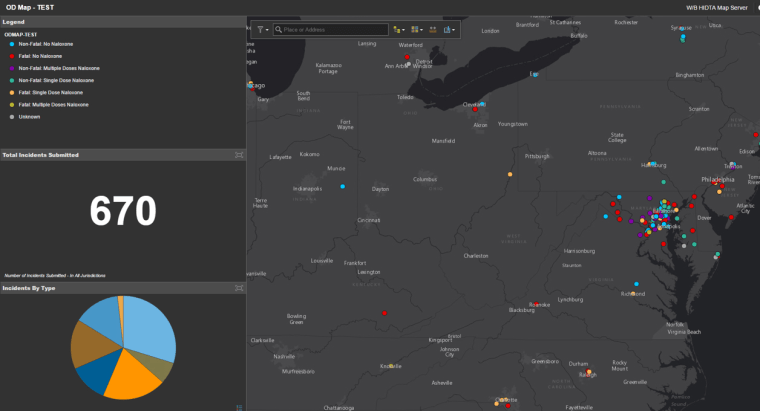 While overdoses have been tracked digitally before, the information has always been isolated, Beeson said.
"We were talking about the difficulties that folks have with sharing overdose data," he said. "They're not sharing them in their own county, city or across jurisdictions. This information-sharing concept is the obstacle that we needed to overcome.
Related: Anatomy of an Opioid Overdose Outbreak
"We wanted to build something that unites these folks through data and eliminates and breaks down the silos," Beeson said.
So Beeson's IT team worked with Esri, a geospatial technology company based in Redlands, California, to create a tool that would do just that. Within 30 days, they had created ODMAP, a website that first responders can access from any mobile device or computer when they go to the scene of an overdose.
ODMAP takes "two seconds" for first responders to enter data into, Beeson said. They enter whether the overdose was fatal or nonfatal and whether naloxone, a drug that can block the effects of opioids in the event of an emergency, was administered.
The geocoded information is then presented on the ODMAP map interface on screens belonging to police chiefs and other officials, who can get real-time glimpses at where overdoses are being reported.
"This data is moving in real time across geopolitical boundaries," said Chris McIntosh, Esri's director of national government industries. " It's being analyzed in real time, so both the community and the public safety organizations can see trends when they occur — not in the days and weeks after, when someone does analysis on the data."
Related:Teen Overdoses Doubled From 1999 to 2015
When overdoses cluster in a particular area, police and fire chiefs get email alerts. How they respond is up to them: Some send social services to the affected families; some head to the area with peer support specialists in patrol cars.
Others ramp up staffing, even if the spikes didn't occur in their own states. The data-sharing has enabled officials to notice trends, like a possible correlation between where drugs are being distributed to overdoses later across state lines.
"I know if Baltimore City is having a spike, it's coming my way within a day. I can communicate with the hospitals, the paramedics," said Beeson, whose program also oversees the District of Columbia, Virginia and West Virginia.
"If we don't know where it's happening and when, we can't do anything about it."
While Beeson said he had yet to see "direct evidence" of ODMAP's saving lives, it's clear that the data have enabled officials to allocate resources where they're needed, when they're needed.
"Presumably, the data has helped them reduce run times and possibly transport victims more quickly or provide a more targeted response," he said.
More than 15,000 people died from prescription opioid overdoses in the United States in 2015, the most recently available statistics, according to the Centers for Disease Control and Prevention.
More than three-quarters of Americans, 78 percent, said opioid addiction is a serious problem in their state. Forty percent described it as a serious problem, according to a recent NBC News|SurveyMonkey poll.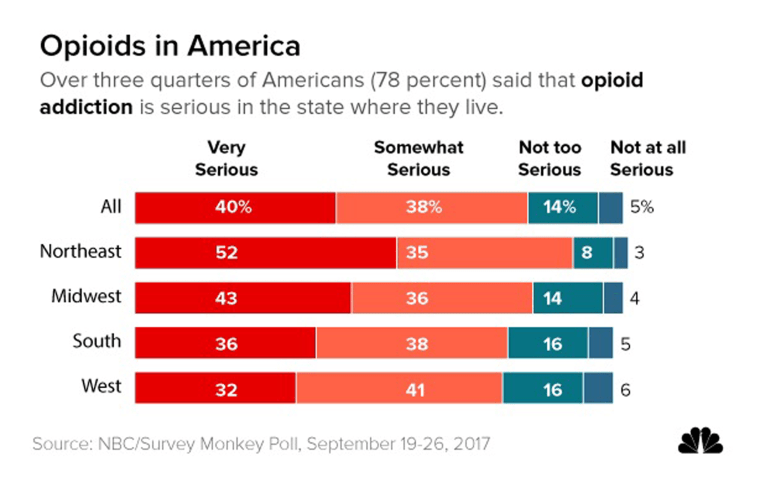 ODMAP is being used in 85 counties in 19 states. The public can't access the system, and it doesn't collect a victim's name, age, exact address or any other identifying information.
It doesn't require special equipment, and it is free to use.
The tool soft-launched at the end of January in three pilot counties and was opened up to all 28 HIDTA programs across the country in May. About 5,200 suspected overdoses have been logged so far.
Beeson conceded that OPMAP was only one piece of the solution.
"This isn't going to solve the problem, but it is going to collect real data in real time," he said. "And if you ask anybody who works in this area, having those data points is vital. If we don't know where it's happening and when, we can't do anything about it."