NEW YORK — President Donald Trump rocked the Granite State when he trashed New Hampshire as a "drug-infested den," but federal figures released Thursday reveal that the places he calls home have had some of the most drastic increases in deadly drug overdoses — Washington, New York and Florida.
In the 12 months that ended in March, overdose deaths in the District of Columbia jumped by a staggering 114.3 percent, from 161 to 345, according to provisional figures from the Centers for Disease Control and Prevention.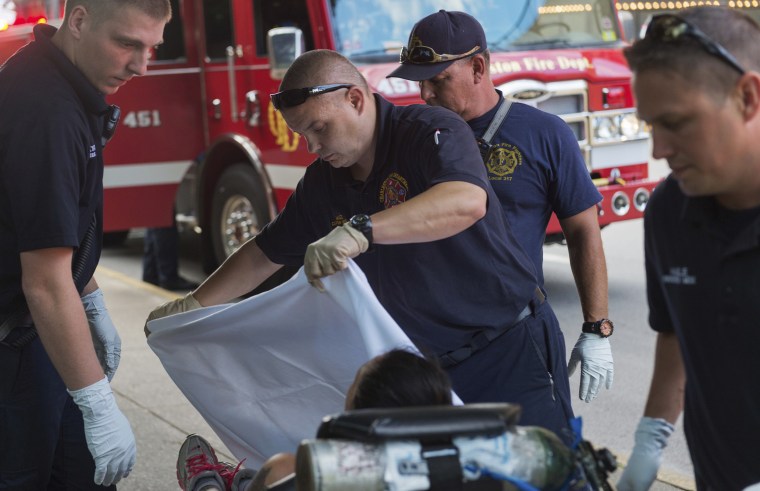 Drug deaths in Trump's hometown, New York, climbed by 35.7 percent, from 1,076 to 1,460, according to the CDC. And in Florida, home to Trump's Mar-a-Lago resort, fatal overdoses climbed from 3,596 to 5,241 — a 45.7 percent increase.
Elsewhere in the U.S., overdose deaths continued to plague the opioid-ravaged Rust Belt.
In Ohio, which leads the nation in fatal heroin overdoses, the number of deaths jumped by 34.6 percent, from 3,542 to 4,769. In Pennsylvania, the number of deaths climbed from 3,526 to 4,923 — a 39.6 percent increase.
And in West Virginia, which leads the nation with the highest per capita rate of fatal drug overdoses, there was a 22.9 percent jump in deaths — from 757 to 930.
By contrast, New Hampshire was one of a handful of states where the number of fatal overdoses actually fell. There were 427 — eight fewer than in the 12 months that ended in February 2016.
The other states where fatal drug overdoses dropped were California, Hawaii, Mississippi, Nebraska, New Mexico, Oregon, Utah, Washington and Wyoming.
Two months ago, Trump — acting on the recommendation of the presidential opioid commission — declared the crisis a national emergency.
But Trump still hasn't formally signed such a declaration and sent it to Congress, which means the millions the executive branch could direct toward expanding treatment facilities or supplying police with the anti-overdose remedy naloxone remain in limbo.
By inking such a declaration, Trump would also be able to waive some federal rules, including those prescribing where Medicaid recipients can get additional treatment.
The White House says Trump's declaration is "undergoing an expedited legal review."
Sens. Elizabeth Warren, D-Mass., and Lisa Murkowski, R-Alaska, said it's time for Trump to act.
"We are writing today to express our concern that you have yet to formally declare the nation's opioid epidemic a national emergency," they wrote Thursday in a letter to Trump (PDF). "We applaud your stated commitment to addressing opioid addiction and agree with you that the crisis is a 'serious problem.' However, we are extremely concerned that 63 days after your statement, you have yet to take the necessary steps to declare a national emergency on opioids, nor have you made any proposals to significantly increase funding to combat the epidemic."
Earlier, Rep. Carol Shea-Porter, D-N.H., also ripped Trump for failing to make good on his promise.
"It is past time for President Trump to step up to the plate and help New Hampshire turn the tide on the opioid crisis," she wrote. "He should start by fulfilling his two-months-old promise to declare this crisis a national emergency, which will provide flexibility for federal agencies to direct more help to New Hampshire."
Olivia Lapeyrolerie, a spokeswoman for New York Mayor Bill de Blasio, said: "It's dumbfounding that the president still doesn't see the death of thousands of New Yorkers as a national emergency. We urge the president to follow the city's public health and safety approach to dealing with this crisis, and to act now because Americans are suffering."
Related: A Generation at Risk: Children at Center of America's Opioid Crisis
First lady Melania Trump on Tuesday toured Lily's Place, a first-of-its-kind drug recovery center for infants born dependent on drugs in West Virginia.
In response to a plea from the center's executive director, Rebecca Crowder, the first lady promised to help with the bureaucratic bottleneck that limits the amount of Medicaid funds that the center can use for treatment.
But Sara Rosenbaum, a health law professor at George Washington University in Washington, said Trump supported three failed Republican-backed proposals to repeal and replace the Affordable Care Act, also known as Obamacare — proposals that would have gutted the amount of Medicaid money that places like Lily's Place get.
"The cuts to Medicaid funding are so deep that any high-cost, high-need population like sick children are immediately in jeopardy," Rosenbaum said.