Drug overdose deaths rose above 70,000 in 2017, an increase of almost 10 percent to a record high, according to government statistics out Thursday.
Suicide rates also rose, by 3.7 percent. Together, these two causes of untimely death lowered U.S. life expectancy for the second year in a row, the Centers for Disease Control and Prevention reported.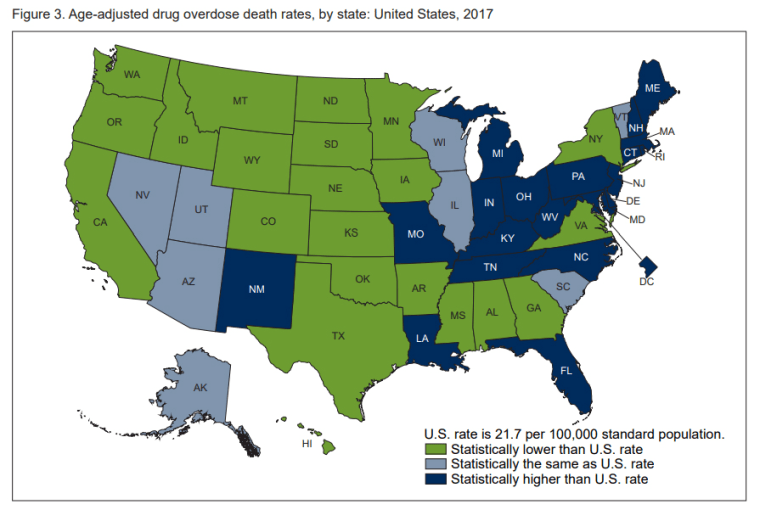 "The latest CDC data show that the U.S. life expectancy has declined over the past few years. Tragically, this troubling trend is largely driven by deaths from drug overdose and suicide," CDC Director Dr. Robert Redfield said in a statement.
"These sobering statistics are a wake-up call that we are losing too many Americans, too early and too often, to conditions that are preventable."
Overall life expectancy for Americans was 78.6 years in 2017, a drop of 0.1 year. That may not seem like much, but usually, life expectancy goes up a little each year. If it goes down, it means people are dying at younger ages.
The death rates are driven mostly by a startling 9.6 percent increase in drug overdose deaths, from 63,632 in 2016, to 70,237 in 2017. Most of the overdoses involved opioids of some sort, and the CDC's National Center for Health Statistics recorded a 45 percent increase in deaths from synthetic opioids such as fentanyl and tramadol. They accounted for nearly 30,000 of the drug overdose deaths.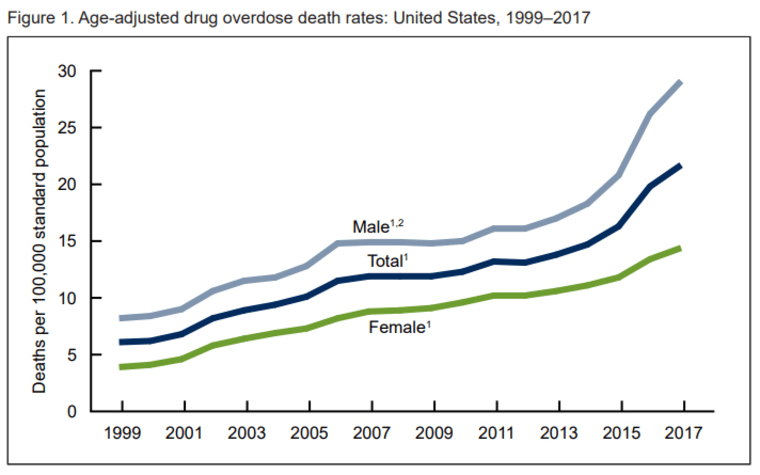 "West Virginia (with 57.8 overdose deaths per 100,000 people), Ohio (46.3 overdose deaths per 100,000), Pennsylvania (44.3), and the District of Columbia (44 ) had the highest observed age-adjusted drug overdose death rates in 2017," the CDC report reads.
Still, the increase was not as big as the 21 percent leap in drug overdose death rate between 2015 and 2016. But the fact that rates are still increasing despite federal, state and local attention shows efforts are failing to curb the epidemic of opioid abuse.
Suicide rates also continued a worrying rise, to 47,000 deaths by suicide. "The suicide rate in the United States has increased from 10.4 suicides per 100,000 in 1999 to 14 (per 100,000) in 2017," a second CDC report reads.
"Suicide rates have increased since 1999 for both males and females ages 10-74. Rates in the most rural U.S. counties are nearly two times higher than rates in the most urban counties."
"This increase in the suicide rate is extremely discouraging," said Dr. Christine Moutier of the American Foundation for Suicide Prevention. "Until we scale up intervention efforts at the community, state and national levels, we will likely continue to see an increase in suicides in the United States."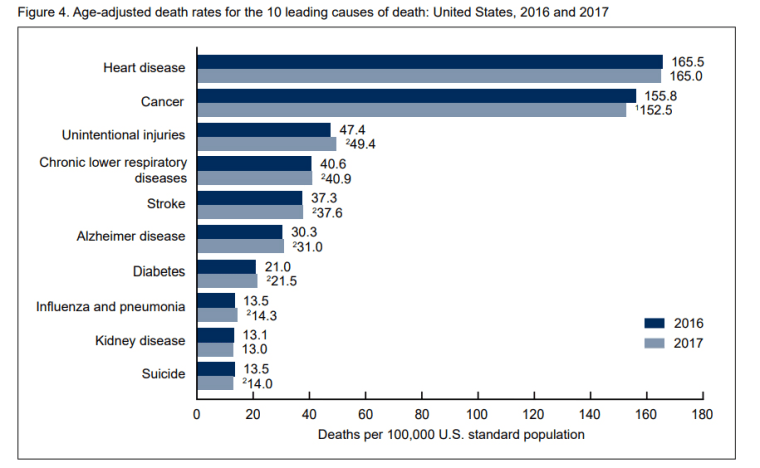 The 10 leading causes of death did not change in rank. Cancer deaths fell by 2.1 percent, leaving heart disease the No. 1 killer of Americans. Unintentional injuries, including drug overdoses, are the third leading cause of death, followed by chronic lower respiratory diseases, stroke, Alzheimer's disease, diabetes, influenza and pneumonia, kidney disease and suicide.
"In 2017, a total of 2,813,503 resident deaths were registered in the United States — 69,255 more deaths than in 2016," the CDC report reads.