It's No. 1 — with a needle.
Synthetic opioids like fentanyl have overtaken prescription painkillers as the most common drug involved in fatal overdoses in the U.S, researchers from the federal Substance Abuse and Mental Health Services Administration reported.
They reached their conclusions, which were unveiled in a letter published in the Journal of the American Medical Association, after analyzing death certificates from 2010 to 2016.
"A lack of awareness about the potency of synthetic opioids, their availability and the increasing adulteration of the illicit drug supply poses substantial risks to individual and public health," the researchers concluded.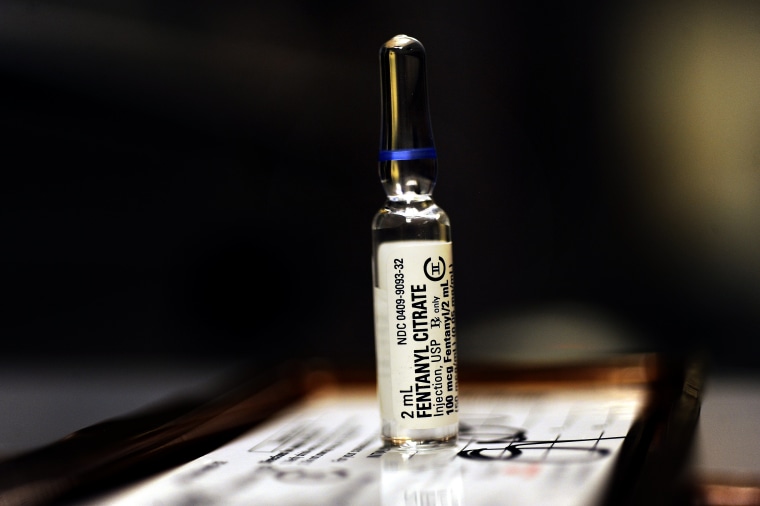 Their findings? The percentage of fatal overdoses that involved synthetic opioids jumped from 14 percent in 2010 to 46 percent in 2016. And of the 42,249 opioid-related overdose deaths record in 2016, 19,413 involved synthetic opioids.
Fatal overdoses attributed to prescription opioids were second, with 17,087 recorded in 2016. That was followed by heroin, with 15,469 fatal overdoses.
And even if synthetic opioids were not deemed the primary killer, they figured in nearly 80 percent of overdose deaths in 2016 that involved another drug or alcohol.
"Synthetic opioids are increasingly found in illicit drug supplies of heroin, cocaine, methamphetamine and counterfeit pills," the researchers found.
The finding came as no surprise to longtime drug policy reform advocates like Melissa Moore of the Drug Policy Alliance, which has been pushing New York City Mayor Bill de Blasio to set aside spaces where drug abusers can safely shoot up — a strategy other cities, like Toronto, have adopted to cut down on fatal overdoses.
Moore said dealers are cutting heroin with fentanyl to boost profits and boost the high.
"It's basically a poisoning epidemic," Moore told NBC News. "Now, as fentanyl is being cut into the heroin supply, it makes that much more dangerous. People don't know what they're getting. An overdose from straight heroin might take a couple hours. An overdose from fentanyl can happen in 60 seconds."
Fentanyl is a powerful painkiller that the U.S. Drug Enforcement Administration says is 25 to 50 times more powerful than heroin. It's also the drug that killed Prince.
Most of the illegal fentanyl in the U.S. comes from China via the mail or is smuggled into the country across the border from Mexico, officials have said.