The state of Kentucky sued Johnson & Johnson and two subsidiaries Wednesday, accusing the companies of using a "deceptive marketing scheme" to flood the state with opioid-based prescription painkillers.
Along with Janssen Pharmaceuticals and Ortho-McNeil-Janssen Pharmaceuticals, Johnson & Johnson deliberately targeted elderly patients to boost the profits for the drugs Duragesic, Nucynta and Nucynta ER, Kentucky Attorney General Andy Beshear charged in a lawsuit filed in McCracken Circuit Court.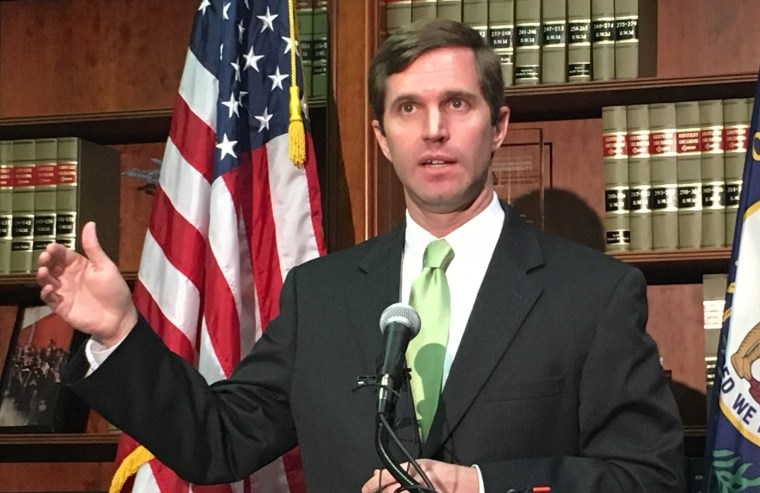 Janssen representatives, in particular, told doctors and patients these opioids were safe and "rarely addictive" when used for chronic pain, Beshear said.
"Janssen has profited from their illegal conduct, and my office is taking action to make sure they pay for ravaging our communities and destroying our families just to make a profit," Beshear said in a statement. Ortho-McNeil-Janssen Pharmaceuticals, Inc. is now known as Janssen Pharmaceuticals, according to the suit.
Beshear is seeking civil penalties and compensatory and punitive damages for allegedly violating the state's Consumer Protection Act and the Kentucky Medicaid and the Kentucky Assistance Program fraud statutes.
There was no immediate response from Johnson & Johnson to an email seeking comment, but Janssen spokeswoman Jessica Castles Smith called the accusations "baseless and unsubstantiated."
"Our actions in the marketing and promotion of these medicines were appropriate and responsible," she said in a statement. "In fact, our medications have some of the lowest rates of abuse among this class of medications."
This is the fifth opioid-related lawsuit filed by Beshear, who is a Democrat and the son of former Kentucky Gov. Steve Beshear.
Janssen has also been sued for alleged deceptive marketing of opioids by officials in Arkansas, Louisiana, Mississippi, Missouri, New Mexico, Ohio, Oklahoma and South Dakota.
In Ohio, Attorney General Mike DeWine, a Republican, accused Janssen and other companies of "borrowing a page from Big Tobacco's playbook" and downplaying the risks of using powerful drugs like OxyContin and Percocet.
Between 2006 and 2015, Kentucky had more opioid prescriptions than people and the state ranked sixth in the nation in opioid-related deaths, the lawsuit filed by Beshear's office states. In 2016, 1,404 people in Kentucky died from drug overdoses, according to the suit.
"Many of those victims were service members or veterans, who accounted for 452 drug overdoses between 2010 and 2015," according to the suit.
NBC News has reached out to the companies for comment.