The Obama administration on Tuesday announced a series of initiatives aimed at curbing America's opioid addiction epidemic, steps that would make it easier to obtain medication-based treatment, expand Medicaid coverage and increase availability of a drug that saves people from overdoses.
The president touted the proposals as he participated in a panel at the National Rx Drug Abuse and Heroin Summit in Atlanta, where he appeared with a doctor and two recovering addicts.
"What we have to recognize is in this global economy of ours that the most important thing we can do is to reduce demand for drugs, and the only way we reduce demand is if we're providing treatment and thinking about this as public health problem and not just a criminal problem," Obama said.
Related: Obama Seeks $1 Billion to Fight Drug Abuse
Obama and Congress have made a priority of the startling rise in use of opioids, particularly prescription painkillers like Oxycontin, which often lead to use of harder, illegal versions, such as heroin. Opioid-related deaths rose beyond 28,000 in 2014, more than any year on record, the culmination of a trend that dates back to 1999. Opioid-related deaths have quadrupled since then.
The new focus is related to the epidemic's spread to middle-class, white communities, challenging stereotypical notions that addiction was primarily a scourge of the poor and minorities.
Related: Beyond Narcan: Why Heroin Addicts Need More Than an Overdose Antidote
The increase in painkiller use has led to crackdowns against doctors who over-prescribe them and a rethinking of the medical industry's approach to pain management. But many experts caution against disavowing painkiller, arguing that they have improved the lives of countless chronically ill or injured people, allowing them to work and improve the quality of the lives.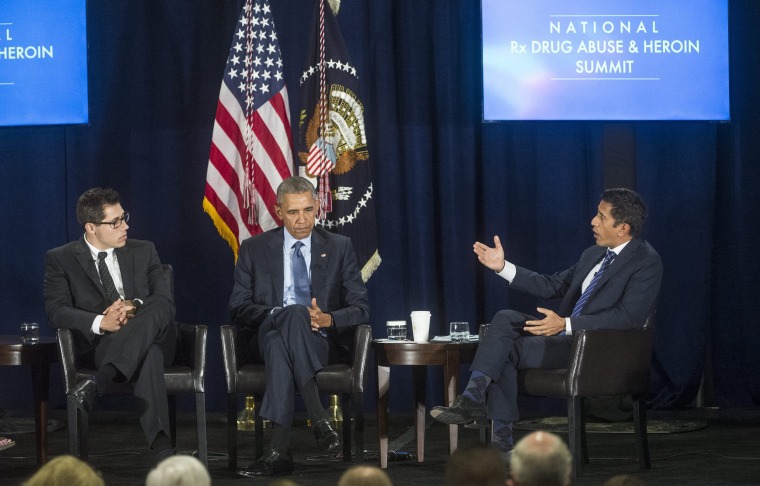 Reform advocates say America addresses drug abuse the wrong way, focusing too much on arresting addicts rather than making sure they can defeat their addictions, get healthy and stay out of trouble.
That was one of the points made on Tuesday's panel.
Obama said he'd like to see the drug addiction problem addressed like other public health crises, such as traffic deaths and tobacco consumption. In both cases, experts examined the data and science and developed fixes, including public education campaigns, that reduced deaths, he said.
With drug deaths, "we have the trajectory going in the other direction," Obama said.
Obama was joined by two people in addiction recovery — Crystal Oertle, a 35-year-old mother from Ohio, and Justin Luke Riley, 28, president of Young People in Recovery — and Leana Wen, health commissioner for Baltimore, which has a rampant addiction problem.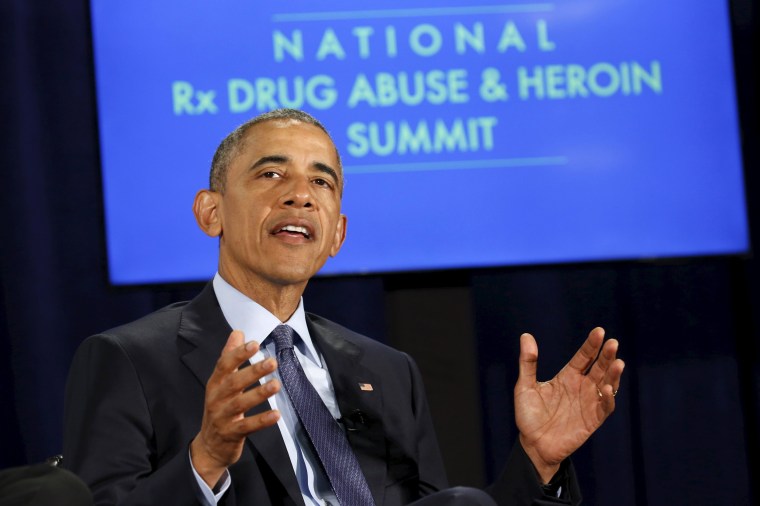 Riley said his addiction began with Benadryl when he was in third grade, blossomed into a drinking problem in high school, the into full blown drug addiction. His family's first attempts at getting him help was a visit to his pediatrician to talk about his drinking, which he shrugged off, Riley said.
The story, Riley said, highlighted the lack of training among doctors to provide drug treatment.
Obama's initiative attempts to address that issue, with the formation of a task force "to advance access to mental health and substance use disorder treatment." Obama also said that his administration had gotten 60 medical schools to begin requiring students to be trained in prescribing opioids.
Related: As Heroin Epidemic Grows, So Does Rehab Wait
But the centerpiece of the effort focuses on "medication-assisted treatment" — expanding the use of drugs, such as buprenorphine, that block opioids' effect on the brain and can help addicts get clean.
A proposed rule issued by the Department of Health and Human Services would double the patient limit for qualified physicians who prescribe buprenorphine, to 200. The change could expand treatment to tens of thousands of people, the White House said.
The HHS said it was spending another $94 million for community health centers across the country to boost medication-assisted treatment in poor and isolated communities.
The Obama administration is also writing a new rule that would offer more treatment for people enrolled in Medicaid and the Children's Health Insurance Program.
And Obama's Substance Abuse and Mental Health Services Administration will give $11 million to 11 states to expand their medication-assisted treatment services. Another $11 will go toward distributing naloxone, a fast-acting opioid-blocker used by first responders to save people who have overdosed.
"Without the government, without us as a society making this commitment, what we will repeatedly end up with is being penny wise and pound foolish," Obama said.
Instead of letting people leave hospital and jails with no help, and letting them and their families continue to suffer, he said, "its just smarter for us to do the right thing on the front end."