The state of Ohio launched a legal left hook Wednesday with a lawsuit aimed directly at Big Pharma and five of the biggest prescription painkiller manufacturers.
The state's lawsuit accuses the firms — Janssen Pharmaceuticals, Allergan, Purdue Pharma, Endo and Cephalon — of "borrowing a page from Big Tobacco's playbook" and downplaying the risks of using powerful drugs like OxyContin and Percocet.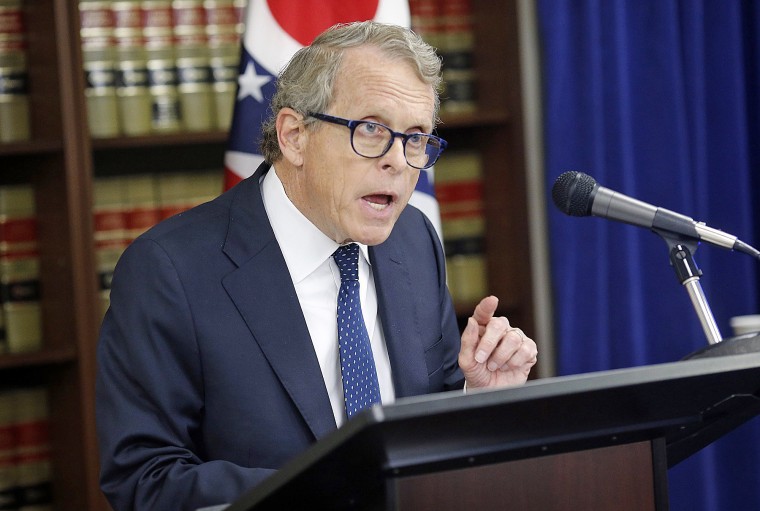 "We believe the evidence will also show that these companies got thousands and thousands of Ohioans — our friends, our family members, our co-workers, our kids — addicted to opioid pain medications," Attorney General Mike DeWine declared. "These drug manufacturers knew what they were doing was wrong, but they continued to do it anyway."
By minimizing the risk of addiction, they helped create "a population of patients physically and psychologically dependent on them," the suit states. "And when those patients can no longer afford or legitimately obtain opioids, they often turn to the street to buy prescription opioids or even heroin."
The result, DeWine said, "is a human tragedy of epic proportions, ripping families apart."
"Opioids have become the main source of unintentional drug overdose in the state," the suit contends.
Related: Attorney General Sessions Heading to West Virginia, Epicenter of U.S. Opioid Epidemic
Ohio is the second state, after Mississippi, to go directly after Big Pharma. DeWine accused the drug makers of violating multiple state laws, including the Ohio Corrupt Practices Act, and of committing Medicaid fraud.
Like the cigarette makers, the drug makers relied on "sales representatives" and influential doctors and "seemingly neutral and credible professional societies and patient advocacy groups" to tout the supposed benefits of long-term opioid use "even though there is no 'good evidence' to support" those claims, the suit states.
DeWine said the lawsuit, which was filed in Ross County, "would compel these companies to clean up this mess through several remedies," including an injunction to stop "continued deception and misrepresentation in marketing."
Related: Trump Admin to Pay Cash Promised by Obama to Fight Opioid Crisis
Ohio is seeking damages for the millions it has spent combating the crisis and "restitution on behalf of Ohio consumers who paid for opioids for chronic pain."
The attorney general's office later confirmed to NBC News that a DeWine political action committee got a $500 campaign contribution in November 2011 from Endo, one of the companies named in the lawsuit.
Purdue Pharma, in its response to the lawsuit, said OxyContin accounts for less than 2 percent of the opioid prescription painkillers sold nationally.
"But we are an industry leader in the development of abuse-deterrent technology, advocating for the use of prescription drug monitoring programs and supporting access to Naloxone — all important components for combating the opioid crisis," the company said in a statement.
Naloxone is an anti-overdose treatment.
Janssen Pharmaceuticals called allegations in the lawsuit "both legally and factually unfounded." Allergan had no comment. And there was no immediate response to DeWine's suit from the other targeted companies.
According to the state:
Purdue Pharma sold OxyContin, MS Contin, Dilaudid, Butrans, Hyslingla and Targiniq
Endo Health Solutions sold Percocet, Percodan, Opana and Zydone
Teva Pharmaceuticals and its subsidiary Cephalon sold Actiq and Fentora
Janssen Pharmaceuticals, a subsidiary of Johnson & Johnson, sold Duragesic and Nucynta
Allergan sold Kadian, Norco and several generic opioids
Ohio is one of the states that has been hardest hit by the opioid epidemic. It is ravaging rural areas, as well the capital city of Columbus, where in the first two months of this year officials were logging one deadly overdose per day.
Generally, the victims were killed by heroin cut with fentanyl, a powerful painkiller smuggled into the country from Mexico and China that the U.S. Drug Enforcement Administration says is 25 to 50 times more powerful than heroin and packs 50 to 100 times more punch than morphine.