The cellphone footage is jarring: An apparently high motorist is slumped behind the wheel of a van stopped in the middle of an Ohio street.
His face is ashy white. His eyes are dead to the world. His vehicle is still in gear but not moving because his foot, unaccountably, is still on the brake.
"Hey dude! Hey! Hey! Hey!" Jennifer Dillon, the motorist who shot the footage, yells. "You gotta wake up man! You gotta wake up! You cannot die!"
Thanks to the overdose antidote Narcan, the man did indeed survive, said Lt. Don Grossmyer of the Maple Heights, Ohio police department.
"I could tell you he was released before we could get to the hospital to talk to him," he said.
But for Grossmyer, this was just the latest example of a troubling trend that law enforcement is seeing elsewhere in Ohio and in other states that are struggling to contain an epidemic of opioid overdoses — motorists driving while drugged.
"I don't know the numbers for that, but I can tell you it's a newer upcoming occurrence," Grossmyer told NBC News. "Just recently, within the last year, we've being seeing this."
J.T. Griffin, chief government affairs officer for Mothers Against Drunk Driving, said "opioids and heroin are not traditionally something that is abused while people are driving."
"But we're definitely keeping an eye on it," he said. "The stories you hear are horrible. You hear of parents getting high in cars and just passing out."
Perhaps the best known example of that happened last September in East Liverpool, Ohio, where police posted a photo of a couple passed out from a drug overdose in a van while a young child looks on helplessly from a back seat.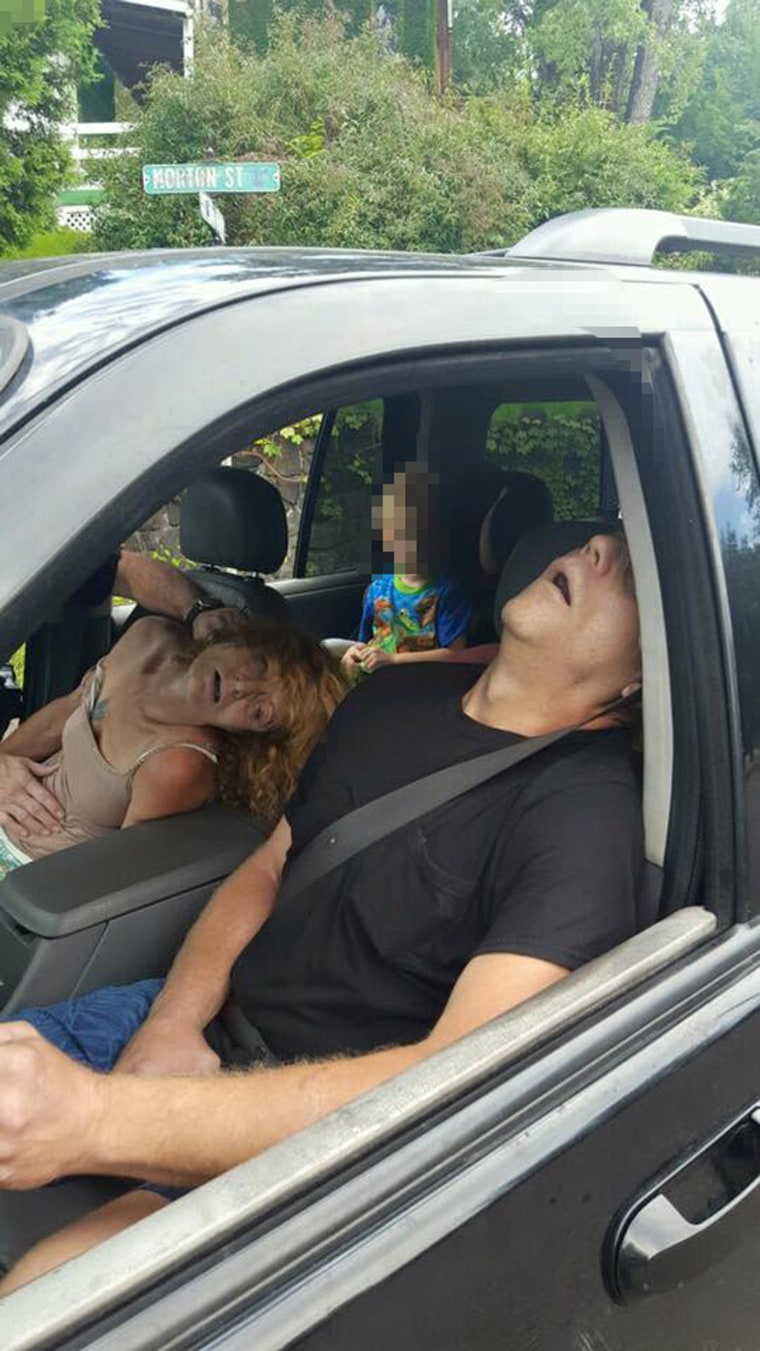 "Alcohol is still the biggest drug drivers are abusing, marijuana is the other," said Griffin.
And those numbers are staggering.
The 2014 National Survey of Drug Use and Health found that 10 million people ages 12 or older admitted driving under the influence of "illicit drugs," a category that includes marijuana, heroin, cocaine, tranquilizers and "misuse of prescription medications."
The feds also appear to share Grossmyer's concerns.
The National Highway Safety Administration reported last year that the percentage of drivers who tested positive for drugs in a 2014 survey was a whopping 20 percent. The agency also cited a 2011 study which concluded "the prevalence of drugged driving is similar to drunk driving among college students."
Also, a report on the NHTSA site under the heading "Dangers of Drugged Driving," showed a "steep" 9.3 percent increase in traffic deaths for the first nine months of 2015.
Among the biggest jumps in deaths were in Rust Belt states like Ohio, Michigan and Indiana, where local officials are grappling with drug overdoses. Even bigger increases were seen in the Pacific Northwest and South (including Florida), which have also been dealing with an upsurge in heroin and methamphetamine abuse.
One reason why there are more reports of driving while on drugs may be because the addicts aren't waiting to get home to get high. And heroin addicts, in particular, have to keep to a fixed schedule.
"Addicts know that if they get high at 2 p.m., they know they're going to want to high again at 6 p.m. because they won't want to go through withdrawal," Sue Marchese-Debiak, coordinator of the Bergen County Office of Addiction Services in New Jersey, told The Patch.com. "They know the timing."