WASHINGTON — Two weeks ago, President Trump declared the opioid crisis a national emergency and called it "a serious problem the likes of which we have never had."
"We're going to spend a lot of time, a lot of effort and a lot of money on the opioid crisis," the president insisted.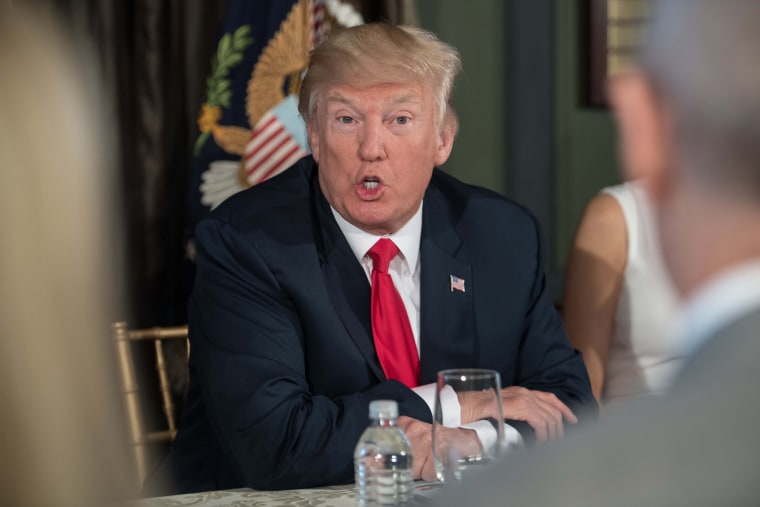 But so far, Trump hasn't formally signed such a declaration and sent it to Congress.
And that means the millions the executive branch could direct towards expanding treatment facilities — or supplying police officers with the anti-overdose remedy naloxone — aren't going anywhere because Trump has not yet followed through.
A White House spokesperson would not say when Trump would get around to it.
"The president recently instructed his administration to take all appropriate measures to confront the opioid crisis," the spokesperson said. "Right now these actions are undergoing an expedited legal review."
Related: Trump Declares Opioid Crisis National Emergency
Northwestern University law professor Eugene Kontorovich said Trump was not breaking any new ground when he announced a national emergency but said "such a declaration does have to be transmitted to Congress in writing."
"Relevant monies won't be released until such a thing is signed," Kontorovich told NBC News. "Usually presidents will announce something and sign it at the same time as a photo-op kind of thing. I say usually because Trump is famously more extemporaneous than a typical president."
That spur-of-the-moment attitude was at the forefront when Trump unexpectedly announced from his golf club in Bedminster, New Jersey, on Aug. 10that the opioid crisis was a national emergency.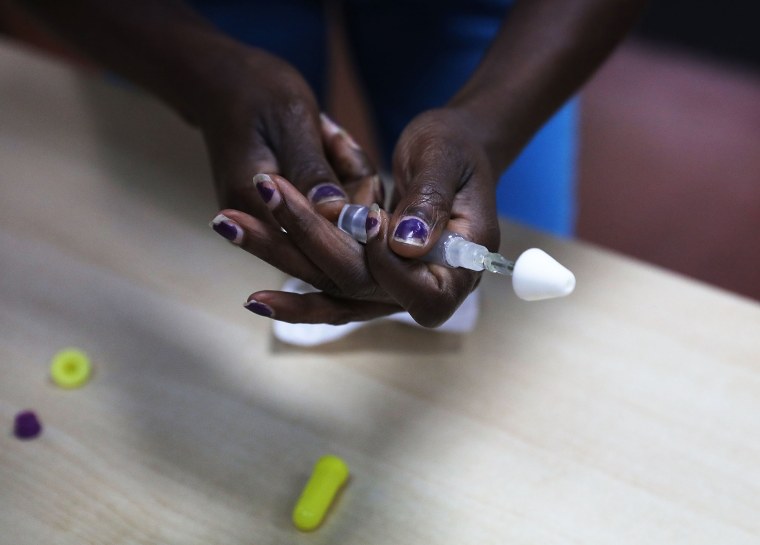 It came two days after he vowed the U.S. would "win" the fight against the epidemic but stopped short of acting on the recommendation of the presidential opioid commission to "declare a national emergency."
Such a declaration would allow the administration to waive some federal rules, including one that restricts where Medicaid recipients can get addition treatment, and it would put pressure on Congress to provide additional funding.
New Jersey Gov. Chris Christie, who chairs the presidential opioid commission, thanked Trump for acting on their recommendation to declare a national emergency and said he was confident the president would "address this problem aggressively and do all he can to alleviate the suffering and loss of scores of families in every corner of our country."
Lawmakers, both Republicans and Democrats, also cheered the move.
Related: States Work to Keep Opioid Epidemic From Splitting Up Families
But Daniel Raymond of the Harm Reduction Coalition, an advocacy group, said he wanted to see Trump back up his words with action.
Raymond also noted that Trump stridently supported Republican-backed Obamacare replacement proposals that would have drastically cut Medicaid funds for opioid addition treatment.
"Just saying the word 'emergency' isn't a magic incantation."
"Just saying the word 'emergency' isn't a magic incantation — this is about rising up to the task of governing, and giving communities and families a concrete commitment that real help is on the way, and soon," he wrote in a statement. "For a President willing to threaten a government shutdown over funding for a border wall, the White House silence on action steps for a supposed priority speaks volumes."
Nearly 35,000 people across America died of heroin or opioid overdoses in 2015, according to the National Institute on Drug Abuse. That's far more than the combined death tolls of the 9/11 terror attacks (2,977) and Hurricane Katrina (1,836) — two tragedies that resulted in national emergency declarations.
Raymond noted Americans would "never give the federal government a pass on empty promises in response to a natural disaster or an infectious disease outbreak."
"We need," he added, "to see the same sense of urgency and tangible results from this Administration on the overdose epidemic."
Ali Vitali reported from Washington and Corky Siemaszko reported from New York.