When Erika Hurt first saw the photo, it shattered her.
She was in jail, recovering from a near-fatal heroin overdose that occurred while her infant son slept in the back of her car. The evening news came on, and suddenly there it was: an image of Hurt slumped unconscious in the driver's seat with needle in her left hand, taken by an officer just before medics revived her with a shot of Narcan.
The picture, released by police trying to draw attention to heroin abuse in tiny Hope, Indiana, rocketed around the internet, turning Hurt into a symbol of America's opioid epidemic.
"They exposed me and my addiction to the whole world," Hurt, 26, recalled. "I thought it was terrible."
She has since changed her mind.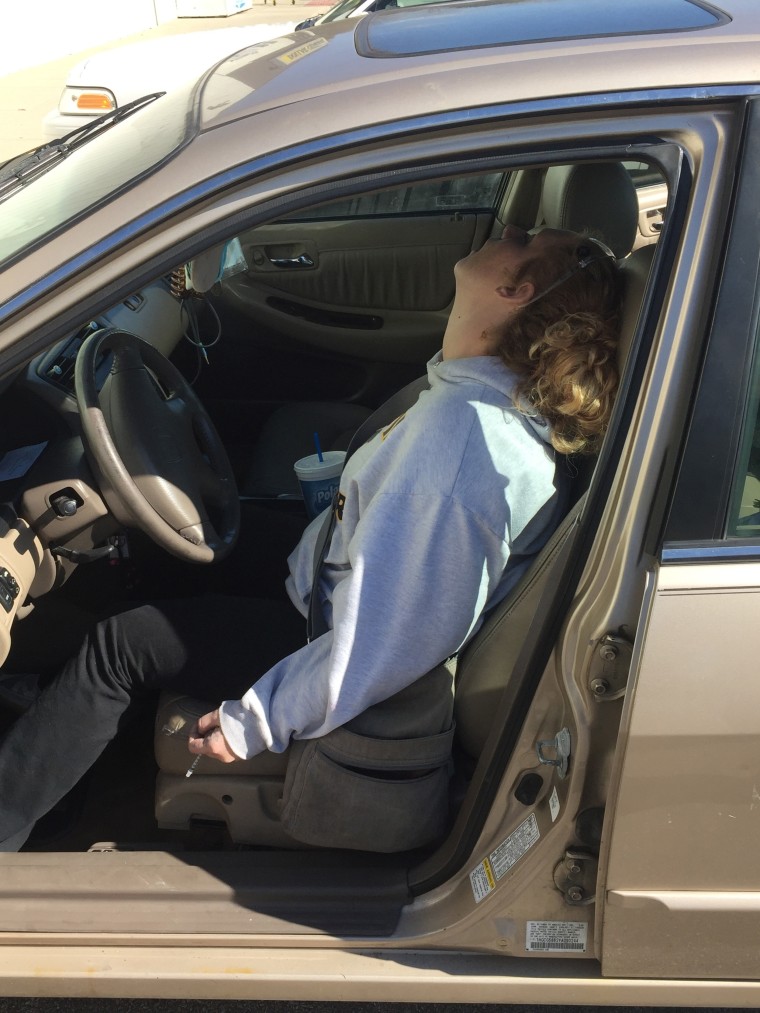 On Sunday, Hurt celebrated a year of sobriety, a journey that began with the Oct. 22, 2016 overdose ─ and that picture. To mark her accomplishment, she posted the photo on Facebook, calling it "the absolute worst moment of my life" and a reminder of how far she has come.
"At this point in my life now, I do think it was a good thing, because I'm able to look back and see that's who I was, and that was the place it led to," Hurt said this week.
The police official who released the photo, Hope Town Marshal Matt Tallent, said he never meant to embarrass Hurt, or shame her into changing. The point, he said, was to send a message of heroin's dangers.
Hope is in Bartholomew County, where the number of fatal drug overdoses has climbed from six in 2015 to 12 in 2016 to 23 so far this year ─ a jump that officials attribute to opioids.
Related: Education or Humiliation? What Happens When a Drug Overdose Photo Goes Viral
It's unclear if the photo had any impact on the local drug problem. Tallent said he believes it helped ─ and saved Hurt.
"For this girl to have her life ripped up and then come back and be sober after everything that's happened to her, that's a story of success," Tallent said.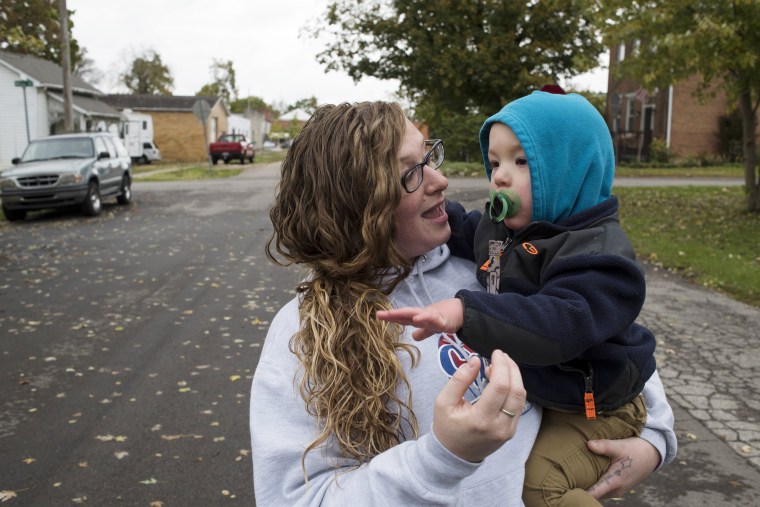 Hurt traces her addiction to a staph infection she contracted when she was 15 and was prescribed painkillers. She got hooked, and progressed to heroin, often stealing to feed her habit. She managed to stop when she got pregnant, she said, and stayed clean through the December 2015 birth of her son, Parker.
She relapsed soon after, though, and went to rehab. She made it two weeks after returning home last October. She bought a packet of heroin but didn't get high until the next day, when she was driving around town with her son asleep in his car seat.
She pulled into the parking lot of a Dollar General Store and shot up.
Related: Viral Photos of Drug Overdose Victims Expose Pitfalls in Fighting Addiction
"I justified it by saying, 'He's so young, he'll have no idea what's going on, he won't know even if he does see it,'" Hurt recalled.
The next thing she remembers is coming to in an ambulance. She later learned that heroin had been laced with morphine.
Hurt went from the hospital to Bartholomew County Jail, and the photo ended up with Tallent. He released it to the local media, as police in other small towns around the country — Ohio, Massachusetts, North Carolina — had done before.
It went viral.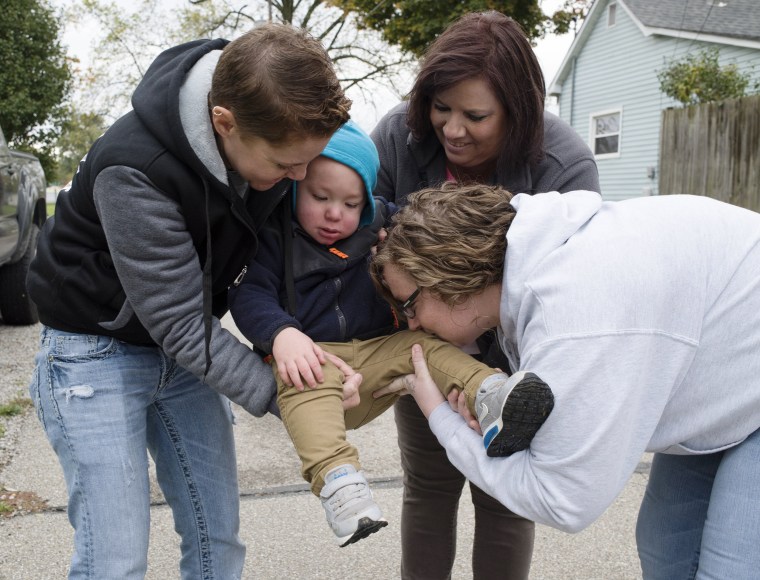 "I was so hurt and embarrassed. I had no clue that the picture had even been taken," Hurt said. "But at the same time, it was kind of a really big eye opener to see myself like that."
Hurt ended up pleading guilty to neglect of a dependent and was given a two-year suspended jail sentence that required her to go to an inpatient drug rehab program at the jail. She signed temporary custody of her son over to her mother.
Related: Opioid Crisis Forces Grandparents to Raise Their Grandkids
When the inpatient program ended, Hurt was allowed to live at her mother's under house arrest. She was reunited with Parker, who will turn 2 in December, and found a job in a plastic molding plant.
She feared ending up a pariah in her town of 2,158 people, remembered only for her lowest moment. But other than some nasty online comments, no one treated her badly in public, she said.
"There was a lot more love than attacking," Hurt said.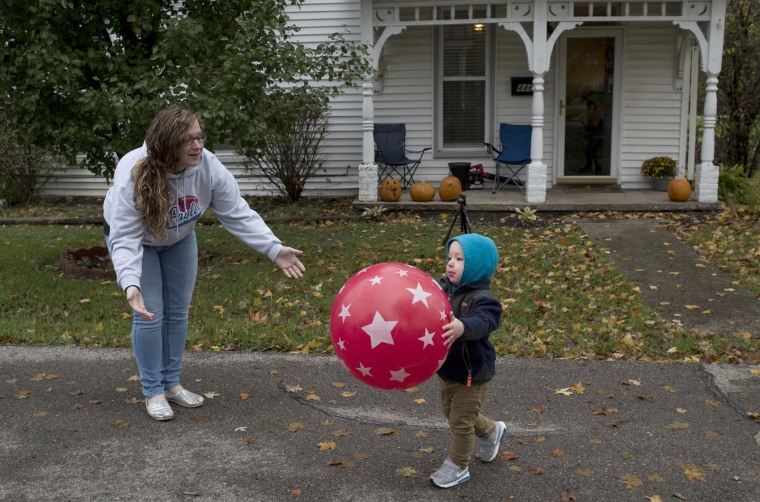 She still attends court-mandated rehab and self-help meetings, and plans to petition for custody of her son when she feels stable enough.
She holds no grudge against the police. Over the summer, a Hope officer pulled her over for speeding, looked at her license and told her he was proud of her. He let her go without a ticket, she said.
Hurt wrote a note to the police department, thanking them.
Tallent says Hurt's story is an inspiration.
"Young people make mistakes," he said. "People are allowed to make mistakes as long as they recognize it and come back stronger. That's what this is about."