For more than four decades, the National Transportation Safety Board badgered presidents and lawmakers to adopt a sophisticated automated railway safety system. It finally got its way, and the system is supposed to be installed nationwide by the end of the year.
But that's too late for the passengers and crew on an Amtrak Northeast Regional Train, seven of whom were killed and scores more of whom were injured Tuesday night when it derailed in north Philadelphia. That's because, with less than eight months to go before the deadline, the system hasn't been implemented on that particular stretch of track.
Robert Sumwalt, a member of the NTSB, said Wednesday that the train was traveling at 106 mph as it entered a curve where the speed limit is just 50 mph. The entire train derailed immediately, but had a working PTC system been in place, "this accident would not have occurred," he declared.
The NTSB proposed what's now called Positive Train Control, or PTC, beginning in 1970. Year after year, since 1990, it included passage of PTC in its rundown of the nation's most critical transportation safety issues. Since Congress was spurred to mandate PTC in 2008 following a commuter train crash in Los Angeles that killed 25 people, the NTSB has continued to press the issue in the face of congressional attempts to delay the system until at least 2020 at the behest of rail lobbyists who contend the requirements are unrealistic and too expensive.
RELATED: Railroad Crashes Are Up, and Amtrak Is Up Even More
PTC is a set of sophisticated technologies that are supposed to stop or slow trains before they derail, collide with other trains, stray onto uncompleted or damaged sections of track or run through a track switch left in the wrong position. By Dec. 31, it's supposed to be in place on nearly all U.S. tracks that carry passengers or hazardous materials — more than 60,000 miles, traveled by 18,000 locomotives. Railroads could face stiff civil fines under the 2008 law implementing PTC.
The system monitors multiple data points on every locomotive that passes over a PTC-completed track — it tracks the train's speed, weight, braking forces, odometer, distance to advance targets and onboard computers in coordination with enhanced GPS satellite readings to decide whether to alert the engineer of imminent danger or even to take over the brakes automatically.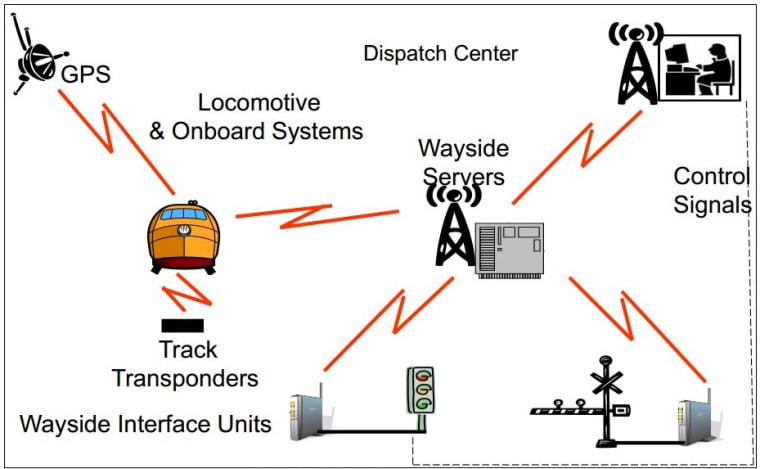 "Airline pilots and air traffic controllers have relied upon radar technology for two decades as a means of maintaining aircraft separation," Stephen Bruno, treasurer and former vice president of the Brotherhood of Locomotive Engineers and Trainmen, told safety regulators at a 2013 NTSB forum (PDF).
"PTC is the most advanced railroad signal technology available and — when overlaid on current signal systems or other forms of movement authority — is designed to perform a similar function for locomotive engineers," Bruno said.
So why have railways and their lobbyists fought PTC so hard for so long?
RELATED: Amtrak Engineer Doesn't Remember Crash: Report
And why has a bipartisan coalition of members of Congress backed legislation that would push it back for years more? Just Wednesday, for example, the House Appropriations Committee defeated a measure that would have provided more than $800 million to speed completion of PTC.
Because it's too expensive, and the deadline is too short, they say.
More than $5 billion has already been spent to upgrade tracks across the country, but only about 45,000 miles, or 75 percent, can be completed by the deadline, the Association of American Railroads contends. Among the remaining challenges it listed in its most recent status report last year (PDF):
There are too few experts in everything that needs to be done to handle the workload in time.
There aren't enough companies qualified to handle the build-out of the upgraded signal systems.
Development of software to enable lab and field testing is lagging.
Thousands of railroad employees still have to be trained.
There aren't enough federal inspectors to review everything in time.
What that means is that "it is abundantly clear that the railroad industry cannot install interoperable PTC on the entire nationwide network" by the deadline, the association concluded.
Even the NTSB acknowledges that the sheer complexity of the system, which crosses numerous government regulatory lines — including use of radio spectrum needed for wireless communication — poses "many challenges hindering the full implementation of PTC."
But that shouldn't delay making railroads safer for passengers and cargo, the NTSB and its supporters insist.
The Philadelphia crash is "exactly the type of incident that PTC is designed to prevent," Deborah Hersman, president of the National Safety Council — and, until last year, chairman of the NTSB — said Wednesday. "So we have seen this before, and we will continue to see it again until PTC is installed."