There is a reason Apple brought out supermodel Christy Turlington to show off its latest gadget, the Apple Watch, during the company's event Monday in San Francisco.
It's the same reason the company took out a 12-page advertising spread in this month's Vogue. Apple really, really wants you to think the Apple Watch is cool — enough to spend anywhere from $349 to more than $10,000 on a device that needs to be near an iPhone to function.
Unlike with the iPhone, there are a dizzying array of style options for the Apple Watch. Want one made with leather and 18-karat gold? You got it. Same with sporty watches made with a rubber strap or industrial ones made of steel. There are 34 different options available overall.
"That's what a watch is all about — fashion," Joseph Turow, a professor of communications at the University of Pennsylvania, told NBC News.
Some might view an iPhone as a luxury, but a lot of people depend on it for, well, pretty much everything. The Apple Watch is more like a hip sidekick, the Robin to the iPhone's Batman. It also is very visible on the wrist, unlike a smartphone, which most people carry tucked deep inside a pocket or bag.
"People wear watches, they don't wear phones," Turow said. "Apple clearly saw what it was doing as more than just a piece of technology. It was a fashion statement."
Is it cool enough?
Ariel Adams loves watches. He writes about them regularly for Forbes and started his own blog, aBlogtoWatch, which he has run since 2007. He was skeptical of the Apple Watch at first. As a self-proclaimed "watch snob," he wasn't impressed by offerings from Motorola or LG.
"I have seen almost all of the other smart watches on the market and, from my experience, they feel like toys," he told NBC News.
Then he wore the Apple Watch.
"It competes on another level," he said. "The Apple Watch can run with the big boys and the competition can't at this point."
Still, for many younger people, watches have been made obsolete by companies like Apple. Convincing people to go back could be a major challenge.
"If you hate wearing a watch, and you don't like having something on your wrist, the Apple Watch isn't going to change your mind."
It costs at least $349 to buy the "Sport" model. That price climbs to $549 for the basic "Watch" model and at least $10,000 for the "Watch Edition."
For the wealthiest of the wealthy, dropping $10,000 isn't that big of a deal. As Adams pointed out, there are gold Rolex watches that cost more than double the most expensive Apple Watch — and they can't even check an Instagram feed.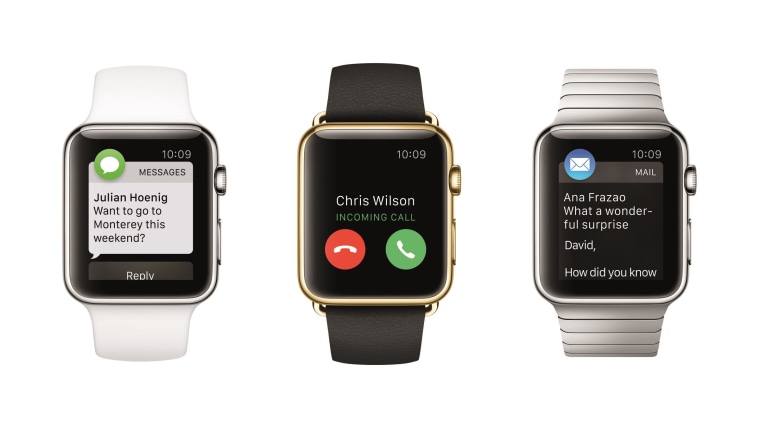 But what about stylish people who aren't Saudi royalty? They need to feel like the mid-range Apple Watch is a must-have item worth their $1,000.
"The fashion community has been lukewarm in their reaction to the Apple Watch," Van Baker, vice president of mobile services at research firm Gartner, told NBC News.
Maybe Christy Turlington and Vogue ads can change that. If celebs are caught wearing the Watch, it could convince younger people they need them too, or at least the cheaper, $349 models.
"Ultimately, this has to be successful with entry-level buyers, like college students and people fresh out of school," Baker said. "The $350 price point is the upper limit of what you can get away with, but I think it's affordable enough."
He expects Apple will sell around 10 million to 15 million of them in the next year. To put that in perspective, Apple sold 74.5 million iPhones ... in the last quarter of 2014.
There will be plenty of early adopters who will buy the Apple Watch this year, he said, but the gadget needs to prove that it's useful to grow beyond that. The iPhone 6 is fashionable. It's also a tool that millions of people use constantly, to give them directions, check their email and buy things online.
Not only does the Apple Watch have to compete with its own phones, it also has to convince people it's worth buying over a regular watch, which can last generations. Can you imagine still owning a first-generation iPod? That could be how outdated this year's Apple Watch seems only a few years from now.
That doesn't mean the Watch won't have more appeal than a Rolex for some people.
"Yes, the gold mechanical watch you buy now will be just as good five years from now," Adams said, "and it's also not going to be any more obsolete — it was already obsolete when you bought it."