Despite a series of NBC News reports on the growing debate about the safety of crumb rubber artificial turf, the federal agencies that regulate the product have remained largely silent.
Earlier this month, in fact, the head of the Environmental Protection Agency would not answer a direct on-camera question about whether the surface found on playgrounds and athletic fields across the country is safe for kids to play on.
Watch the full report on NBC Nightly News with Lester Holt at 6:30 p.m. ET
"I have nothing to say about that right now," EPA Administrator Gina McCarthy told NBC's Stephanie Gosk when Gosk caught up with her in a Capitol Hill hallway. Prior to their encounter, NBC had already made repeated requests for interviews with the EPA without success.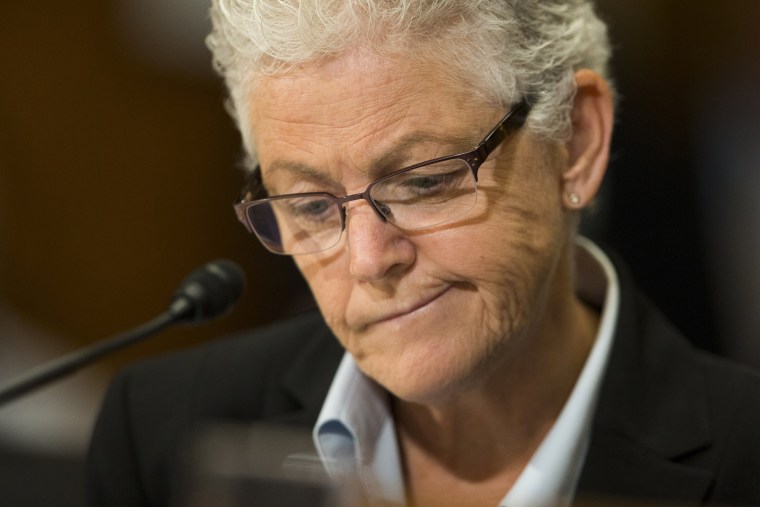 While critics and supporters of crumb rubber turf don't agree on whether the surface poses a health risk — the industry says studies have shown no link with illness, while some parents and activists demand more testing — all sides want federal regulators to take a clear public position.
"I think the federal government should step up to the plate," said Jerry Hill, a California state senator who proposed legislation this year that would have postponed the installation of new fields until a comprehensive study was performed. "We want to know, 'Is this a product that is safe for our children, and protecting their health, or is it not?'"
READ: NBC News' original investigation on this story
Rom Reddy, CEO of SprinTurf , one of the largest synthetic turf companies, said he also wants the EPA to speak out on the issue, and affirm that studies prove his product is safe.
"There is more than enough information for them to act," Reddy said.
A Growing List
Meanwhile, University of Washington women's soccer coach Amy Griffin keeps adding names to her list of athletes — most of them soccer goalies — who played on crumb rubber turf and have been diagnosed with various forms of cancer.
After a story about Griffin aired on NBC News last fall, many people contacted her, and the list has grown from 34 goalkeepers to at least 63. She notes that the Washington State Department of Health has also begun its own research.
"It's not just me knocking on people's doors and going, 'Don't you think this is weird?'" said Griffin.
Griffin began keeping the list after she discovered that several goalies she knew had been diagnosed with the same cancer. She and some of those athletes questioned whether crumb rubber could be exposing them to chemicals and carcinogens.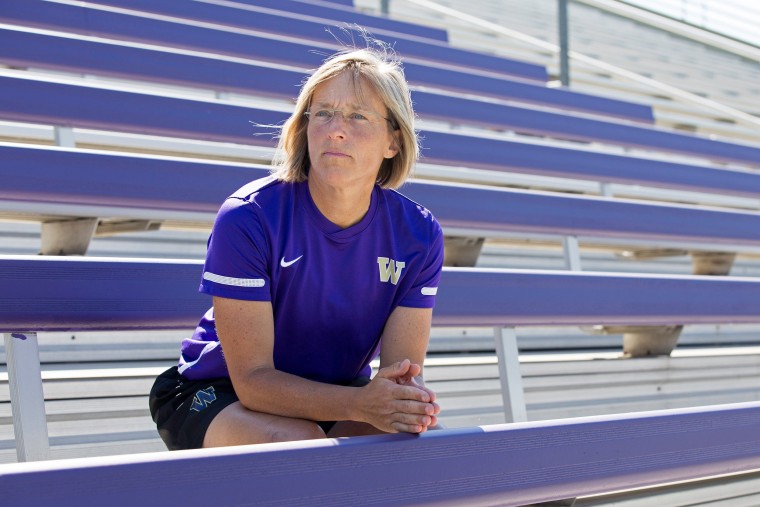 Returning calls and emails is something she's glad to do, Griffin said. But, she added, "I'm an assistant soccer coach. I do think it's weird that people are calling me instead of the government."
Crumb rubber artificial turf is a popular playing surface found in thousands of U.S. schools, parks and professional stadiums. It's made from a combination of green nylon blades of "grass" and black crumb rubber infill, created by pulverizing millions of recycled tires.
The surface was designed to be more durable and cheaper to maintain than natural grass fields, and softer and more yielding — and thus less likely to cause injuries — than previous generations of artificial turf.
Little Black Dots
But some coaches, doctors and parents have raised questions about the chemicals found in the little black dots that make up the rubber infill and often wind up stuck to the skin, shoes and clothes of athletes.
According to the EPA, mercury, lead, benzene and arsenic, among several other chemicals, heavy metals, and carcinogens, have been found in tires.
But no research has linked crumb or shredded rubber to cancer, and Griffin's list of goalies is anecdotal, not a scientific data set.
NBC News reviewed dozens of studies. Several studies that concluded crumb rubber does not present acute health risks also included the caveat that more research is needed. No study has examined the effects of regular exposure to shredded or crumb rubber on young children, over an extended period of time —something some experts believe should be done.
While some doctors and toxicologists remain concerned about exposure, others say their worries are overblown. Dr. Laura Green, an MIT-educated toxicologist and independent consultant, said that the process used to manufacture tires — called vulcanization — ensures that chemicals and carcinogens remain trapped inside.
"It's always been true that a carcinogenic gas has been used to make tires, but it's never been true, never, that once tires are made, once they are in use, and once they are crumb balled that they liberate that or any other carcinogen," said Dr. Green. She recently worked for the turf industry as a consultant, but said she has always believed crumb rubber poses no health risk to children.
"There's zero reason to be concerned that playing on synthetic turf will put your child at risk for cancer," she added. "It's simply not true."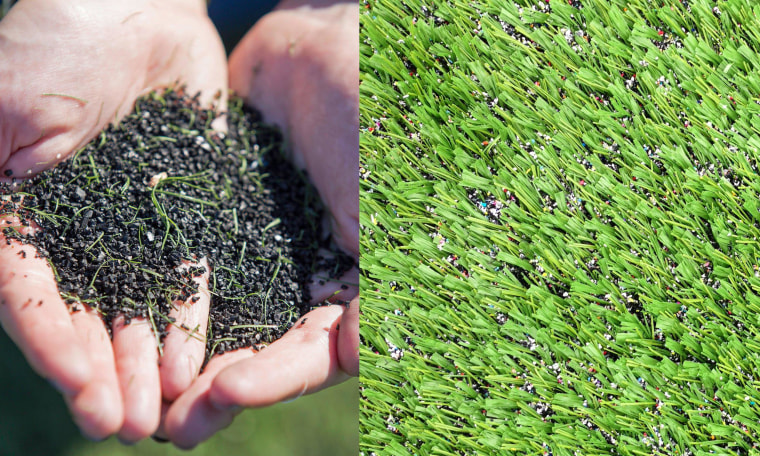 Rom Reddy of SprinTurf also said that the scientific evidence is clear.
"We have looked at these independent studies, we have done validation studies," Reddy said. "Crumb rubber is safer than urban and rural soils, and safer than the children's toy standard."
But Paul Anastas, former head chemist for the EPA, disagrees that these studies have proven crumb rubber to be safe.
"Tires were not designed to be playgrounds," Anastas, who is now Director of the Center for Green Chemistry and Green Engineering at Yale. "They were designed to be tires."
"I'm a scientist," he added. "I'm also a parent. When I am faced with decisions about things that could affect the health of my children, and there are open questions, why would I take the chance?"
Parents Want Answers
In 2008 and 2009, both the CPSC and the EPA announced crumb rubber turf was safe to play on. But both agencies have recently softened their stance.
Last May, CPSC Chairman Elliot Kaye told members of the House Energy Subcommittee on Commerce, Manufacturing and Trade that "safe to play on means something to parents that I don't think we intended to convey and that we shouldn't have conveyed."
"Parents do not care which agency does what when it comes to the safety of crumb rubber — they just want to know whether crumb rubber, as part of an artificial turf field or as playground fill, is safe for their children to play on," Chairman Kaye told NBC News in a statement. "As long as I am chairman, CPSC will continue to work closely with our federal and state partners toward ending the uncertainty surrounding crumb rubber."
The EPA conducted a limited study in 2008, which the agency now says was intended only to help develop future studies, rather than offer conclusions about the material's safety.
Neither the EPA nor the CPSC plans on commissioning future studies of the material, although both agencies have told NBC News they will offer technical assistance to an upcoming study commissioned by California's environmental agency.
"The agency believes more testing needs to be done," said an EPA statement last fall. "But, currently, the decision to use tire crumb remains a state and local decision."
NBC News has made at least 10 requests for interviews with the EPA since September 2014. Each time, a spokesperson for the EPA declined. Liz Purchia, spokesperson for the EPA, said that EPA Administrator Gina McCarthy doesn't have time.
For now, many states and cities really are trying to sort the issue out themselves.
New Research on Horizon
In the past year, several states have considered bills that call for moratoriums on new turf fields and ask for new studies of turf. The industry has responded by sending lobbyists across the country to fight the legislation.
Early this year state Sen. Jerry Hill, a San Mateo Democrat, introduced SB 47, which would have implemented a two-year moratorium on the installation of new crumb rubber fields and playgrounds until the state produced a new study. It also would have required school districts to consider bids for alternative infill, such as organic material, when planning to install artificial turf fields.
The turf and scrap tire trade groups, as well as labor groups, spent tens of thousands lobbying against the bill. And in California, as in other states, the industry has won.
Terry Leveille, president of the California-based lobbying firm TL & Associates, helped defeat Hill's bill in Sacramento. It never got out of committee. At a scrap recycling conference this year, Leveille told industry representatives that he and the Synthetic Turf Council, an industry group, had also lobbied successfully against legislation in Virginia, and deflected a Minnesota bill with "a promise to fund a new $50,000 study."
But pressure from Sen. Hill and environmental activists did produce results. California's Office of Environmental Health Hazard Assessment has commissioned the study Hill wanted. It's expected to take about three years to complete.
"There's been no study that really looks at the cumulative effect on children's health, over a long period of time," said Hill. Researchers, he added, will examine the "health impact of a child inhaling it, ingesting it, getting into their cuts and bruises" on a regular basis.
Liz Purchia, spokesperson for the EPA, told NBC News in a statement that the EPA will "serve in a technical advisory capacity" to scientists conducting the study. "By working with the state of California, and other federal and state agencies," she wrote, "we will be able to identify critical remaining research gaps and optimize research efforts, while conserving resources and eliminating the duplication of activities," Purchia wrote.
The CPSC will also be assisting with the study.
On the local level, since the first NBC News report in 2014 more than 50 counties and cities in 17 states have debated or reassessed their approach to crumb rubber turf. While many of those locales have decided to move forward with crumb rubber turf installation, Montgomery County, Maryland, a suburban county with 1 million residents just outside Washington, banned new crumb rubber fields this spring.
For her part, Amy Griffin says she will continue to keep her list and push for more comprehensive studies.
"I hope facts come out so that everyone can make good choices and we can feel good about it," Griffin said. "Not, 'Well this seems like a good choice 'cause we don't know anything,' but 'This is a great choice because we know everything.' That's what I want."
Rom Reddy, the turf executive, urges parents to act. "Write to Gina McCarthy, the administrator of the EPA, and say, 'Enough,'" Reddy said. "It is time to look at this information and act and put parents' minds to rest."