When the U.S. women's soccer team launched its quest for a World Cup Monday night against Australia, there were 30,000 fans in the stands at Winnipeg Stadium— but not a single blade of grass on the field.
Despite their protests, the best female soccer players in the world are being forced to play all the games of the 2015 Women's World Cup on artificial turf.
"It's kind of a nightmare," said star U.S. forward Abby Wambach. She said that playing on turf "affects everything" from the way the ball bounces to the bloody "turf burns" the surface leaves on legs and arms.
All the tournament's fields — six surfaces in six cities — are made of turf. Wambach and players from Germany, Brazil and Spain filed a lawsuit in Canada last year that demanded FIFA and the Canadian Soccer Association install natural grass in the arenas, but the players said they dropped the suit earlier this year because they had filed it too late and FIFA wouldn't budge.
This Women's World Cup will be the first ever played on turf, and according to Wambach no major men's tournament has ever been played on turf.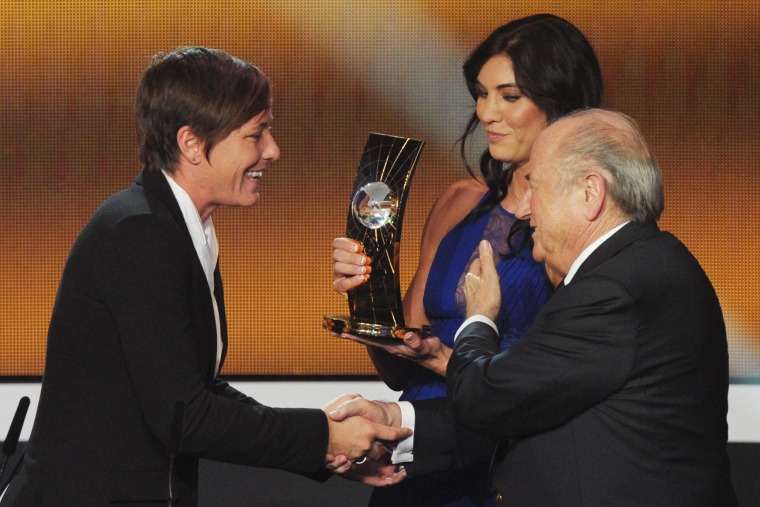 "FIFA and CSA never would have forced a men's World Cup onto plastic pitches," said Hampton Dellinger, who represented the players in their lawsuit. "FIFA and Canadian officials' refusal to do right by the women's game has been enabled by the actions or silence of leading national federations."
Professional sports like baseball and football are played on forms of turf, and it has also been installed in thousands of playgrounds. In a series of on-air and on-line reports, NBC News investigated the safety of artificial "crumb rubber" turf, and whether the playing surface, which is made of recycled tires, has been adequately tested. A soccer coach in Seattle has been collecting anecdotal information about goalies and other players who played on the surface and now have various forms of cancer, but no research has linked turf to cancer or any other disease.
Read the original NBC News report.
The Synthetic Turf Council, an industry group, says that the evidence collected so far by scientists and state and federal agencies proves that artificial turf is safe.
""There's certainly a preponderance of evidence to this point that says, in fact, it is safe," said Dr. Davis Lee, a Turf Council board member.
Photos taken by players, however, show what they say is the impact of turf on their bodies. U.S. forward Sydney Leroux tweeted a photo of her battered legs after playing on turf in 2013.
Germany's Nadine Angerer and Australia's Samantha Kerr, who are also playing in this year's Cup, have tweeted their own photos that show their bloody legs after games played on turf.
Wambach said playing on turf in the World Cup will force her to second guess whether to slide tackle to or go for a diving header, since that can result in bloody elbows, knees and hip bones.
Turf fields are also much hotter than natural grass fields. The surface at this Saturday's cup opener in Edmonton, in which Canada beat China 1-0, reportedly reached 120 degrees an hour before kickoff. At Sunday's games in Ottawa, the field temperature reached 130 degrees.
Wambach calls turf a "gender issue through and through," and embattled FIFA President Sepp Blatter, who announced his resignation last week, has made controversial comments about female players in the past. He once suggested female soccer players wear "tighter shorts."
U.S. forward Alex Morgan said Blatter didn't recognize her at the 2012 FIFA World Player of the Year ceremony in Zurich, even though she was a finalist.
"Hopefully there will never be another World Cup on turf after this," U.S. midfielder Carli Lloyd told NBC News. Wambach, meanwhile, is now a paid spokesperson for Scotts Lawn Care, a grass seed company.
The CSA did not respond to a request for comment about turf and the players' lawsuit. FIFA has previously defended turf as a surface that provides "maximum safety" for players, but also didn't provide a specific response. Instead, the organization referred NBC News to a statement made by the organization's Secretary General, Jérôme Valcke after the lawsuit was dropped.
Said Valcke, "What was very clear from the meetings with the players was their desire and enthusiasm about making this the greatest FIFA Women's World Cup ever, and to ensure that they have the best possible conditions to perform well. This is a goal they share with FIFA and we are totally committed to providing the best possible surface to enable everyone to enjoy a great footballing spectacle."