NAME: Alton Wang
AGE: 23
HOMETOWN: Arcadia, CA
TWITTER: @altonwang / INSTAGRAM: @altonwang
NBC Asian America asked celebrities and industry leaders to nominate individuals for our inaugural list, and Alton Wang was nominated by Jenn Fang, blogger and founder of Reappropriate: "From his time as a college student — when in response to the lack of Asian American Studies courses he organized and taught his own student-run extracurricular Asian American Studies seminar — to his recent appointment as Assistant Director at the Center for Social Innovation and at AAPI Data at UC Riverside, Alton has given selflessly to the Asian American community. I nominated Alton because he has already proven himself a leader within the Asian American community, and I have no doubt that as he grows, he will only continue to distinguish himself as a champion of the Asian American community. We are lucky to have Alton advocating for us; and I, for one, cannot wait to see what the future has in store for him."
How do you introduce yourself?
On the internet, my bio always says that I'm Asian American, but not necessarily in that order — I think a lot about how we identify or hyphenate ourselves, and nothing ever seems to truly work 100% to represent how I walk through the world.
Oh, and I'm named after a street in Southern California (Alton Parkway in Irvine), not the celebrity chef.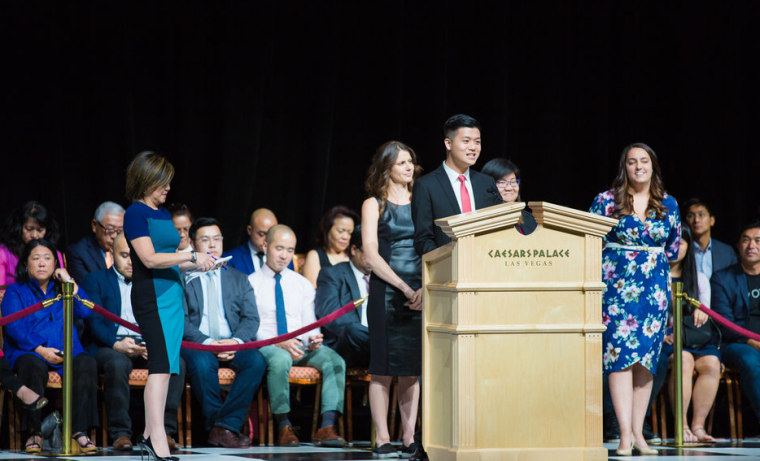 What inspires you?
I'm consistently inspired by the energy and leadership of not only the trailblazers in the AAPI [Asian American and Pacific Islander] community, but also the future leaders of tomorrow. I got my start in student organizing, and I still turn to young leaders for inspiration today — seeing their determination and commitment to advancing our communities keeps me going and helps prevent burnout.
What challenges you?
Institutions that weren't built for us and don't serve the best interests of our communities — and how to change them (or in some cases, abolish them).
What are you reading/watching/listening to these days?
I'm (finally) reading "Crazy Rich Asians," and getting around to catching up on the second season of "This Is Us." I'm always craving more inclusive storytelling.
If you weren't doing what you're doing now, what career would you want to pursue?
Whenever I'm stressed or close to burnout, I daydream about opening a small cafe and selling pastries. Until, that is, I remember I can barely make coffee and can't bake.
What's your motto?
Live life intentionally and with purpose.
I celebrate Asian Pacific American Heritage Month because...
Today, we still need a month to uplift the voices of our community and have our stories recognized. I won't stop celebrating until every month becomes APA Heritage Month.
NBC Asian America Presents: A to Z aims to celebrate the emerging voices and breakout stars of the Asian American and Pacific Islander communities. These individuals aren't just reading the dictionary of what it means to be Asian American and Pacific Islander in America; they're writing new definitions every day.
Follow NBC Asian America on Facebook, Twitter, Instagram and Tumblr.