NAMES: AzN PoP! (Anna Suzuki, Iliana Inocencio, Maya Deshmukh, Angel Yau, Ann Marie Yoo)
AGES: As actors, it isn't customary to reveal our age! But we think we all look about 22-30.
HOMETOWNS: Shizuoka, Japan; Alexandria, VA; Voorhees, NJ; New York, NY; Queens, NY
FACEBOOK: AzN PoP / TWITTER: @aznpopcomedy / INSTAGRAM: @aznpopcomedy
How do you introduce yourselves?
Anna: Hey, I'm a comedian, actor, and writer. I'm Japanese and Jewish, a Jap Jap.
Iliana: Hi, I'm Iliana not Ilana. I'm an actor, comedian, singer. Do you want to see a picture of my dog?
Maya: I am an actor, comedian, part-time dentist, and full-time degenerate.
Ann Marie: Hi! I'm Ann Marie. I'm and engineer-turned-actor who loves to eat too much bad food and then cram in working out to combat it.
Angel: I wave, and if they don't see me... I give up and talk to myself.
AzN PoP: We are the first Asian-American K-Pop parody band.
What inspires you?
Anna: Authenticity. Anyone or anything that is true to themselves inspires me to be the same.
Iliana: My family. My dad came to America from Altavas, Aklan, in the Philippines with nothing and has worked so hard to provide a comfortable life for my family. He is a self-made man and patience and resilience personified. My mom because when I finally decided I would pursue theater and couldn't drive yet, she would drive me 2-3 hours to audition after audition and come to all my shows — one time in a hailstorm. My brother because he truly has the best traits from both my mom and dad. He is both my biggest cheerleader and biggest challenger, always pushing me to be better. Whenever I think about quitting, I think about my family and how much they want me to succeed and I cry happy tears, then smile, then get back to hustling.
Maya: Hearing stories about people overcoming odds, and triumphing! I think everything that is going on with immigration, and how our country is dehumanizing undocumented (and many people of color) really inspires me to be a voice and tell their story. Also food. And the real housewives.
Ann Marie: Individual life stories. We all have such varied backgrounds and are born into varying priviledges, but what our choices are and what we make of ourselves are all unique and special and I love learning about as many stories as I can encounter.
Angel: Looking at childhood photos of myself and others. When I see them, I think, "You dorky kid, you didn't know you could change the world, now look at you!" And connecting with other people. I'm a pretty shy person but when I click with someone and I hear their stories and they want to hear mine, I feel like we can change the world for the better.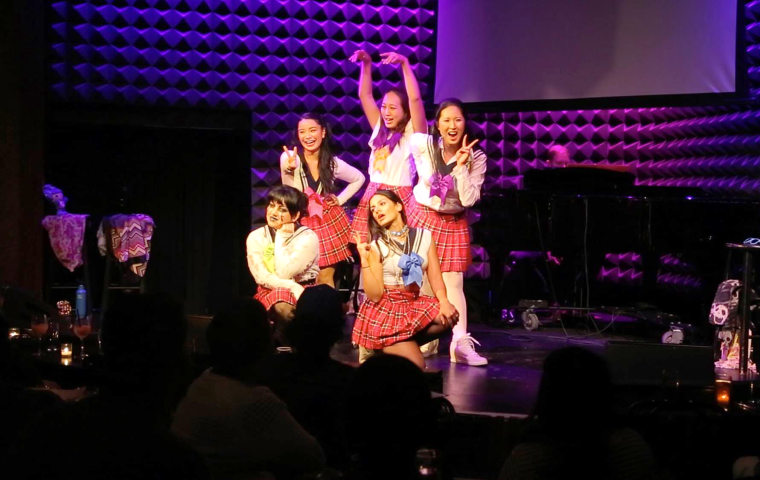 What challenges you?
Anna: I constantly challenge myself to "do me" and live my best life.
Iliana: Myself and knowing that I can be the best version of myself RIGHT NOW. I'm always trying to be better than I was yesterday in everything I do.
Maya: Self motivating, and believing in myself.
Ann Marie: I'm pretty ambitious, so I'm regularly looking for acting roles or performance opportunities (playing the violin and skating in ice skating shows) that push what I'm comfortable doing. To be honest, it's sometimes an internal struggle, but I know that I always come out of it better and more learned in some way.
Angel: Having confidence. Being a perfectionist. I never think what I create is good enough. It stops me from starting projects or if I do have a completed project, it stops me from sharing it with others.
Tell us about the biggest risk you ever took.
Anna: I moved to the U.S. with my Japanese mom and American dad from Japan when I was 12, and because I didn't speak English, I had a very hard time making friends and just being myself until I was about 14. I worked hard and became fluent in English, and since then, have felt invincible in anything I do.
Iliana: I recently wrote and produced a short film about my struggle with depression. I feel like that journey — working through depression, then telling my story creatively — was a progression of risks: first opening up about my depression to my family and friends, then feeling comfortable enough to script my experience, then producing it, and now submitting it to screenings and festivals for it to be seen. It's scary to show people a side of me that's not my usual sunny demeanor. But that's a real part of me that I've learned to love and has made me stronger. If I can live with depression and be relatively successful, then I can do anything.
Maya: Deciding that I would make a sincere effort to make being a working entertainer a real goal. I am trained as a dentist, and I do that part time (NOT RISKY), but making my art a priority may eventually take away my financial and emotional security... so that's risky?
Ann Marie: This is probably cliché, but putting my Ivy League engineering degree aside and ending my path to medical school to enroll myself in a two-year scene study class for acting.
Angel: I always ask myself, why am I an artist? Why am I a comedian? I'm talking about myself way too much — am I being narcissistic? The creative type will always question their careers, am I really contributing to society? Yes. It's our responsibility as artists to make sure no one feels like they're alone — through art, through music, through story.... Feeling like you are the only person who feels a certain way in the whole world is scary. It's okay to talk about yourself. Someone is listening, even if it's just one person. Even if your story is simply about peeing on yourself in public as an adult. Your story might save someone.
What are you reading/watching/listening to these days?
Anna: My taste truly runs the gamut from high-brow to low-brow. I just finished reading the first part of Irene Nemirovsky's "Suite Francaise," a novel about life in Paris during the Nazi occupation. It keeps me humbled and grounded to read about experiences that are so far removed from my own. I'm about to start Roxane Gay's pop-up magazine, "Unruly Bodies." I've been listening to the podcast Happier in Hollywood. I can binge-watch a four-hour PBS Ken Burns documentary in one sitting.
Iliana: I just finished reading "So You Want to Talk About Race" by Ijeoma Oluo and it has blown my mind. If you have any desire to change the scary path our country is going down, this is a must read. I also just read "Eclipsed" by Danai Gurira whose multi-faceted life I am obsessed with. I read a ton of non-fiction and autobiographies. Favorites I go back to often: "The Measure of a Man" by Sidney Poitier and "Mindset" by Carol Dweck.
Currently listening to podcasts 2 Dope Queens and Off Camera with Sam Jones, and soundtracks "Dear Evan Hansen" and "Hamilton" on loop.
Currently watching: "Crazy Ex-Girlfriend," "Jane the Virgin," and "VEEP." (I LOVE Gina, Rachel, and Julia and want to work with them!) Currently re-watching: "The Office" because I just finished Jenna Fischer's great book, "The Actor's Life." Also love "Queer Eye" and guilty pleasures "Vanderpump Rules" and "Riverdale."
Maya: "The Real Housewives," "Queer Eye," SzA, RuPaul (both MUSIC and "Drag Race"), The New Yorker
Ann Marie: Reading from favorite contemporary plays from my scene study class, watching some great newer docu-series on Netflix and watching "Roseanne" (LOVED that show growing up!), and listening to my favorite classical music and '90s throwback pop.
Angel: Anything my friends do!
We all have such varied backgrounds and are born into varying priviledges, but what our choices are and what we make of ourselves are all unique and special and I love learning about as many stories as I can encounter.
If you weren't doing what you're doing now, what career would you want to pursue?
Anna: I'd definitely be running an animal sanctuary or a no-kill animal shelter, or working at a natural history museum. I love animals, dinosaurs, space, and history.
Iliana: I would probably live on an island somewhere in Southeast Asia (with hundreds of rescue dogs) and host yoga/surf retreats for people who need to get in touch with a more holistic lifestyle. That or a travel journalist.
Maya: I would wanna be either Ina Garten or Anthony Bourdain.
Ann Marie: I'd be an astronaut — I've always dreamed about going to space. Or I'd be a professional figure skater, but I'm not that good at it.
Angel: I don't think I can pursue anything else but comedy, filmmaking, and storytelling. I can't! I need to express myself all the time!
What's your motto?
Anna: Don't ask for permission and don't apologize — just do it. No one cares.
Iliana: Be nice, work hard, and try to find the good in everyone (including yourself!)
Maya: Always try, fail A LOT, succeed sometimes.
Ann Marie: Be and embrace yourself (even though it can be really hard sometimes), and give your all to whatever you do.
Angel: Pee on yourself at least once in public as an adult.
We celebrate Asian Pacific American Heritage Month because…
Anna: ... we all have stories.
Iliana: … each of our individual Asian/Asian-American voices are unique and important. So listen up.
Maya: ...we exist.
Ann Marie: …there are so many talented and contributing Asians in American and we need to support and lift each other up.
Angel: ...it's important that Americans/the world knows that there is a difference between Asians and Asian American.
NBC Asian America Presents: A to Z aims to celebrate the emerging voices and breakout stars of the Asian American and Pacific Islander communities. These individuals aren't just reading the dictionary of what it means to be Asian American and Pacific Islander in America; they're writing new definitions every day.
Follow NBC Asian America on Facebook, Twitter, Instagram and Tumblr.