NAME: Kiki Aranita
AGE: 33
HOMETOWN: Hong Kong and Honolulu
TWITTER: @poidogphilly / INSTAGRAM: @poidogphilly
How do you introduce yourself?
Hi, I'm Kiki. I'm half from Hawaii and half from Hong Kong. I'm the co-owner of Poi Dog, a food truck and now restaurant in Philadelphia. Poi Dog means mixed breed or mutt, and refers to the hybrid nature of the food we serve and also my background.
What inspires you?
I'm inspired by old cookbooks and playing around in the kitchen with Chris Vacca, recreating dishes from our travels and from my childhood.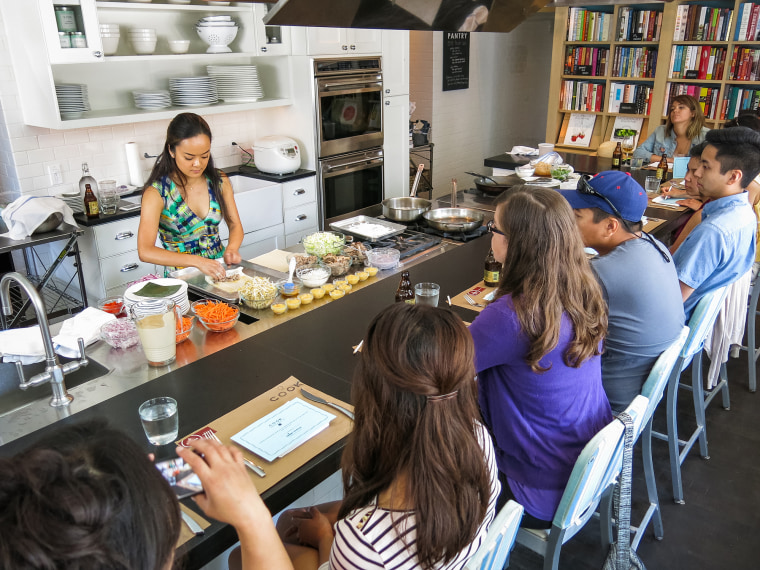 What challenges you?
Managing a staff, creating new dishes, catering events in unexpected and new spaces.
Tell us about the biggest risk you ever took.
I left academia (I was in Classics) and started a food truck that just turned 5. That grew into a business that encompasses the truck, catering special events and our now 1-year-old restaurant in Center City Philadelphia.
What are you reading/watching/listening to these days?
Rachel Laudan's "Cuisine and Empire: Cooking in World History," "Wild Wild Country" on Netflix, and the BBC's Global News Podcast, every morning, without fail.
If you weren't doing what you're doing now, what career would you want to pursue?
Something that involves frequent travel.
What's your motto?
I don't have a motto. I don't like them.
I celebrate Asian Pacific American Heritage Month because…
Being Asian and from a Pacific Island, my family and I have a heritage that is often misrepresented or simply not recognized on the mainland. It is a very strange thing to have my culture be considered a theme for parties, for instance. Poi Dog comes from an impulse to tell our stories my way, through food.
NBC Asian America Presents: A to Z aims to celebrate the emerging voices and breakout stars of the Asian American and Pacific Islander communities. These individuals aren't just reading the dictionary of what it means to be Asian American and Pacific Islander in America; they're writing new definitions every day.
Follow NBC Asian America on Facebook, Twitter, Instagram and Tumblr.