NAME: Lydia X. Z. Brown
AGE: 24
HOMETOWN: Melrose, MA
FACEBOOK: Autistic Hoya / TWITTER: @AutisticHoya
How do you introduce yourself?
I'm an advocate, organizer, and activist for disability justice and collective liberation. My work focuses on abuse and violence targeting disabled people, especially multiply-marginalized disabled people, such as in schools, within families, in disability institutions, by police, or in prisons. My work spans teaching, public policy, speaking and training, community organizing, writing, and direct support/mutual aid.
What inspires you?
The constant work, innovation, and leadership of friends and comrades targeted by multiple forms of oppression in fighting for lives, love, and freedom. Their/our survival, resistance, and magnificence inspires me to keep doing the work every day.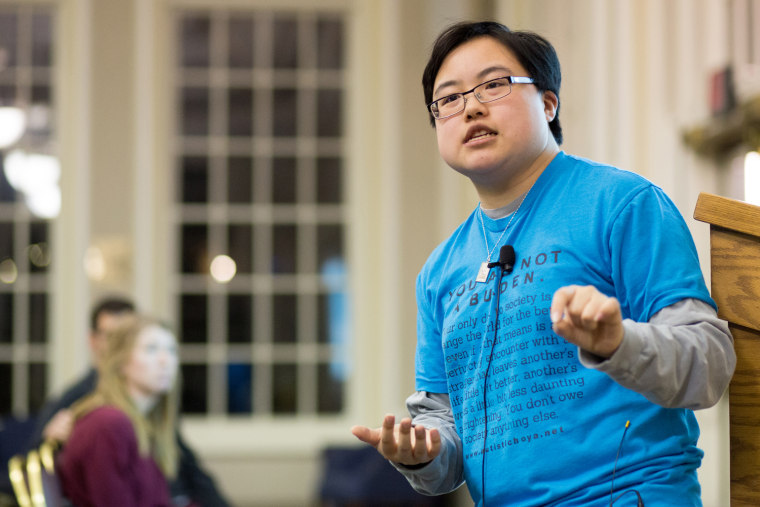 What challenges you?
When other people believe that because I am disabled, queer, and East Asian, I am less valuable and worthy of a person. That because I can't succeed or perform to conventional and harmful expectations of what excellence or functionality are supposed to look like, I don't deserve to be treated as a full human being.
Tell us about the biggest risk you ever took.
Coming out as queer and nonbinary trans was terrifying. I grew up around intensely conservative and religious folks, many of whom still hold extremely anti-queer beliefs, where being anything other than heterosexual and cisgender was simply not considered within the realm of possibility (except whispered about as something embarrassing). I didn't begin to explore my own romantic attractions, asexuality, and gender identity until I graduated from high school, and by then, I was afraid that other queer and trans people would also reject me as not-valid because I had been dating two heterosexual guys earlier — a belief unfortunately reinforced by the level of vitriol directed at bisexual and pansexual people.
I was so glad that for the most part, fellow disabled queer and trans people were incredibly accepting and supportive of me in my discovery process, and helped me name parts of myself I had never understood before talking about it out loud.
What are you reading/watching/listening to these days?
Right now, I'm eagerly waiting for the latest seasons of "Scandal" and "How to Get Away with Murder" to make it to Netflix (can't come soon enough), and have been watching various films from outside the U.S. — most recently, "Geomsaoejeon" ("A Violent Prosecutor") from South Korea, "Difret" ("Audacity") from Ethiopia, and "Insh'allah Istafadit" ("Blessed Benefit") from Jordan and the Netherlands. I've been listening to quite a bit of Kadim al-Sahir, Aster Aweke, Abida Parveen, and Kendrick Lamar. Sadly, I've been reading law books almost exclusively, rather than anything fun.
If you weren't doing what you're doing now, what career would you want to pursue?
I would love to be a full-time novelist and short fiction writer. I've been writing fiction solo and collaboratively since I was 3, and it's still my greatest passion.
What's your motto?
Each of us must use whatever resources we have to fight against oppression in all its forms. All tactics and contributions are necessary and valuable.
I celebrate Asian Pacific American Heritage Month because…
Community and solidarity across Asian identities and cultures are vital and affirming, especially for those like me displaced by transracial/transnational adoption.
NBC Asian America Presents: A to Z aims to celebrate the emerging voices and breakout stars of the Asian American and Pacific Islander communities. These individuals aren't just reading the dictionary of what it means to be Asian American and Pacific Islander in America; they're writing new definitions every day.
Follow NBC Asian America on Facebook, Twitter, Instagram and Tumblr.