NAMES: Maia Shibutani, Alex Shibutani
AGES: 23, 26
HOMETOWN: Old Greenwich, CT
TWITTER: @MaiaShibutani, @AlexShibutani, @ShibSibs / INSTAGRAM: @MaiaShibutani, @AlexShibutani, @ShibSibs
How do you introduce yourself?
Maia: Hi, I'm Maia.
Alex: Hi, I'm Maia Shibutani's brother.
What inspires you?
Maia: I'm inspired by people who push themselves to be the absolute best at what they do while being kind and thoughtful towards others.
Alex: I'm inspired by everything around me. The movies I watch, the articles I read, and the music I listen to provide daily inspiration as I look to create and tell stories.
What challenges you?
Maia/Alex: There never seems to be enough time to do everything we want to do. We wish there were more hours in the day.
Tell us about the biggest risk you ever took.
Maia/Alex: The biggest risk we ever took was with our skating career. We decided to start being ourselves on the ice and telling our own stories. We selected and produced our own music, took charge of our choreographic process, and went to greater lengths than other teams to create our programs. It was so physically and emotionally draining and there was no guarantee that it would lead to the competitive results we wanted, but it paid off. Because it was authentic, we were able to take ownership of what we were doing and incredible results followed.
What are you reading/watching/listening to these days?
Maia: When we were training for the Olympics, there wasn't time to read or watch many things. With travel it's still busy, but I've been trying to catch up on movies. Since we got back from PyeongChang, I've seen "Black Panther," "Tomb Raider," "Ready Player One," and "Wonder."
Alex: I have a lot of different interests outside of skating. I'm passionate about storytelling, whether it's on TV or in movies. Since I enjoy photography, sports, and food, I tend to gravitate toward reading, watching, and listening to media covering those areas.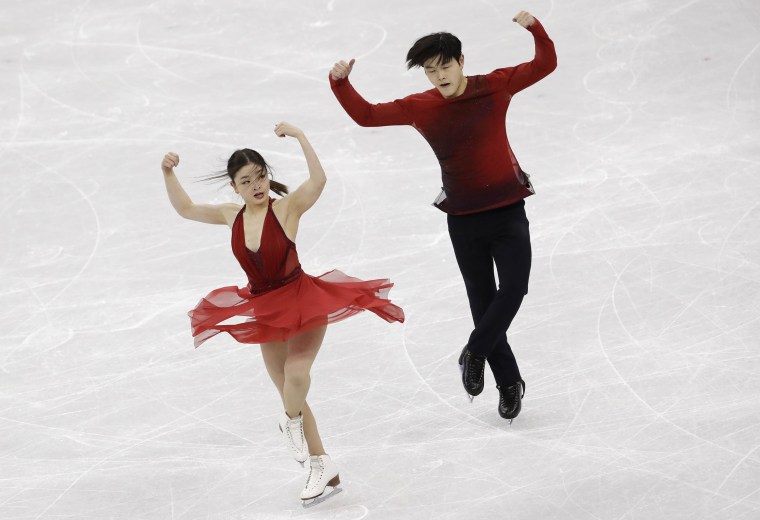 If you weren't doing what you're doing now, what career would you want to pursue?
Maia: I'm grateful because as we've been training for skating, we have been able to discover our point of view, flex our creativity, and travel. There are a lot of amazing opportunities now and we're not limited to only pursuing one thing. I am interested in exploring the world of entertainment and I know that travel will continue to be a part of my lifestyle.
Alex: Our approach to skating and performance has developed skills that directly translate to entertainment (acting, directing, and producing). It's definitely something that I'm interested in pursuing.
What's your motto?
Maia/Alex: If not us, then who?
We celebrate Asian Pacific American Heritage Month because…
We realize how impactful it can be to have people to look up to. Aspiring to be trailblazers and role models for future generations is so important.
NBC Asian America Presents: A to Z aims to celebrate the emerging voices and breakout stars of the Asian American and Pacific Islander communities. These individuals aren't just reading the dictionary of what it means to be Asian American and Pacific Islander in America; they're writing new definitions every day.
Follow NBC Asian America on Facebook, Twitter, Instagram and Tumblr.