NAME: Nashra Balagamwala
AGE: 24
HOMETOWN: Karachi, Pakistan
TWITTER: @nbalagam / INSTAGRAM: @nashrabalagamwala
How do you introduce yourself?
"Poh-tay-toh. I'm a flooflebunnie. Lalalalala wheeeeee..."
I'm not kidding... I officially graduated from college as "Nashra Potato-fluff Balagamwala."
What inspires you?
Everything around me, from bright sparkly colors, to fluffy things, to people who want to make a difference in the world.
My personal projects are inspired by social and political affairs that I want to start conversations about, as well as the culturally rich, intricate designs found in Pakistan.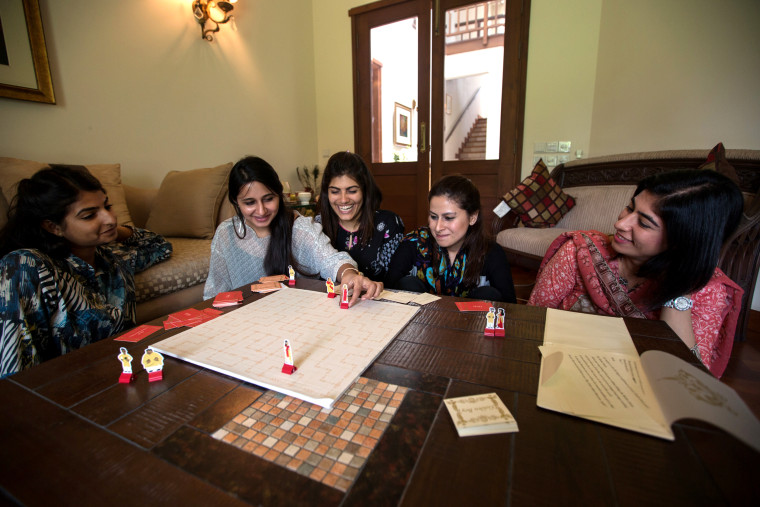 What challenges you?
Finding the right balance between making something meaningful that stays true to its purpose, but at the same time isn't too controversial. I've made projects in the past that I could not release because I'd be putting my own safety at risk.
Tell us about the biggest risk you ever took.
Last year I released a game that talks about the challenges Pakistani women face when it comes to an arranged marriage. In doing so, I risked being targeted by religious fundamentalists and offending almost everyone I know.
I managed to avoid security threats by staying away from Pakistani media, but I did face backlash from society. However, it all seemed worth it, because the project created awareness about arranged marriages and sparked a global debate. Several women also reached out to me for advice which gave me the opportunity to provide them with emotional support.
What are you reading/watching/listening to these days?
Reading: "Made in Pakistan" by Lynette Viccaji — a witty memoir of a post-partition Anglo-Indian full of humor and nostalgia.
Watching: "Friends" — for the 18th time (and I'm not ashamed of it!)
Listening to: Eagles and Led Zeppelin — My dad and I have been bonding over our love for the same music.
If you weren't doing what you're doing now, what career would you want to pursue?
Growing up, I always wanted to make games and plan parties, so I think I've really lucked out since I've managed to turn both my childhood dreams into reality.
But if this career path hadn't worked out, I'd want to run an animal shelter! There's nothing I love more than spending my time with furry creatures.
What's your motto?
You don't have to be serious to be taken seriously.
I celebrate Asian Pacific American Heritage Month because…
...I'm proud of where I've come from, I love the opportunities I've gotten after moving to America...and because Asian food is just so darn good!
NBC Asian America Presents: A to Z aims to celebrate the emerging voices and breakout stars of the Asian American and Pacific Islander communities. These individuals aren't just reading the dictionary of what it means to be Asian American and Pacific Islander in America; they're writing new definitions every day.
Follow NBC Asian America on Facebook, Twitter, Instagram and Tumblr.