NAME: Sophia Ntxawm Vuelo
AGE: 46
HOMETOWN: Eau Claire, WI
How do you introduce yourself?
I am a judge in the State of Minnesota. I serve as a district court judge in the 2nd Judicial District Court.
What inspires you?
When I see that every child believes the American dream is meant for them and it is not just empty promises. I am inspired when I see every child feels this is attainable, both girls and boys; and regardless of their gender, racial back ground, circumstances, or resources (or lack of). I am also inspired when I see little girls feel they are treated respectfully by other little boys in their class room or on the playground at recess time.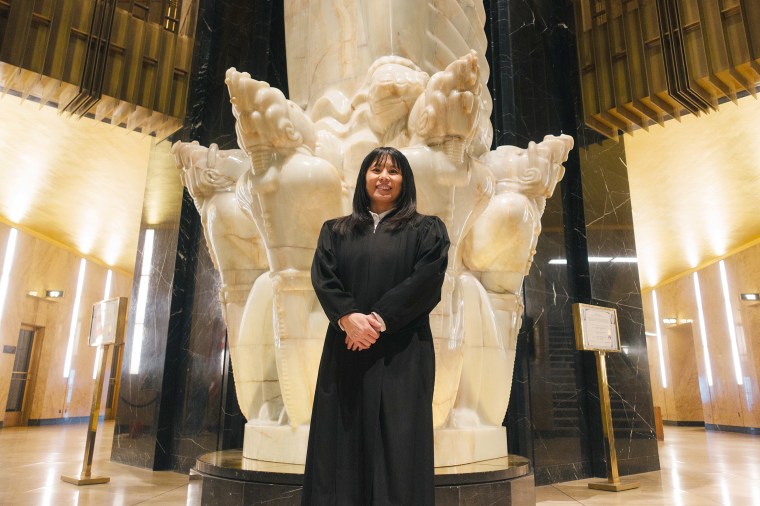 What challenges you?
I am challenged every day in my new role as a judge. I am constantly striving to do something better, or gain more understanding of a particular legal issue. I challenge myself to grow constantly, both personally and professionally. My children also challenge me to always be a better person. To be kinder. To dream bigger. To see what is really important.
Tell us about the biggest risk you ever took.
Applying to be a judge. It's a very humbling and rigorous process, one that requires putting yourself out there and risking being vetted publicly. And the possibility of being rejected publicly.
What are you reading/watching/listening to these days?
I like to watch "Stranger Things" on Netflix with my family. I am also re-reading "To Kill a Mockingbird." I also enjoy watching Seth Meyers on Youtube. I can't seem to stay up late enough to catch any of the late night shows.
If you weren't doing what you're doing now, what career would you want to pursue?
I would want to be a photojournalist for Time Magazine. I love taking photos, documenting a time in history or an event, or a significant moment/person. Or sometimes it is the ordinary things that matter the most. But I like the idea of telling a story through a photo.
What's your motto?
Do not let your birth place or circumstances determine your destiny.
I celebrate Asian Pacific American Heritage Month because…
It's important that we see every individual as a whole person, not just certain aspects of them. I am a judge appointed to serve the people in the state of Minnesota. But I am also a woman and a judge of Hmong decent. Which means my experiences are impacted by these salient features, whether I want them to or not. Hence, for example, I am frequently called "sir" or challenged in the court room in different ways because the general public is not used to seeing someone who likes like me on the bench. The governor of Minnesota single handily changed what the face of justice looks like when he appointed me to the bench. This means I have to deal with certain challenges in the role of being a jurist that my other colleagues may not have to. For this reason, it's important that we recognize Asian American Heritage Month, as well as recognize the contributions of Americans of Asian descent. It will help broaden society's perspectives and understanding in the contributions of all Americans.
NBC Asian America Presents: A to Z aims to celebrate the emerging voices and breakout stars of the Asian American and Pacific Islander communities. These individuals aren't just reading the dictionary of what it means to be Asian American and Pacific Islander in America; they're writing new definitions every day.
Follow NBC Asian America on Facebook, Twitter, Instagram and Tumblr.
CORRECTION (May 6, 2018, 1:17 p.m.): A photo caption in an earlier version of this article misstated the date Sophia Vuelo was appointed as a judge. Her appointment was announced Nov. 30, 2017, not in December.