It's not just about the police.
The riots in Baltimore have been blamed on anger and frustration over the death of Freddie Gray, a 25-year-old black man who suffered a spinal cord injury in police custody earlier this month — the latest flashpoint in the national debate over law enforcement tactics in African American communities.
But the unrest in Baltimore also sprang from decades of economic decline and a dearth of opportunity for those left behind.
That is the view not just of economists and urban policy experts but of some people who live there and who turned up on Tuesday morning with brooms to sweep up the broken glass and ashes of the night before.
Laquicha Harper talked about it as she pitched in with the cleanup at a CVS drugstore that was looted and torched.
"We need any revenue and any business that we can get in this area," she told NBC News. "To take a loss like CVS, where they carry small groceries for people who are not mobile — there is vast elderly community around here, you know? We need it."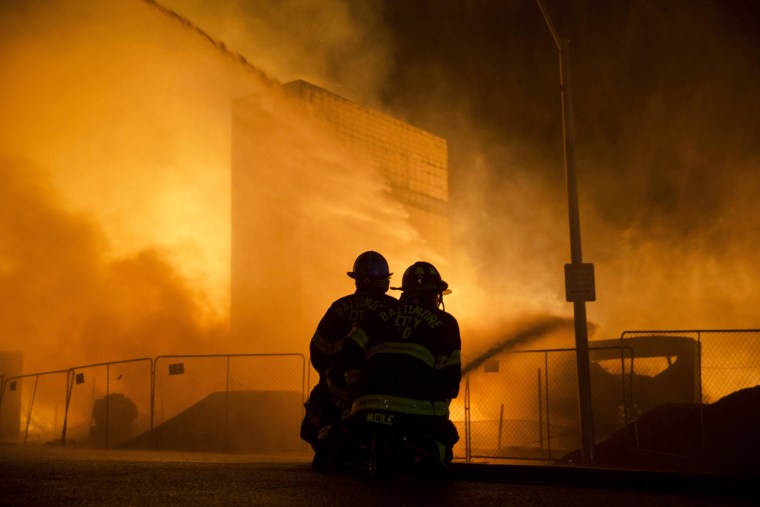 Mayor Stephanie Rawlings-Blake stood in front of the charred drugstore and, in between parrying reporters' questions about the police response the night before, lamented what was lost.
"This is the only place that so many people have to pick up their prescriptions," she said.
On Tuesday, police and National Guard troops fanned out across a city on edge, and the governor and mayor vowed not to allow a repeat of the night before, when more than 200 people were arrested and 15 buildings blazed.
And people still demanded answers in the death of Freddie Gray, the circumstances of which remain unclear.
To be sure, the violence had plenty to do with tensions between law enforcement and the predominantly black community where Gray lived and ultimately died. Those have built for years, and are well-documented.
The Baltimore Sun newspaper reported last fall that, over the previous four years, more than 100 people had won judgments or settlements related to allegations of police brutality and civil rights violations.
These included people who suffered broken jaws, noses, arms and legs, or died outright, during what the newspaper called questionable arrests.
But some of outcry on Tuesday was about the economic forces that have thwarted efforts to widen opportunity for the people of Baltimore, particularly the ramshackle neighborhoods that saw some of the worst violence on Monday night.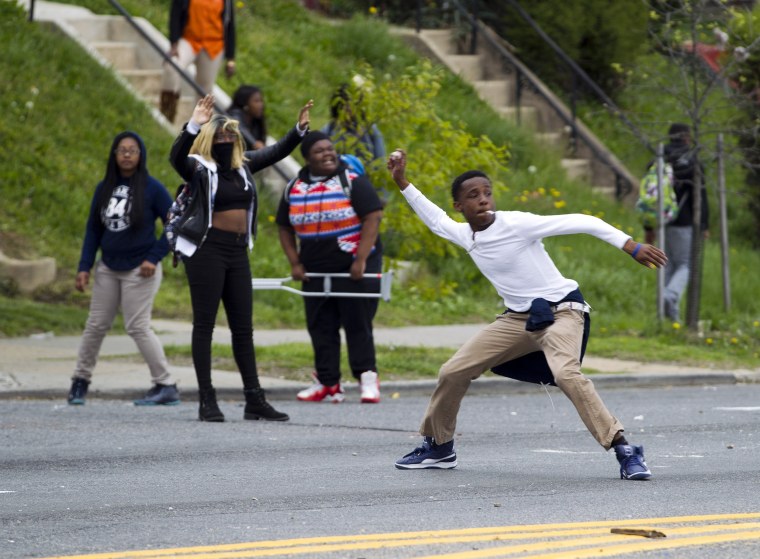 Along the blocks hit hardest by the riot, more than a third of families live in poverty, according to Census figures. Some sections of that neighborhood have not been rebuilt since riots that followed the assassination of Martin Luther King Jr. in 1968.
Since then, the economic base of Baltimore, like those of a number of older American cities, has been hollowed by the flight of wealthier people to the suburbs and businesses sending high-wage jobs overseas.
"You had good-paying jobs in manufacturing that offered tremendous opportunities for African-Americans in the '50s and '60s, and those began to dry up in the '70s and more rapidly in the '80s," said Dean Baker, co-director of the Center for Economic and Policy Research.
"So the avenues to the avenues to a secure middle class life have really been cut off."
As those jobs left, so did the tax base to pay for city services, including education and training. For the people left behind, "the cities are in pretty bad financial shape," he said.
Basic services like water badly need repair. Most of the pipes under the Baltimore streets were put there before Elvis Presley recorded his first album. Years of deferred maintenance have left behind a vast, leaky network.
Roughly 20 percent of the 225 million gallons of water flowing into the city from three huge reservoirs never makes it to a water customer.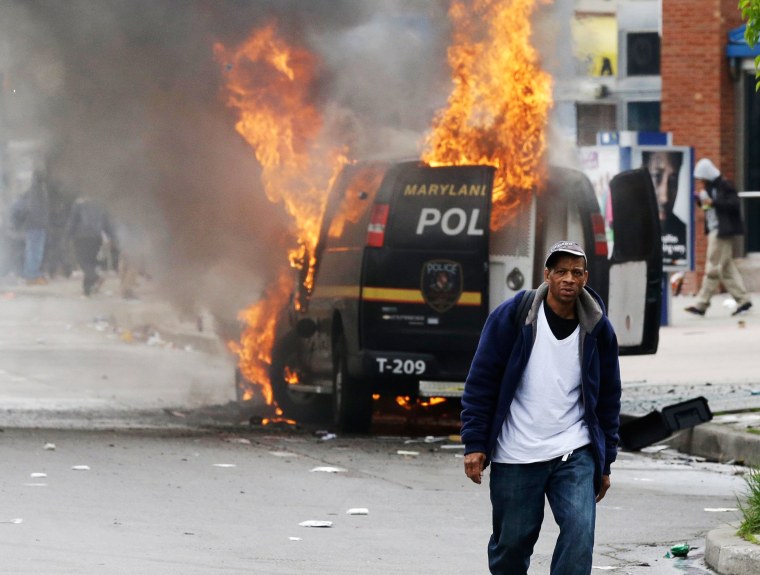 To help pay for a 10-year, $3 billion plan of capital improvements, the city has had to pass along big increases in water rates that some people couldn't afford. This week, the city water department sent shut-off notices to 25,000 delinquent customers, giving them 10 days to pay overdue bills or lose water service.
As services deteriorate, business investment becomes more difficult to attract and the tax burden falls more heavily on those left behind. Urban policy experts and economists point to a vicious cycle of decline, where shrinking job opportunities further widen income disparities and inequality.
"When I speak of the city, it's like two different worlds," said Andre Jolly, who lives in Baltimore. "It looks hopeless sometimes, and you have to be a strong individual or come up in a good household where somebody can direct you and tell you: You can make it out."
As recently as last summer, the unemployment rate in Baltimore was above 10 percent — 4 full percentage points higher than the national figure at the time. The poverty rate is just below 24 percent, compared with about 14 percent for the whole country.
"I write the grants, so I know what the stats say," said Christi Green, the executive director of the St. Francis Neighborhood Center, in Baltimore's Reservoir Hill neighborhood. "The hardest one for me is that over 1,400 kids live below the poverty line in the neighborhood."
Baltimore is a city where the poor— many of them "black and brown folks have been thought of as an afterthought, " said Mark Anthony Neal, an African American studies professor at Duke University.
"It's in the shadow of government in terms of D.C. but it's like a neglected partner. It's also a city that leveraged one of its natural resources in terms of the harbor," Neal said. "They created a space that people would want to come to, but at the expense of people that live there. And you have some folks that are frustrated."
There have been flashes of improvement.
Green, from the community center, started her job in October 2012. On her first day, three guys tried to steal her car.
In the past couple of years, gangs have started to back off when there are kids at the nearby playground. She doesn't see people tossing trash out their windows anymore.
"You start to think you're making a step forward, and there are deeper issues going on," she said. Speaking of the riots on Monday night, she said: "In an instant, that trigger hit everything."
She said she doesn't think the nation realizes that there are pockets of "what you would call third-world living."
"It completely breaks my heart to see what happened here," Green said. "I do get the frustration of the severe poverty in that area. And that's why we constantly ask the kids: What are you gonna be when you grow up?"
— with Halimah Abdullah