If you look at the front lines of the marches and rallies in Baltimore, the faces you'll see are young adults - or millennials - who want nothing more than to be heard and effect change.
For many of them, the black lives matter movement is their Civil Rights movement.
This phenomenon is not unique to Baltimore, whose residents have been reeling following the death of Freddie Gray, a 25-year-old a black man who suffered a spinal injury while in police custody and later died.
It was young people who were at the forefront of the rallies following the deaths of Trayvon Martin, a black Florida teen who was fatally shot in 2012 by a neighborhood watch volunteer and Michael Brown, a black teen who was shot and killed by a white police officer in Ferguson Missouri last August. In each of these instances, young adults used social media to share information and also to organize rallies across the country.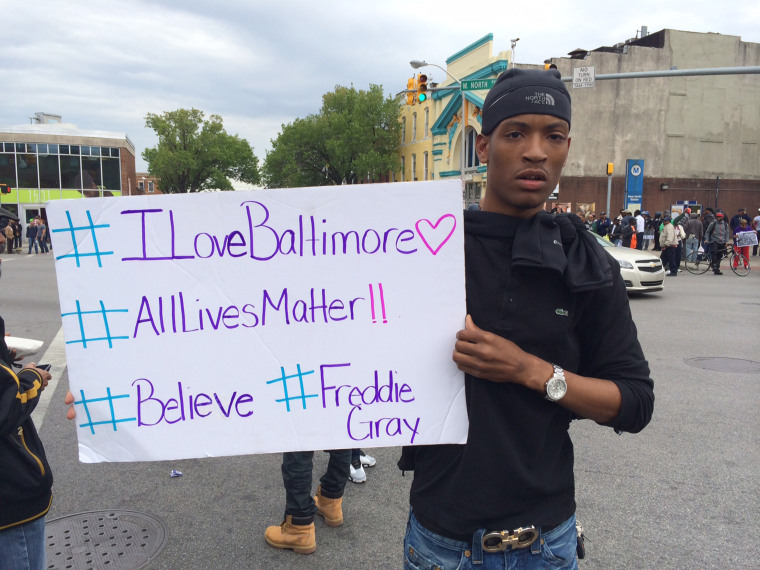 For minority millennials in particular, this moment is a racial coming of age for young adults raised in an era of post-racial rhetoric, black studies experts say.
"I think of it as a coming of age in terms of reinvigoration of organizing around this type of violence," said Imani Perry, an African American studies professor at Princeton University. This type of movement "is new for their generation because of how much robust black civic and political life was diminished at the end of the 20th century…It's almost a revival of a public conversation that used to be a regular part of black life."
Michaela Brown, 22, and Tre Murphy, 19, are among the leaders of Baltimore United for Change, a coalition of grassroots groups that are concerned about their city. Just this week, the group organized a march that drew thousands.
For Brown, who has been an activist since she was 15, said she's proud to see young people leading the way.
"It's important that the youth are involved because at the end of the day they are the generation that's going to have to deal with the effects of whatever policies are put in place," she said.
But the involvement of young people in movements is not new, Brown said.
"What changed it is technology. We are the generation of technology," said Brown, a junior African-American history major at Morgan State University. "That has changed what drives people. As soon as you get on Facebook, you can see a video about something and every time you turn around it's a video of police brutality then eventually you're going to get fed up."
Murphy, who grew up three blocks away from where Gray encountered police, said for some young people the decision to get involved is a matter of live or death.
"It's really critical that young people be involved in this movement because at the end of the day it's their lives that are on the line," said the freshman at Bowie State University. "The role of young people is to be on the front line, to be leaders, and the role of adults is to be supporting, giving their wisdom." "Any major movement that we have seen inside of this country, or even this entire world, has always been predominantly young people led," he added.
In many ways, Perry, the Princeton black studies professor said, young minority millennials have more to organize around than their Civil Rights era predecessors. There are issues of unemployment, economic disenfranchisement, disproportionate prison sentencing, environmental racism, educational inequity and a host of other issues, she said.
"Their task is much broader. There's so much to organize around," Perry said. "The question is always how people are able to sustain organizing."
There's also the conundrum of how to best work with members of the Civil Rights generation to highlight issues most important to minority communities.
The Civil Rights generation worked in a more centralized fashion with a top down system of communication with grassroots organizers and many of the leaders of that movement are now household names. However, the new type of civil rights movement is more organic, its energy garnered through social media as an organizing tool.
"There's huge room for members of earlier movements to participate, but less room for people who are part of the Civil Rights establishment to participate," Perry said. "There is an intergenerational conversation happening, but not necessarily with the most public figures."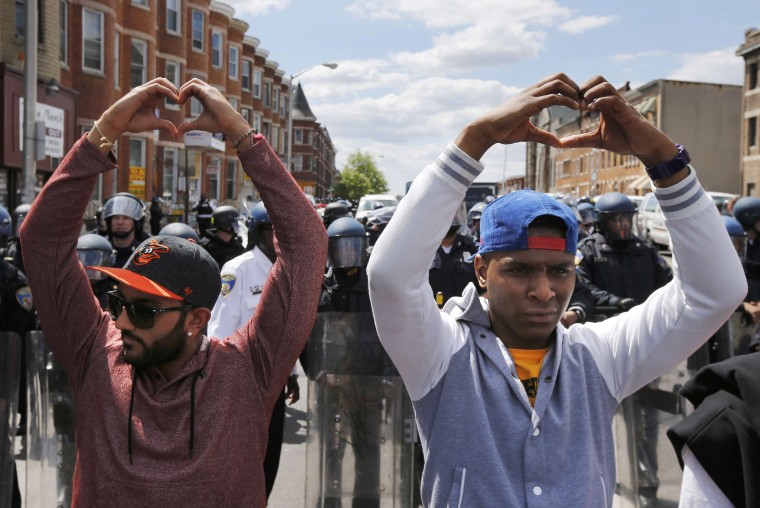 At Coppin State University, located across the street from the Mondawmin Mall where Monday's unrest began, their Student Government Association President Rodrick Johnson encouraged students to be involved during a recent forum.
"This is our revolution," he said. "We are the change. This is our revolution. We need to be that Jesse Jackson. We need to be that Martin Luther King of today and tomorrow. We don't need anybody to lead us, we need to create those leaders."
Grace-Kelly Anoma, 21, president of Coppin State student group, Black Voices, agreed with Johnson. "We're realizing that this is what we have to do, and the only people that are going to protect us, the only people that are going to fight for us, the only people that are going to advocate for us are us. If we don't do it, then who else will?"
She compared this movement to the Civil Rights movement.
"I think there are a lot of young people that are stepping up because we feel it so deeply because we see a repeat of what we feel as though should have already been done," said Anoma, a senior and a nursing major. "We know about segregation, we know about racism, we know about 1940s, the fifties, we know about that. But to see it firsthand and to see it in a different form...it hits home."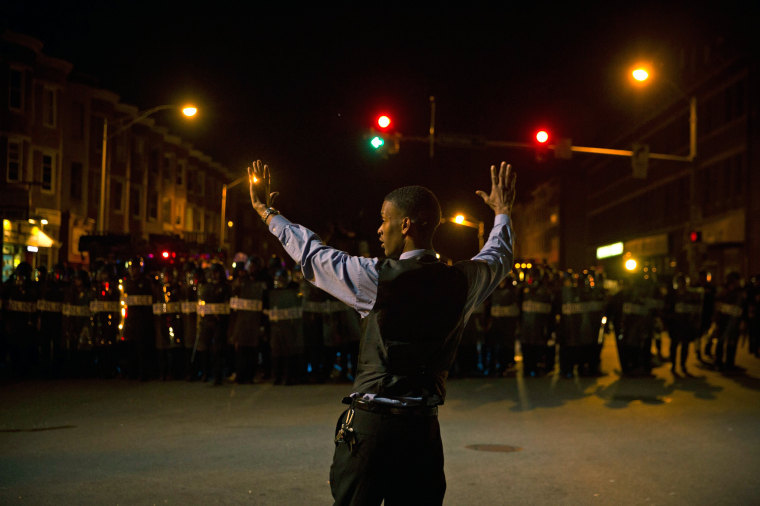 Anoma, who lives near the epicenter of the unrest, said she will continue to march and continue to lead.
"This is our movement, this is our time and our generation. Those who are older than us - our parents, our grandparents - they had their time and they've moved on and they did what they could, but now it's our time to do what we can as the youth," she said.
"It hurts my heart to see all these young males being killed off like we're in Hunger Games. It feels like this is hunting season and it's free range on young black men. So it was imperative for me to be out there and to see what was really going on because one day - hopefully not - my brother could be the next hashtag."
IN-DEPTH