Pharmacy giant CVS Health announced Wednesday it will rebuild two store locations badly burned during protests in Baltimore last week in response to the death of Freddie Gray.
"We have a long history of serving inner city communities and we are 100 percent committed to serving our patients and customers in Baltimore," CEO Larry Merlo said in a statement released Thursday. The company did not release a timeline for rebuilding, but said they were "working diligently to make it as soon as possible."
The two stores, located at 2509 Pennsylvania Avenue and 2560 West Franklin Street, were destroyed last Monday during riots following the funeral Gray, a 25-year-old black man who died after being injured while in police custody.
Baltimore City Health Commissioner Leana Wen welcomed the news, saying "hundreds, if not thousands" of residents had been affected by the closures of the CVSes and other neighboring pharmacies.
"For many individuals it's a case of life and death," she told NBC News.
Baltimore resident Eileen Boylan, 57, echoed the sentiment, and said she was "ecstatic" to hear the news that the CVS on Pennsylvania Avenue would be rebuilt. Boylan said she was worried after she began to run out of her medication this weekend.
"I was on my last pill Sunday and I really needed to get my medicine some kind of way," she said. "The medicines I take, if I don't get to take them, are life-threatening for me." Boylan said she did not want to specify her medical condition for privacy reasons.
The Baltimore City Health Department has encouraged affected residents to call 311 for help getting their medication. Commissioner Wen said they've helped more than 100 residents, providing prescription deliveries, transportation assistance, transferring prescriptions or providing information on open pharmacies in nearby areas.
Boylan had her prescription delivered to her on Monday — by Wen and Mayor Stephanie Rawlings-Blake, as part of a campaign to deliver medication to residents impacted by the closure of the CVS and other pharmacies.
In addition to rebuilding the pharmacies, CVS announced it was donating $50,000 to both the United Way's "Maryland Unites Fund" and the Baltimore Community Foundation's "Fund for Rebuilding Baltimore."
"I don't even know how to express it, it couldn't be better news," Gigi Wirtz, spokeswoman for and the Baltimore Community Foundation, said of the news that the stores would be rebuilt. "It's a question that's been on everyone's minds for the last week and a half."
"I just hope people know how to forgive," said Baltimore resident Everel Watson, 44, who uses the CVS on Franklin Street. "I pray that we can just move forward."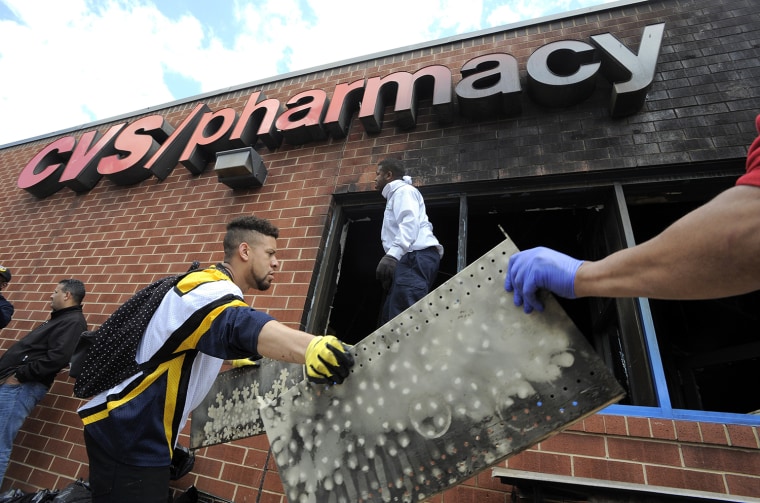 IN-DEPTH