Baltimore police officers who still face trials in the death of a 25-year-old black man have filed motions to dismiss their cases, in yet another potential blow to the prosecution.
Lt. Brian Rice, Sgt. Alicia White, and Officer Garrett Miller filed the motions in the Freddie Gray case on Monday. The documents, made public Tuesday by the Circuit Court for Baltimore City, all cited defects in the prosecution's case.
"These defects occurred at both the District Court and Circuit Court levels and rise to a level which would violate the Officers' rights of due process secured by the United States Constitution as well as the Maryland Declaration of Rights," read the motion filed on behalf of Miller. The others contained similar language.
Related: Why Freddie Gray Case Could Make or Break Marilyn Mosby
Gray died of injuries sustained in the back of a police van last April, leading to riots and looting across Baltimore. Just days into the investigation into his death, Baltimore state's attorney Marilyn Mosby announced charges against the six officers involved in a stunning move that some argued was done too hastily.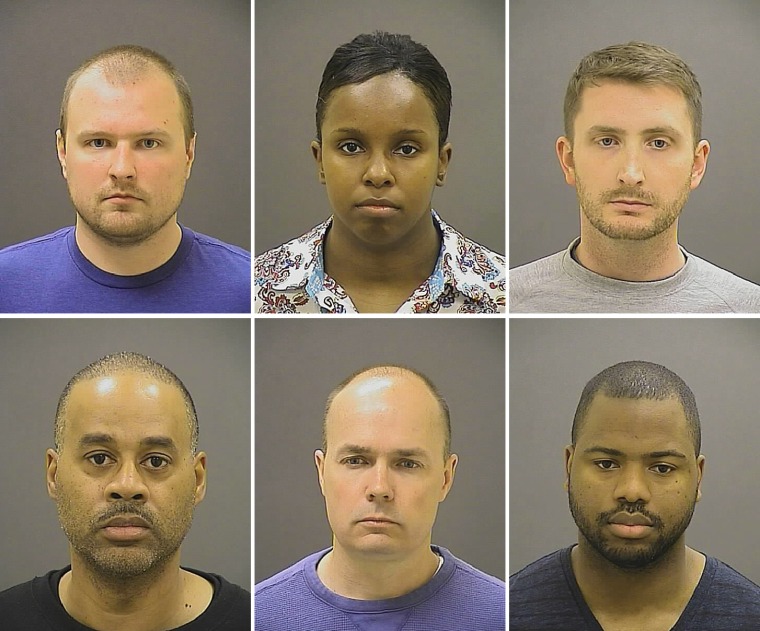 The trials have yet to yield a conviction: Two have ended in acquittals, including that of van driver Caesar Goodson, who faced a second-degree murder charge. A third, Officer William Porter's, ended in a mistrial. Porter is scheduled to be retried Sept. 6 and also asked on Monday for a case dismissal.
The officers' requests come after two recent bombshell disclosures.
Earlier this month during Goodson's trial, Detective Dawnyell Taylor testified that she was given a script by prosecutors to read to the grand jury that "had several things that I found to be inconsistent with our investigation."
Related: Baltimore Van Driver Charged in Freddie Gray Death Acquitted
Separately, in a civil case some of the officers filed against Mosby for defamation of character, a Baltimore sheriff's major said in an affidavit that he signed off on prosecutors' charges but didn't have adequate details of the investigation.
This isn't the first time the officers have asked Circuit Judge Barry Williams to dismiss their cases, but, buoyed by the revelations in the Goodson trial, it's the first time they've asked for dismissals citing of wrongful prosecution. They have previously asked for dismissals on claims that the charges were political motivated.
The three officers who have yet to be tried all face charges of manslaughter, assault, reckless endangerment and misconduct in office. Rice, the highest-ranking officer charged in the case, is scheduled to begin trial on Tuesday.
Related: Trial of Van Driver in Freddie Gray Case Reveals Prosecutor Violations
All the officers have asked for more access to grand jury minutes and testimony and for hearings so they can prove to their court that their rights were violated.
A spokeswoman for Mosby has said she won't comment, citing a gag order in the Gray case.