It was supposed to be a celebratory day.
Loretta Lynch stood beaming next to Vice President Joe Biden as he declared "it's about time" and swore her in as attorney general on Monday. The audience laughed. The frustration of a months-long delay in Lynch's confirmation as Congress bickered over policy matters was now behind them.
But the good cheer was cut short.
By nightfall, Baltimore erupted in violence as protestors burned buildings and cars, clashed with law enforcement, broke windows and looted. The events unfolded mere hours after the funeral of Freddie Gray, a 25-year-old black man who sustained a spinal injury while in police custody and later died.
On her first day on the job, Lynch was immediately pressed into dealing with the aftermath — she dispatched Justice Department officials to help calm the chaos and speak with community leaders and local officials. On her second day of the job, the Department of Justice announced it launched an investigation into the nature of Gray's death.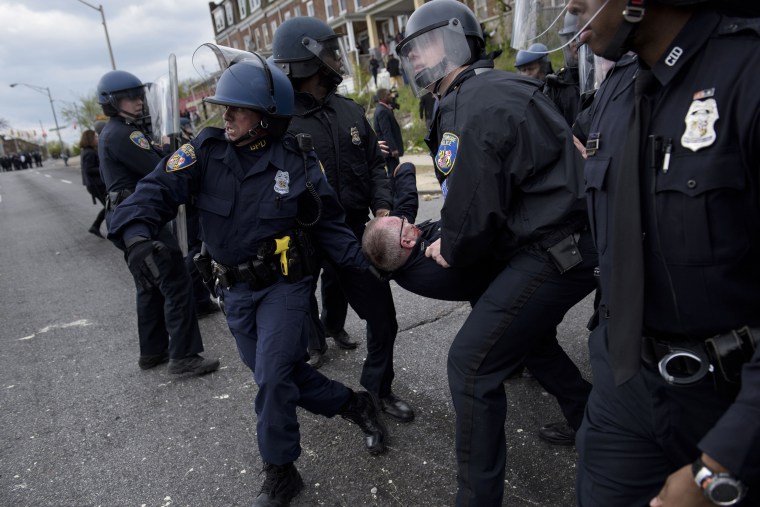 "I want to make it clear once again that these senseless acts of violence are not only a grave danger to the community — and they must stop — but they are also counterproductive to the ultimate goal here, which is developing a respectful conversation within the Baltimore community and across the nation about the way our law enforcement officers interact with the residents that we are charged to serve and to protect," Lynch said on Wednesday, day three on the job, and her first on camera appearance since being confirmed as the nation's top law enforcement officer .
"And that's a conversation that I am committed to advancing."
During her confirmation process, Lynch laid out four key policy areas she wanted to focus on during her tenure: cyber-security, national security, human trafficking and improving relations between minority communities and the police.
She may have to put the first three on the back burner for now.
The unrest in Baltimore underscores the challenges Lynch faces as she seeks to quell racial tensions between law enforcement and the minority communities they serve.
"What a crazy way to start to lead the department to be sworn in when you are almost in crisis from day one," said Ron Hosko, a former FBI assistant director and president of the Law Enforcement Legal Defense Fund.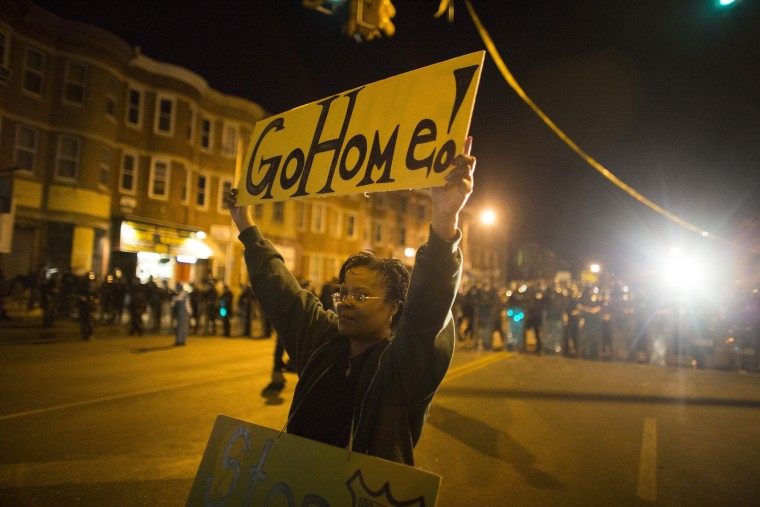 The new attorney general had also hinted that she wanted to avoid becoming the lighting rod around racial issues that her predecessor Eric Holder ultimately became.
The situation in Baltimore was a bit different than what Holder had to grapple with last year in Ferguson, Missouri, but much of Lynch's role was the same: dispatching Justice Department staff to Baltimore, briefing the president and having to balance the interests of law enforcement with the black community, both of which she is a part of.
Whatever Lynch's desires, the tenure of the second-ever black attorney general may be like the first, trying to fix American's enduring problem of race.
"Sometimes the issue of the time chooses you," said one Justice Department official, describing Lynch's first week.
Administration aides say Lynch's approach will be much different. While she agreed with Holder's pushes on voting rights and other issues, according to sources, she is unlikely to declare the U.S. a "nation of cowards" or use such blunt talk on race.
On Wednesday, she addressed the Baltimore situation at what was initially supposed to be a speech on cyber security. But her words were careful.
She left it to Obama himself to deliver a broader speech connecting Baltimore with other racial challenges in America, a role Holder took on at times.
Under Holder, the Obama administration increasingly was forced to wade in to help address racial tension in communities across the country as the deaths of several black men in encounters with police highlighted racial and socioeconomic undercurrents at the core of stark showdowns with members of law enforcement.
Lynch, political experts say, "has her work cut out for her."
"We haven't had the serious conversation about race that we should have had after the Civil Rights movement and this is the backlash of that," said Andra Gillespie, a political science professor at Emory University in Atlanta said of the unrest and protests in Baltimore and across the nation.
The White House says Lynch "got important work done" during her first week.
It's "difficult to think of a cabinet member except (former Treasury Secretary Tim Geithner) who's stepped into that job in a more volatile time," White House press secretary Josh Earnest said on Friday in response to a question by NBC.
The very type of qualities, Earnest said, the president envisioned in a replacement for Holder. The White House also lauded her professionalism and respect she's gleaned thus far from law enforcement.
That relationship with law enforcement will be critical to helping push for reform, Hosko said.
"She's hinted at this rebuilding trust and engagement with law enforcement which needs to hear her and not demonize her which was happening at end of Holder tour. That's going to be key," Hosko said. "How does she move that dialogue forward so that she's building that credibility with law enforcement nationally?"
Sending the signal of transparency will be pivotal to helping members of law enforcement strengthen ties with the communities they serve, Hosko said.
That means "being as open as she can be in a very difficult time in our country's history where we think we have turned a corner with an African American president and an African American head of the Department of Justice," Hosko said. "That's easy to say, but a layer down we haven't turned the corner."