It was a swift, stunning move no other lead prosecutor in America had done during months' worth of headlines about police violence against black men.
Many lauded Baltimore state's attorney Marilyn Mosby when she announced charges against six officers just days into the investigation into 25-year-old Freddie Gray, who died of injuries sustained in the back of a police van. But others criticized her as acting too hastily and overreaching in the charges.
"It was clearly a rush. Keep in mind, the police got their investigation in on a Thursday, and she announces the next morning that she's decided to file these charges," said Warren Brown, a Baltimore criminal defense attorney who has observed the officers' trials.
Closing arguments start today in the case against van driver Caesar Goodson, who is on trial for the most serious of the charges: second-degree "depraved heart" murder. If his case fails to get a conviction, Mosby's reputation could be just as jeopardized as those of the officers she charged.
The youngest top prosecutor of any major American city, Mosby, now 36, had only been in her elected post for four months when the Gray trial rocketed her to national fame. As protests over Gray's death raged throughout Baltimore, Mosby announced last May: "Our investigation revealed that we had enough probable cause to bring charges against the six officers."
That declaration has since come under question.
Two officers have already been tried without guilty verdicts: William Porter, whose trial ended in a mistrial in December, and Edward Nero, who was acquitted in April.
Related: Meet Marilyn Mosby, the Woman Overseeing the Freddie Gray Investigation
And the Goodson trial, an uphill battle that would be the first conviction of its kind in at least a decade, is "clearly a stretch" according to Harvard University professor and prominent civil liberties attorney Alan Dershowitz.
"She did it without any real basis in either the facts or the law," Dershowitz told NBC News. "Obviously what happened in that van was not intended by anybody. Nobody set out to kill this man. They may have done things they shouldn't haven't done, but she rushed to judgment."
Related: Could Outcome in Caesar Goodson Trial Spell End for Freddie Gray Case?
Initially, Mosby had charged three of the officers with false imprisonment in what she said was an illegal arrest, a "crazy theory that just makes no sense at all," Dershowitz said.
"They may have done things they shouldn't haven't done, but she rushed to judgment."
Those were later changed to more serious charges, including second-degree murder and involuntary murder.
"The charges just didn't fit the facts," he said. "She indicted them and only afterwards did she do the work to come up with, after the fact, rationalizations."
Unlike her predecessor Gregg Bernstein, who failed to indict Baltimore police officers involved in several arrests where a death occurred, Mosby, who comes from a long line of law enforcement herself, campaigned on a promise to be tough on what she referred to as "the bad ones."
A spokeswoman said Mosby wouldn't comment, citing a gag order against anything related to the Gray case. But the legal experts said her campaign platform may have colored her view on the officers.
"She rode that wave of dissatisfaction, of not charging police officers, into office," Brown, the Baltimore attorney, told NBC News. "All of a sudden, Freddie Gray comes along. She has to for political reasons charge the officers."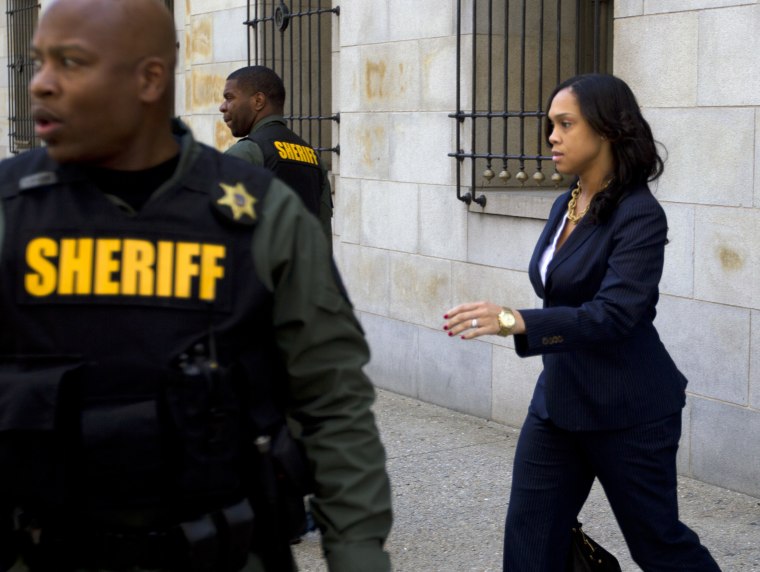 She filed charges because she "wanted to be the hero," Dershowitz said.
"No prosecutor is ever punished for being too tough. They're always punished for being too lenient."
But being too tough could cost her a conviction, especially in Goodson's case.
"No prosecutor is ever punished for being too tough. They're always punished for being too lenient."
"I think her hope was if you charge for murder, maybe they'll plead for manslaughter," Dershowitz said. "But the risk there will be an acquittal."
Richard Woods, a Baltimore attorney who has known Mosby for years and supported her campaign for the state's attorney's office, praised Mosby's handling of the case, starting with her announcement of the charges.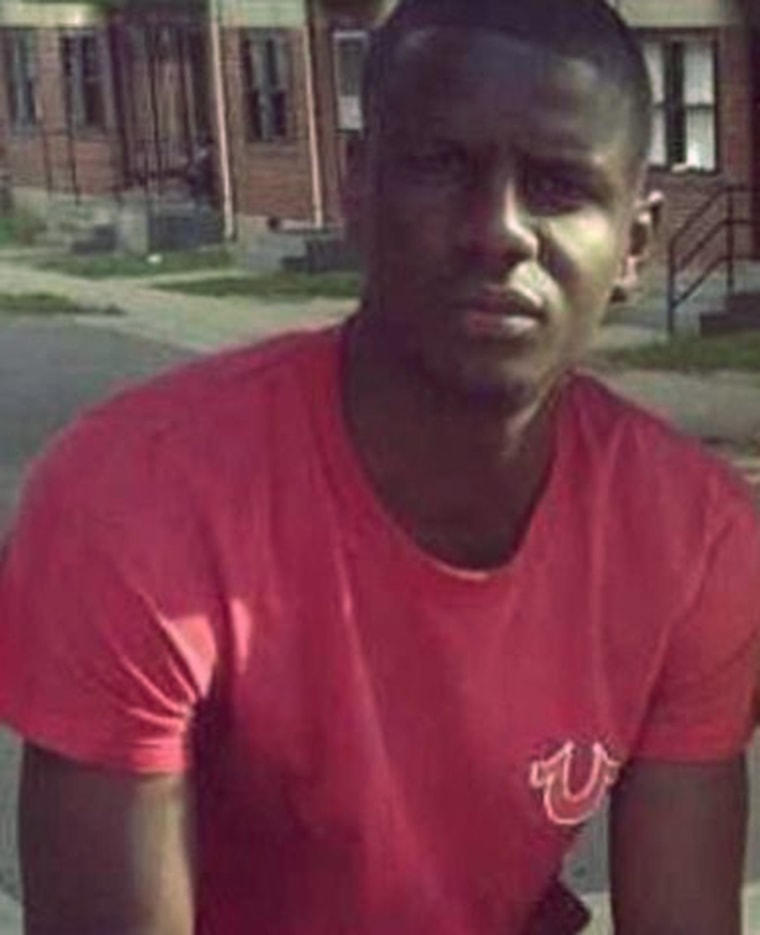 "Every single 't' was crossed, every 'i' was dotted. What she did was ethically fine and had this incredible benefit of stopping escalating social tension and violence," he said. "You have to remember, when she made her announcement, the city of Baltimore was literally ablaze."
He criticized "Monday morning quarterbackers" who second-guess her.
"The system is designed so that if a prosecutor acts within their knowledge indicating that the defendant has committed a criminal offense, they're under obligation to charge. Whether or not they get a conviction doesn't mean their initial charge was wrong."
Even her critics agree with her supporters on one thing: Mosby may still net a conviction.
"It's always a possibility," Dershowitz said.