The former Marine who killed three Louisiana law enforcement officers and wounded three others Sunday stalked his targets with military-like precision, looking past citizens as he moved through a commercial strip seeking more cops to shoot, authorities said.
The gunman, a 29-year-old Missouri man named Gavin Long, traveled to Baton Rouge a few days before the attack and clearly wanted to kill police officers, authorities said Monday.
The city has been riven by protests since the July 5 police killing of Alton Sterling, but authorities said they were not sure whether Long was inspired by that event — or a gunman's deadly ambush of police officers in Dallas last week.
The attacks have inflamed a furious debate about police use of force and the lost of public trust.
"Clearly the landscape has changed since Dallas," Louisiana State Police Col. Michael Edmonson said in an afternoon news conference.
Long's assault came a few days after police foiled an alleged homegrown plot to kill local police officers, and has raised fears of more such violence.
Gov. John Bel Edwards called Long's rampage "diabolical," and said that he attacked "the very fabric of our society. And that is not what justice looks like. It's not justice for Alton Sterling or anything else that's ever happened in this state or anywhere else. It's not justice for anybody. It's certainly not constructive. It's just pure unadulterated evil."
Now the state needs to "start a conversation," Edwards said, "so that we can find out together where we go from here."
Edmonson, along with East Baton Rouge Sheriff Sid J. Gautreaux III, used maps to show reporters how Long moved around the shopping complex on Airline Highway, on the city's southeastern edge, seeking cops to kill.
"His intentions were accurate and they were engaging and they were all aimed at police officers," Edmonson said.
The police commanders said they pieced together the ambush, which lasted less than 10 minutes, with help from surveillance video.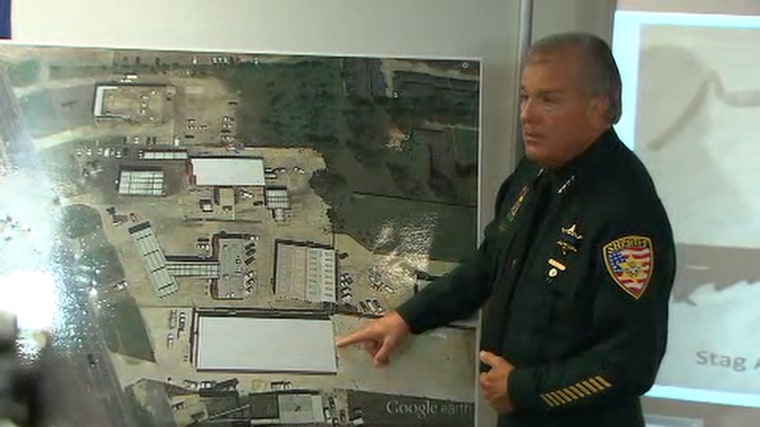 It began around 8:40 a.m. CT, after Long got out of his rental car, a Chevrolet Malibu, with a semi-automatic 5.56 caliber rifle and a 9 mm pistol, Edmonson said. On foot and by car, he began to stalk a complex that included a gym, a car wash, a beauty salon and a Party City. Stills from the videos show Long dressed all in black, with a military-style pants, a short-sleeve shirt and a hooded mask.
First, Long approached the car of a sheriff's deputy who works security in the area, but it turned out to be empty, Edmonson said. Long also noticed a police officer washing his car, who left by the time Long got close.
By then, authorities believe, someone had called 911 about "a dude with a rifle."
Among the first to arrive were two Baton Rouge police officers, Montrell Jackson and Matthew Gerald, and East Baton Rouge Sheriff's Deputy Brad Garafola. Long fired on them, killing one of the officers and wounding the other, Edmonson said. Garafola took shelter at a Dumpster behind the beauty shop, then noticed the wounded officer, and went to help him. Long approached Garofola, shot him dead, then killed the wounded officer.
"My deputy went down fighting. He returned fire to the very end, " Gautreaux said.
Then Long moved to another part of the commercial strip, where more officers were arriving. He shot another sheriff's deputy as he sat in his car, hitting him in the head and torso, Gautreaux said. He also shot a third deputy in the arm.
At that point, the city's SWAT team had arrived. One of the members took aim from about 100 yards away and shot Long dead, Edmonson said.
The siege was over by about 8:48 a.m.
A second 5.56-caliber rifle was found in the Malibu, police said.
The most seriously injured deputy, Nicholas Tullier, is fighting for his life, Gautreaux said, while the other injured deputy, Bruce Simmons, is in serious condition.
Baton Rouge Police Chief Carl Dabadie, Jr. grew visibly emotional as he spoke of his department's, and his city's pain. Behind him, Edwards began to cry.
Debadie also cited his SWAT team's response as justification for what he said critics have called "militarized tactics." If Long hadn't been shot by the city sniper, then Long would have gone to police headquarters to kill more officers, he said.
Such firepower is necessary "because we are up against a force that isn't playing by the rules," Debadie said. "They didn't play by the rules in Dallas, and they didn't play by the rules here."