The suspect in the fatal shooting of three Baton Rouge cops maintained a robust social media presence and a website called Convos With Cosmo in which he described himself as a "freedom strategist, mental game coach, nutritionist, author and spiritual advisor."
The domain registry information for Convos with Cosmo lists as the registrant Gavin Long and his Kansas City address, and a law enforcement source has confirmed to NBC News that a Twitter account linked to the website is the shooter's account.
The website also links to a now disabled Instagram account and Twitter feed, in which he noted in a message posted hours before the shooting: "Just bc you wake up every morning doesn't mean that you're living. And Just bc you shed your physical body doesn't mean that you're dead."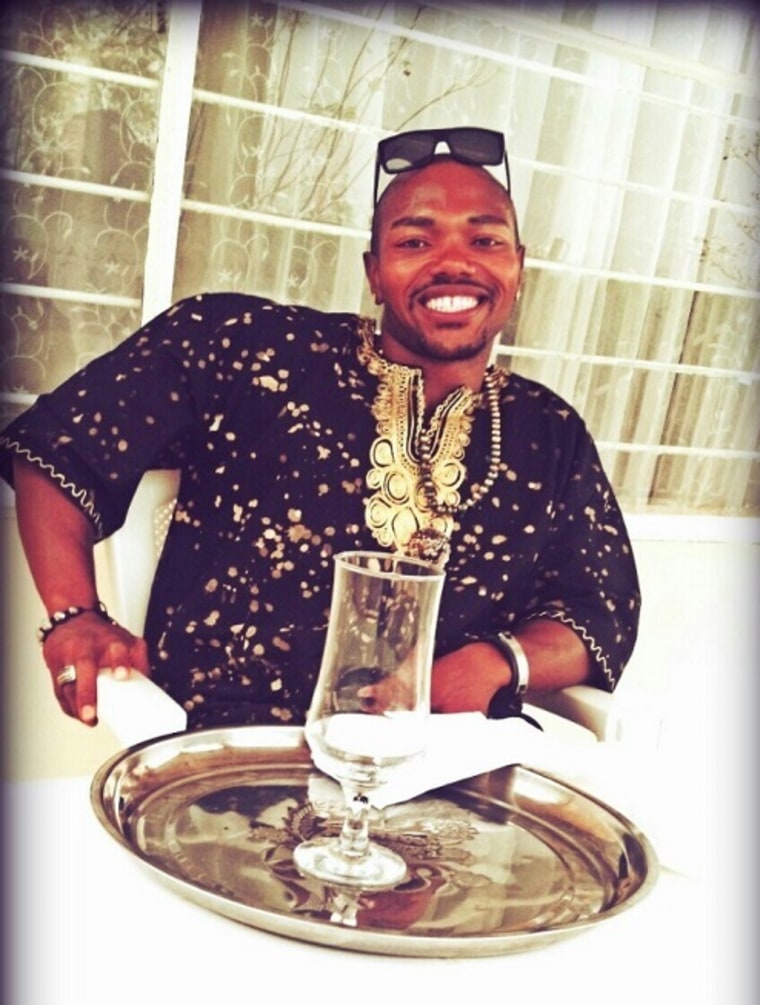 The website also refers to his life-coach business and includes Amazon links to three self-published books under the brand 'The Cosmo Way."
Many of his posts, and products, are dedicated to his ideas of what it means to be an "alpha" male.
In a video posted to his Twitter page, Long said he'd been in Dallas after five officers were shot and killed there last week. The video, posted on July 10 — three days after the attack — was titled: "My body-cam footage of me in Dallas out in them streets educating our people."
Investigators say Long traveled from Kansas City to Dallas by rental car, then continued to Baton Rouge.
His website links to a LinkedIn profile for Cosmo Setepenra, a name he recently adopted, noting that he graduated from Central Texas College in 2011 with an associate's degree, and also studied at Clark Atlanta University from 2012 to 2013.
Long officially filed paperwork in Jackson County, Missouri, last year declaring himself Cosmo Ausar Setepenra, a "sovereign citizen" of the United Washitaw De Dugdahmoundyah Mu'ur nation, a loosely affiliated network of mostly African Americans who claim to be Native American and don't believe the U.S. government has jurisdiction over them.
Related: Community Mourns the Loss of Baton Rouge Cops
Investigators are examining Long's online activity — and interviewing his family — to understand why and when he attacked. So far, Long's interest in the sovereign citizen movement does not appear to have played a significant role in the attack, a senior federal law enforcement official told NBC News. Investigators instead believe he acted on his own and was not directed or inspired by a particular group or ideology. The official described Long as angry and mentally troubled.
Long seemed to indicate as much in the days before the attack.
On July 8, he sent a foreboding email to several people, including online radio show host Lance Scurvin, saying he acted alone in everything he did. "I just want everyone to know that if anything may happen to me or with me, I am NOT affiliated with anybody, any group, nationality, association, religion, corporation, business, etc.," he wrote. He told them to look at his YouTube videos "just in case anything happens."
Three days later, he wrote the group again, this time to focus on the July 5 killing of Alton Sterling by Baton Rouge police. He argued for the release of officers' body cam footage, saying the public should not take the word of police, who say the cameras fell off during the encounter.
"This is why they treat us like s--t, because (1) they can tell us anything and we will accept it without questioning it, and (2) we dont stand on our rights. We must STOP being (quote un quote) Adults, Meaning, we must get back to our childlike curiosity," he wrote.
Long — who turned 29 on Sunday, the day of the shooting — spent a semester at the University of Alabama, where he made the dean's list, according to the school's website. A spokesperson for the school confirmed to NBC News that Long attended school there for one semester in the spring of 2012.
Long was legally divorced from Aireyona Osha in May, 2011, according to Missouri state records, which say that Long sought the divorce. The Kansas City Star notes that they published a marriage announcement for the couple on July 22, 2009.
A summons against Long for delinquent city earnings taxes was issued in April 2016, according to state records. The case was dismissed on June 7, 2016, though the events preceding it are unclear, as they're unavailable online.
Long was a Marine sergeant who served from 2005-2010, who was deployed to Iraq from June 2008 to January 2009, according to military records obtained by NBC News.
Among his duty assignments were Marine Corps Recruit Training Depot, San Diego, California; School of Infantry, Camp Pendleton, California; Marine Corps Communication-Electronics School, Twentynine Palms, California; Headquarters Battalion, 3rd Marine Division, Okinawa, Japan; Marine Aircraft Group 38, 3rd Marine Air Wing, Marine Corps Air Station Miramar, San Diego, California.
In one YouTube video posted on July 8, Long goes out of his way to claim he's "not affiliated" with any movement or individual.
"I want to let ya'll, if anything happens with me ... don't affiliate me with nothing ... I'm affiliated with the spirit of justice, nothing more nothing less."